Jimmy has headed down the shore for a little vacation, so I'm taking up the helm this week. No worries, he'll be back next week!
In his absence, it only seems fitting that we should talk about all things sports. I'm not usually a sportswriter, but I think I can handle it. Maybe. We'll see. But do give me some grace, as this isn't my forte, but I think since much of this will center around baseball, I should be OK. Good thing it's not winter sports season…
There has been a lot going on with the local sports scene, so let's get to it!
Lycoming County Sports Walk:
Chevy Troutman was recently inducted to the Lycoming County Sports Walk. If you haven't noticed this cool feature in downtown Williamsport, you really should take a walk and check out all the medallions!
Troutman was formally inducted as the 27th member of the Lycoming County Sports Walk this past January at the Williamsport Crosscutters Hot Stove Banquet.
If you don't know, Chevy had one of the most successful basketball careers in the history of Williamsport Area High School. He was an Associated Press Big School first-team All-State selection as a center, and he was named Mr. Pennsylvania Basketball 2000.
In his four-year tenure at Williamsport, he amassed 1,563 points and 1,128 rebounds, both school records, and led the Millionaires to the AAAA state championship in 1999. Perhaps his most stunning achievement came in a single game against Bishop Hannon High School, in which he pulled down 37 rebounds.
With the University of Pittsburgh, Troutman helped the Panthers to a 2003 Big East Championship and multiple appearances to the NCAA Tournament. He was selected first team "All-Big East" in 2005. Following college, the 6'8″ power forward had a successful career as a pro on top-level international basketball teams. He was inducted into the West Branch Chapter of the PA Sports Hall of Fame in 2022.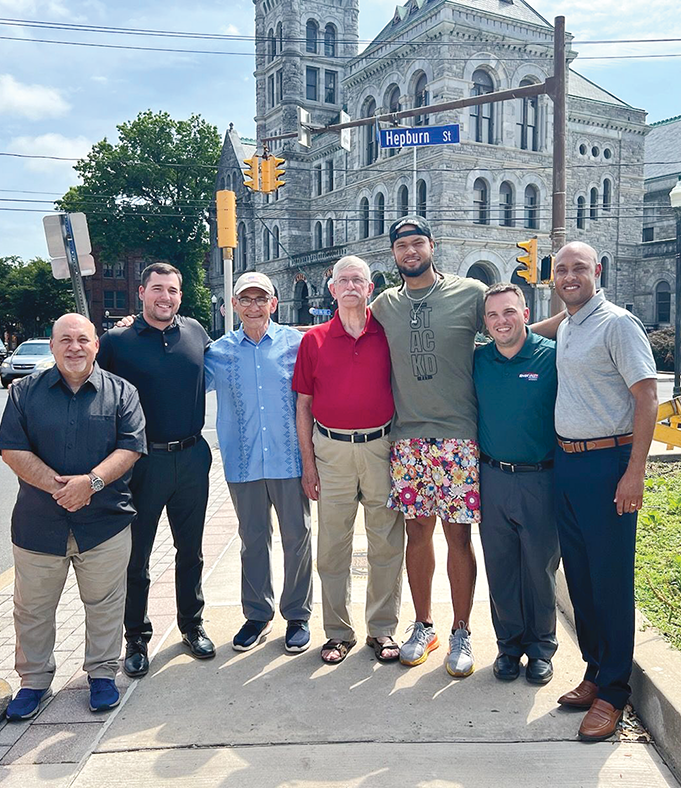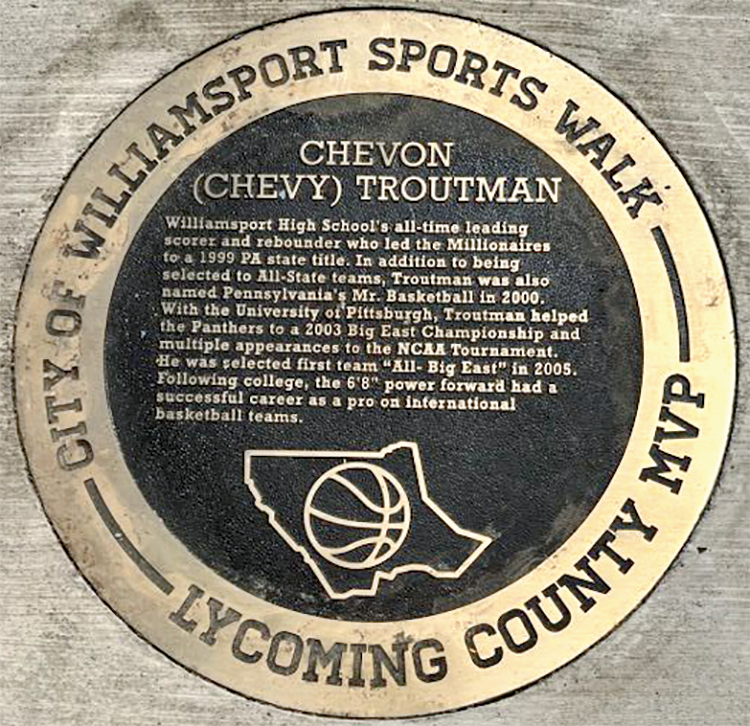 Chevy Troutman receives his medallion on the Lycoming County Sportswalk.
Speaking of Halls of Fame…
Babe Ruth Hall of Fame:
Back in February we featured the dynamic duo of Jim and Bonnie Winder when it was announced they would be inducted into the Babe Ruth Hall of Fame, but they recently had their official induction.
The Winders are no strangers to Halls of Fame. They were inducted into the Middle Atlantic Babe Ruth Hall of Fame in 2014 and the Pennsylvania Babe Ruth Hall of Fame in 2004.
The Winders have done more for youth baseball locally than just about anyone. They have dedicated themselves to Babe Ruth baseball for more than 40 years. Babe Ruth International noted, "It goes without saying that an organization is only as good as its people. The continuity created by the Winders has provided the foundation for the West End Babe Ruth League. During Jim and Bonnie's tenure, approximately 2,500 young men and women have participated in the league, learning many valuable life lessons, not just on the baseball field, but on the field of life."
Congratulations to both Jim and Bonnie on their much-deserved honor. The Winders have been to nine world series together and hopefully will see number 10 this year.
Dale Diermyer and Mark Rogers were also inducted into the Pennsylvania Babe Ruth Hall of Fame. Both have been involved with West End for more than 25 years.
Speaking of Babe Ruth Baseball…
West End Babe Ruth:
West End's 14-year-old all-star team has picked another state championship. The all-star team from West End scooted by Broomall Newton in a close, 5-4 win to pick up the Babe Ruth 14-year-old state championship at Logue Field.
The win advanced them to the Mid-Atlantic Regional tournament in Altoona. They opened the Mid-Atlantic tourney with a bang too. They easily handled Maryland in an impressive 25-0 shutout. They were already up 18-0 in the second inning and scored 25 runs on 20 hits. Dang Boys! That's incredible!
If you remember, this 14-year-old team is almost identical to the 13-year-olds who made it all the way to the Babe Ruth World Series last year.
West End Babe Ruth has a storied history of several state, regional, and world series championships. Hopefully these 14-year-olds will add a couple more banners to their walls.
Now, for the rest of this, please keep in mind that I have to write my articles several days ahead of when you receive it, so this is the most up-to-date info I have as of press time.
Little League Baseball
I was going to try to cover all the local little league baseball and softball teams that have picked up championships and are headed to or playing in sectional and state tournaments, but there are soooooo many! And while I am taking up both Jimmy's space and my own, I'm a little limited and wouldn't be able to give all these teams the pub they deserve. Keystone (multiple teams), Jersey Shore softball, Montoursville, WALL, and I'm sure more to come have all come up with incredible seasons, and we'll have more coverage if or when they win state championships.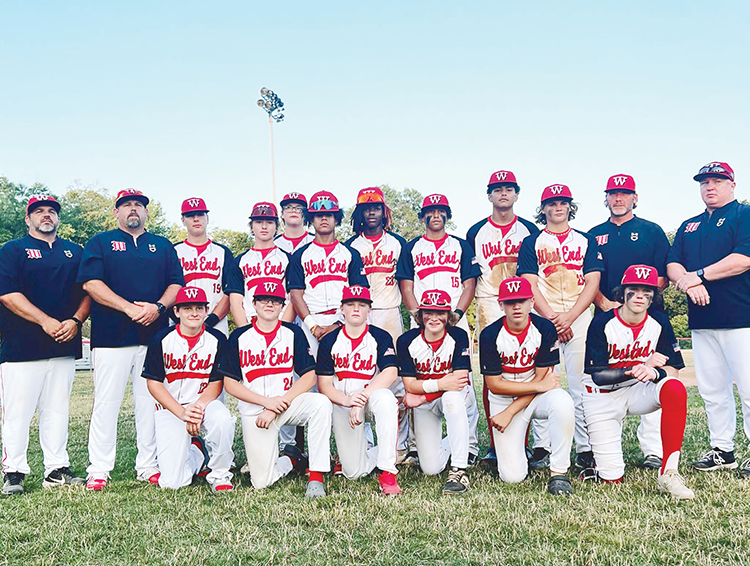 State Champion West End Babe Ruth 14s: Front Row Left to Right; Nolan Brelsford, Mason Hess, Cade Lusk, Jaxson March, LJ Hill, Lincoln Miller. Back Row Left to Right: Manger Marc Hess, Coach Fred March, Noah Kirby, Chayse Snyder, Jaymes Carpenter, Trey Damschroder, DeShaun White, Zion Hughes, Nate Crowe, Zack Neill, Coach Shane Miller, Coach Chris Lusk.
Crosscutters Baseball
Former and current Crosscutters alike recently made big moves in the MLB.
Sabin Ceballos was the first Crosscutter taken in the 2023 draft and was the first representative of the MLB Draft League. Ceballos was the 94th pick in the 3rd round and was picked up by my personal favorite, the Atlanta Braves. Ceballos was an infielder for the Cutters in 2022.
With the 186th pick, 6th round, the Mets picked up right-handed pitcher Jack Wenninger, who was the first of the Cutters 2023 lineup to be drafted.
In the 8th round, the Detroit Tigers grabbed RHP Jatnk Diaz. He also is a member of the 2023 squad.
RHP Riley Gowens also made it the bigs in the 9th round. Part of both the 2022 and 2023 lineups, Gowens is also headed to the ATL and Braves Country.
In the 10th round the Orioles scooped up Cutters' outfielder Matthew Etzel. Etzel was part of the 2022 lineup.
Also drafted were Stanley Tucker who is headed to the Red Sox, Colson Lawrence, who is headed south to the Marlins, Tyler Kennedy who will be watching Pierogi Races with the Pirates, and Ryan Ignoffo will be joining Lawrence in Miami.
Congrats to all the current and former Cutters and you take it to the Major League. #ItAllBeginsInBilltown.
As you can see, the local sports scene is hoppin' this time of year. Congratulations again to all the teams, players, coaches, managers, and volunteers in the area.