In Sports
March 29, 2023
239 Views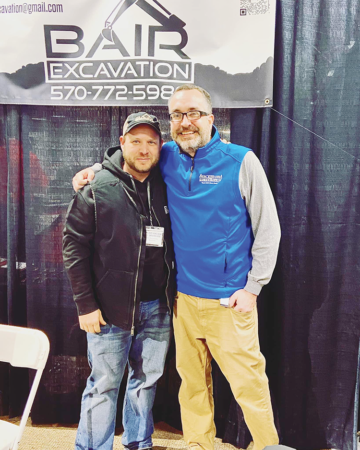 This week's write-up has very little to do with sports. I only wanted to give my boys a quick shout. My full-time gig is with Susquehanna Marble and Granite. Yes. There is never a dull moment. I just celebrated my fifth anniversary. We are quite busy. My fellow work chums say that I am a
This week's write-up has very little to do with sports. I only wanted to give my boys a quick shout. My full-time gig is with Susquehanna Marble and Granite. Yes. There is never a dull moment. I just celebrated my fifth anniversary. We are quite busy. My fellow work chums say that I am a liability. I am not the strongest guy, and I tend to break stuff. I am over my midlife crisis. It was time to make the transition back to doing what I do best. I have the gift of gab. Do you guys need a hand? NO. GET BACK IN THE OFFICE. I used to get upset. But I guess it is now much safer for everyone. GET AWAY FROM THAT FORKLIFT. YOU ARE DONE. OK. It is time to clear the air. It really wasn't my fault. I was only trying to get a photo for Facebook. I didn't know she was in neutral. Eject.
We are very blessed to work with so many great people. I truly enjoy our customers. I try my best to help them with their projects. We treat every piece the same. Regardless of size or material. Yes. I have been very fortunate to be in the spotlight. My coworkers are amazed that I already know half of the folks that enter. I always grin when they mention these columns. I stopped showing my bride photos from our amazing installations. You wouldn't believe some of these jobs. Insane. Where does the money come from?
I have made many new friends in my short tenure. It is a blast. I have previously mentioned my interactions with several of our Amish cabinet builders. They are a true joy, and I am very thankful for our relationship. I will often take drives to Howard, Loganton, and Montgomery. I am there to talk shop, but we spend most of our time in deep conversation. We share all kinds of great stories. I often joke and say we need to sign a deal with Netflix.
The 2023 West Branch Builders Home Show is gearing up for this weekend. I am looking forward to seeing millions of people. Susquehanna Marble and Granite will have a booth close to the entrance. I plan to be there. This year's event is at the old Dick's Sporting Goods. No. No, not the new Dick's at the Crossings. The old Dick's. The former Lycoming Mall Dick's. Wow. Try saying that really fast with a high-pitched voice. My fourteen-year-old son has.
The Home Show opens Friday, March 31st. Hours are from 3-7. Saturday, April 1st, from 11-7. And Sunday, April 2nd, from 12-4. Trust me. There is tons of great stuff to look at. We haven't decided who and how we will man our display. But no need for a reservation. Please swing by and say hey.
"We are very excited about our new location," Laura Kriger, Executive Officer, WBSBA, explained. "We have over 116 vendors. Many new. Several returning. We invite all of you to the Home Show this weekend."
Last year was a bit foggy. I wasn't a fan of the setup at Bon-Ton. I did the best I could. It was the weekend after the State Championship. No one wanted to talk to me about granite. Nothing about quartz. They only made suggestions. Yes. It was very uncomfortable. I had a line. I counted ten fans around our booth at the same time. Most were very nice. They gave me hugs and congratulated us on a fantastic season. But there were a few. I needed security. I coached my son's sixth-grade team. I obviously know what I am talking about. You should've played a 23-zone. Take a timeout here. You would've won. Good lord. I do not miss it.
I am looking forward to 2023. It is a big election year. I see SMG is once again near the Lycoming County Republicans. That is great news. I can't wait to ask my friends some very difficult questions. There are so many hot topics. No. I am not on the ballot. But there still is time to write in. Enjoy the show, folks. Cheers.