In Sports
March 22, 2023
358 Views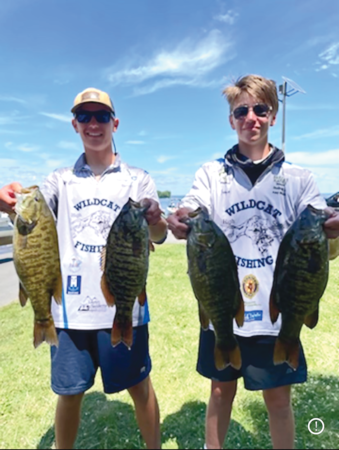 High School Fishing He's felt the tension of playoff soccer. Enjoyed the 60-foot 6-inch challenge of trying to get a batter out. He's experienced the excitement of sinking 3-pointers in raucous gymnasiums. But for South Williamsport senior Zach Lynn, it is the fourth sport he plays that gives him the most satisfaction. For many, the
High School Fishing
He's felt the tension of playoff soccer. Enjoyed the 60-foot 6-inch challenge of trying to get a batter out. He's experienced the excitement of sinking 3-pointers in raucous gymnasiums. But for South Williamsport senior Zach Lynn, it is the fourth sport he plays that gives him the most satisfaction.
For many, the knowledge that high school fishing takes place in Pennsylvania might be news. But for Lynn, it's a sport he has enjoyed since his pre-school days.
"I developed a love for fishing when I was three or four years old with my Pap. Right from the beginning, he showed me how to use artificial stuff. I got into the habit of fishing and watched a lot of the Outdoor Channel on TV. Fishing with a lure was sport to me because it provided competition. As I got older, I watched a lot of tournament fishing and decided this was something I really wanted to do.
"Of all the sports I've played, for me, I would say scoring the soccer goals and fishing in tournaments have been the toughest things to do because they can be a real struggle at times. In fishing, you fish under every kind of condition, sometimes for eight hours at a time, and you have to develop and create patterns. It takes a lot of determination. I enjoy all the sports I play, and they all present different kinds of challenges."
While South Williamsport does not have a fishing team, Lynn has followed his passion with Mifflinburg.
"I first started off with the Susquehanna Valley High School fishing team, which was made up of a bunch of local schools, but eventually that fell through," he explained. "Mifflinburg coach Kevin Zimmerman, who I couldn't be more grateful for, asked me to come join his team. Since my freshman year, I have been fishing for him ever since.
"There are about ten different fishing teams in the area. Each team has so many pairs together. Our Mifflinburg team has seven pairs, five high school, one JV, and one Junior High. Wellsboro has a fishing team; the western part of the state has several teams, and there are some in the Harrisburg area. Usually, most fishing tournaments will have around 29 teams. Once you win a state championship and compete for a national championship, you'd run into about 400 teams from all over the country.
"During the regular season, which runs from mid-March to October, I would average about ten tournaments a year. The last two seasons, I was able to qualify for two state championships, but I was unable to finish because I didn't want to let my soccer team down one year and my baseball team another.
"At each meet, a meeting is held the night before the tournament where the rules are reviewed. The next morning we'd get up about 4 a.m., get to the launch area by 5 a.m., and get checked in. You are assigned a boat number which signifies the order you can enter the lake. Each meet goes from about 7 a.m. until 2 or 3 p.m. There are two fishermen in a boat and a driver who is assigned to drive you around to the different areas we'd like to fish. Most tournaments have a limit of five fish, but sometimes in the early spring, the limit is four.
"There are no strict restrictions as to where you can fish in the lake, although the launch area is usually off-limits. Also, if there are dams on the lake, we are not permitted to fish in those areas."
As for sports memories, each sport has provided plenty for Lynn.
"My biggest sports memory in baseball is when we won the district title last year. That was awesome. This year, in basketball, we were able to win our first playoff game, which hadn't been done for a while. This fall, I scored two goals in the soccer playoffs. With fishing, my best memory is qualifying for the state championships during the COVID year, which was very rewarding.
"The biggest fish I ever caught was a 43-inch muskie last year. My good buddy Alex Neidig helped me out with it. We caught it along the Loyalsock Creek right behind the airport. That was the coolest memory I've ever had fishing. I released a lot of fish I've caught, but I kept that one. My dad and I do taxidermy, so we mounted him."
Looking ahead, Lynn hopes college fishing is in his future.
"Today, there are so many colleges that offer fishing scholarships. It has always been my dream to be able to get one. I've been accepted at Penn State for their online program. I've applied for their main campus and have been talking to the fishing coach. I know a lot of the people up there, and they have already taught me a lot. If I can't get into that, I will fish for the BFL (Bass Fishing League) and do some semi-pro stuff."
Like many before him, his high school days have flown by.
"I did not think the time would go by as fast as it has. I now wish there was some way to make it slow down because nothing brought me more competitiveness and happiness than high school fishing. It showed me you need to work hard to perfect a skill you enjoy. Everybody in my family has been so supportive. It's also been great having my brother compete with me in my senior year."