November 23, 2022
239 Views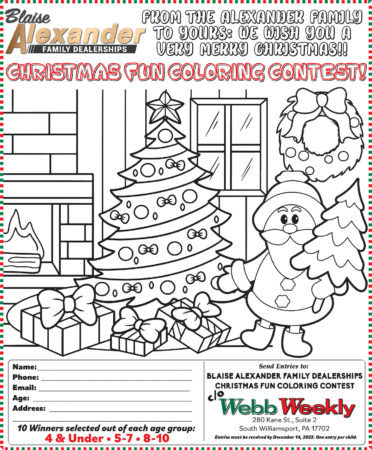 Happy, happy, joy, joy! It's the most wonderful time of the year! Attention to the 10 and under set! Grab your cocoa and meet me by the Christmas tree! We have important things to discuss! Sleigh bells are ringing, and snow is glistening! It is once again time for the Blaise Alexander Family Dealership Christmas
Happy, happy, joy, joy! It's the most wonderful time of the year! Attention to the 10 and under set! Grab your cocoa and meet me by the Christmas tree! We have important things to discuss! Sleigh bells are ringing, and snow is glistening! It is once again time for the Blaise Alexander Family Dealership Christmas Fun Coloring Contest in Webb Weekly! Oh, what fun it is to pull out the Crayons and pencils, paint and glitter, cotton balls and stickers! Bring your best and enter to win! Flights are booked for the elves to come visit! This year we have invited Cocoa GlitterCakes, Merry FizzyCheer, and Happy JingleDoodle to help us sort and judge contest entries! Don't let them down!
There will be lots of cool prizes for the winners this year so make sure you send us your best effort!
Prizes this year are:
• 1st Place – A $200 Gift Card to Flyworld/Kaos
• 2nd Place – Model rocket set or gift card from English's Model Railroad.
• 3rd Place – A sled from Elery Nau Hardware.
• 4th Place – A $25 gift card to Hooplas.
• 5th Place – Two Admissions to Treasure Castle Playland.
• 6th Place – A ball of your choice from Harder Sporting Goods.
• 7th Place – A $10 gift card to AMC Theaters.
• 8th Place – A $10 gift card to Dairy Queen.
• 9th Place – 2 Admissions for skating at Trout Pond Park
• 10th Place – 1 admission to Outback Roos.
The coloring pages will be in our November 23rd and November 30th editions! All entries are due to Webb Weekly by December 14th in order to be judged by the Webb Weekly elves. Results will be published in the December 24th edition.
There are three age groups for the contest: 4 and under, 5-7 and 8-10. There will be 10 winners in each age group. One entry per child please!
So get coloring and send in your entries for the Blaise Alexander Family Dealerships Christmas Fun Coloring Contest to Webb Weekly – 280 Kane St. Suite 2, South Williamsport, PA 17702.