November 16, 2022
99 Views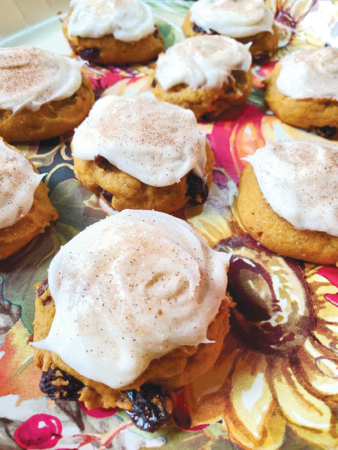 We are getting down to the wire here, folks! EIGHT days until Thanksgiving. Many of us will host, while many will be guests in others' homes. If hosting, don't be afraid to ask for help. Thanksgiving is a big meal; when you let guests help, it will make it easier, and you can focus more
We are getting down to the wire here, folks! EIGHT days until Thanksgiving. Many of us will host, while many will be guests in others' homes. If hosting, don't be afraid to ask for help. Thanksgiving is a big meal; when you let guests help, it will make it easier, and you can focus more on other things you will need to prepare for. When hosting, making the meat, mashed potatoes, and having the beverages is the way to go. Let your guest help by making a veggie, stuffing (if not in the turkey), salad, casserole, or dessert.
If you're a guest and they insist on you not bringing anything, take a bouquet of flowers, a bottle of wine, or a gift card to show your appreciation. A lot of time and money goes into it, and it's nice to show them that you are grateful to be invited with a little hostess gift. I think it goes a long way.
When we host Thanksgiving, I like to get everything set up the night before. Start setting the table and get our bar ready and decorated where the food will be placed. I make sure drinks are made and food is all prepared to put into my ovens the morning of. This gives me time on Thanksgiving morning to sit down with my kids and hubby and watch the Macy's Thanksgiving Day Parade while we have our hot cocoa and toast. This is one of my favorite things about Thanksgiving. I mean, is it even Thanksgiving without the parade? Yes, yes, it is. But the parade makes it feel like Thanksgiving. It's tradition! I especially get anxious to see ole' Santa Claus! Kenzy and I patiently wait for his arrival on our TV. Can you ever get too old to be excited about Santa!? I think NOT! When Santa rolls around at noon and the parade ends, the smell of my baked corn, stuffing, and glazed ham fills our home. Bellies are starting to growl, and we are getting excited to spend the rest of our day with family.
Eating Thanksgiving dinner and sitting around the table with family is the best part. Plates loaded to the brim and smiles on everyone's faces. It's the beginning of the most wonderful time of the year! Now, my family has a big lunch every year. Then we all go unbutton our pants (or maybe that's just me?), flop on the couch, and watch a Christmas movie in the afternoon. Another Thanksgiving favorite and a nice kick-off to the holidays. I am sure many of you have Thanksgiving supper, which is lovely too.
Here's another host tip if you serve lunch: Don't kill yourselves over hors d'oeuvres or apps. Yea, little meatballs are adorable, shrimp is easy, and everyone loves hot dips, but do we really need all that before the best and biggest meal of the year!? Don't get me wrong, it doesn't hurt to do a little something if your guests are coming an hour or more before the meal, but you don't need some big fancy spread before the main meal. If you are having dinner, and people are coming around 2 or 3 p.m., then yea, get the shrimp and meatballs out, man! I totally get that. I'm just saying, don't stress yourself over apps. Make it simple. Fresh fruit or veggies with crackers and cheese is a great thing to have ready for your guests to hold them off until your supper is ready. Andddd if you have leftover shrimp, get in touch with me. I'll pop in for a visit before I head over to Southside on Thanksgiving night for the grand opening of Candy Cane Lane.
Yup, you got it, another Thanksgiving favorite of mine! Nothing beats ending the night then by seeing my most favorite street at Christmas lit up for the holidays. Belly full of turkey and pie (possibly some shrimp too? Haha), and singing "It's Beginning to Look a Lot Like Christmas" as Kenzy and I drive ole' Black Betty up and down Candy Cane Lane a dozen times that night. Chris and Tyler are too much in a turkey coma and just go home. Losers. They don't know what they are missing! They get a little taste when I send them a Snapchat with my big mouth filter singing, "Oh by gosh by golly, it's time for mistletoe and holly!"
Oh, it doesn't stop there. I take that puppy clear to the chorus. I'm telling ya, it's a Thanksgiving tradition for my Snapchat friends. You just never know what song it could be. It's a song that typically touches my soul that night and tells you that, indeed, Christmas is officially here, baby!
I wish you could see some of the videos I've made. I'm a character (or nuts, either work) and boy, do I love making people's Thanksgiving night with that beauty. Ahhh, the simple joys and pleasures of Thanksgiving. *Insert that famous cheesy smile right here.*
Finally, the turkey. Listen, you season that little bugger how you want, but for me, my perfect turkey always looks wonderful when I bake it like this. Ready?
Dump in 2 cups of boiling water with your 9-12 lb seasoned turkey. Cover tightly.
Start a timer when your oven hits 500 degrees F. Bake for EXACTLY 1 hour and turn off the oven. DO NOT open the oven door! Leave the turkey in the oven until completely cool; this will take 4-6 hours. (I do this right before I go to bed, then let the oven cool while we sleep.) It always turns out beautiful. No-Baste. No-Bother. Can't beat it. And these pumpkin cookies below are the best darn cookies I've ever had. Diane Eck made these, and I went crazy over them! I had to have the recipe to share with you all for Thanksgiving. She is also an amazing cook, and we love sharing recipes with each other. Enjoy!
The Best Pumpkin Cookies
Ingredients:
• 1 cup sugar
• 1 cup brown sugar
• 1 can pumpkin
• 1 cup butter flavored shortening
• 4 cups flour
• 2 tsp baking powder
• 2 tsp baking soda
• 1 tsp cinnamon
• 1 tsp pumpkin pie spice
• Optional: Raisins or Nuts
Directions:
Mix together the first 4 ingredients then slowly add all the rest. (Raisins and nuts would go in last.) Bake at 375 for 8 – 10 minutes.
Icing:
• 1/4 cup butter
• 2 cups 10 X sugar
• 1 Tbsp vanilla
• 2 tsp cinnamon
Mix with a blender and spread on cooled cookies.