In Sports
November 16, 2022
106 Views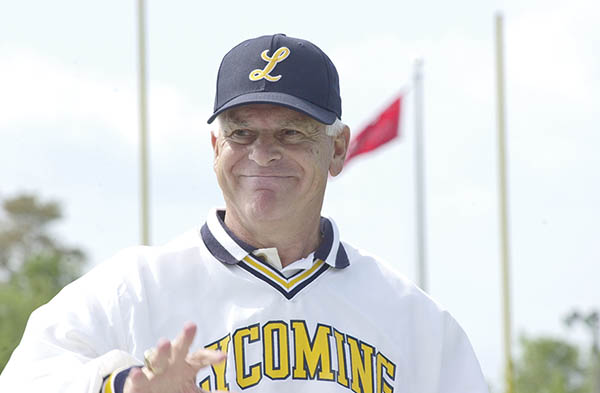 Greatness attracts attention. For longtime Lycoming College football coach Frank Girardi, invitations from two college presidents 50 years removed both began and immortalized the man whose accomplishments will live in perpetuity by the recent announcement that effective September 9, 2023, the Lycoming College football stadium will officially be called Girardi Stadium. Last month Girardi was
Greatness attracts attention.
For longtime Lycoming College football coach Frank Girardi, invitations from two college presidents 50 years removed both began and immortalized the man whose accomplishments will live in perpetuity by the recent announcement that effective September 9, 2023, the Lycoming College football stadium will officially be called Girardi Stadium.
Last month Girardi was invited to a luncheon with college president Kent Trachte to discuss what Trachte had referred to as "some business." That "business" was to inform the legendary coach that the college wanted to name the stadium in his name.
"I was totally surprised when he told me what they wanted to do," Girardi reflected. "This is a great honor. When I first was told, my emotions were up and down and all over the place. I am certainly most grateful for this type of honor that has been given to me. I have gotten a lot of emails and phone calls from former players and friends, and that has meant a lot to me and has been really nice."
In his 35 years on the Warriors sideline, Girardi's teams compiled 257 wins, including 11 NCAA Tournament appearances, and advanced to two national championship games. They were a yearly power in the Middle Atlantic Conference, winning 13 league titles and earning the coach national recognition via his 2016 enshrinement in the College Football Hall of Fame in Atlanta.
The October luncheon with President Trachte brought back vivid memories for Girardi as to how his Lycoming career was launched.
"I can remember it like it was yesterday. In 1972 Lycoming's president, Dr. Harold Hutson knocked on my front door on a Saturday morning. I was surprised to see the president standing at my door. He said to me, Frank, I want to offer you the head football job at Lycoming. I asked him if everybody else had been informed. He answered yes. We then shook hands in our living room and agreed. That's how it all started.
"It is going to be something else to have a stadium named after you, but when this is all finished, and you walk into that stadium, it will be for all the Girardis, not just me. I am all about family, and there are so many people that have helped me get to this point. Family and sports form the definition of my life. Two sons have played and coached for me, a son-in-law played and coached for me, two grandkids have played for me, and our daughter was on a championship softball team. It has been about a lot of things, but my association with Lycoming College has been great for our whole family."
President Trachte's 2013 arrival on the Lycoming campus came six years following Girardi's coaching retirement, but he admitted being honored to be the one to inform the coach of the honor.
"Over the past nine years, we've had quite a few conversations, and my admiration for him as a leader, as a person who impacts young people's lives, and as a family man is growing each time, we've had a chance to talk. I have enjoyed getting to know the man."
Comparing how college football has changed over his many years of involvement, Girardi responded.
"Looking back to that point, the type of football being played through the years has undergone many changes. The wing-t was popular, and then option football came in, followed by the various spread formations. I always believed in having a balanced attack to be able to both run and pass the football. Today, the style of play at the college level has changed to sometimes resemble a track meet. But, no matter what kind of offense a team chooses to run, you've got to have a great defense to win consistently."
Asked if, in life's quiet moments, he allows himself to reflect upon his accomplishments and what they mean to him, his emotions were evident.
"Absolutely, I do. The College Hall of Fame was a tremendous honor, but a lot of times, the guy in charge gets the accolades, but so many people have helped achieve the successes that an individual has reached. I could say, no, I don't think about that, but to be honest, I do, and it brings back so many great memories of the coaches and players with whom I've shared this life's adventure."
He then offered a personal antidote to a request made by the NCAA following his induction.
"About a week after that Hall of Fame induction, I got a phone call, and they were asking if they could keep the football that I had sent them that had our Lycoming College record inscribed on it. I told them that the ball was something very special to me and I wanted to keep it here with me. They understood. I had also provided them with a pullover that I used to wear on the sidelines, and they inquired if they could keep that as part of the display, so I agreed to let them keep that."
September 9, 2023 will be a very special time for the entire Girardi clan.
"I'm really looking forward to it because I know we're going to have a heck of a crowd of alums. I know the stories are going to be flying all over the place. It will be a great time."
Indeed, it will, and most deserved!