November 9, 2022
107 Views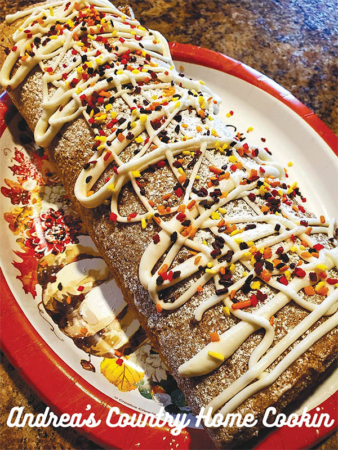 SIXTEEN days until Thanksgiving Day! It's getting down there! Time to continue our countdown this week with some menu ideas, thankful talk around the table, how to continue to prepare for the upcoming weeks, and some decorating tips. Most of you probably don't know that I love to decorate. I love decorating for each holiday
SIXTEEN days until Thanksgiving Day!
It's getting down there! Time to continue our countdown this week with some menu ideas, thankful talk around the table, how to continue to prepare for the upcoming weeks, and some decorating tips.
Most of you probably don't know that I love to decorate. I love decorating for each holiday as I add that primitive touch to our home. This is the time of year that I bust out my tote of turkeys and is one of my favorite holidays to decorate for. I love the simplicity of it and what Thanksgiving stands for. My brother and sister-in-law and Chris and I take turns hosting Thanksgiving. We all enjoy hosting at our homes. Seems every two years, we switch. I love going to their home as much as I love having them here. We have such a wonderful time.
When hosting, I love adding those special touches. Runners down the tables, grabbing a few of my favorite turkeys from around the house and letting them have their spots on my Thanksgiving Day table. Candles lit down the long set table. I love it to feel cozy and welcoming for our guests. It's OK if you don't have many turkeys or fancy things to put on your table. It doesn't have to be expensive. You can go to the Dollar Tree and buy tiny tea lights or votive candles, and they sell the glass jars to put them in. Another idea to put the tealights in is a small pumpkin gourd. Cut out the top like you would start a big pumpkin for a jack-o-lantern. (You could even use an apple.) Make the opening as big as the tea light bottom. Once you have, it cut open enough, place the tealight down into the tiny pumpkin. Making a bunch of these in different colors looks so sweet on a Thanksgiving Day table or bar. You can set them anywhere. The Dollar Tree also sells fake leaves that you can place down around the center of the table.
Flowers are always a beautiful touch. Did you ever think about hollowing out a pumpkin to sit a simple bouquet of flowers inside? So simple and elegant! It could make a perfect centerpiece for around $15-$25, depending on how big you go. Find a medium pumpkin that is tall and skinny, and pick out fall-colored flowers. No table runner? That's okay. Find some Thanksgiving/fall-ish wrapping paper or fabric, then cut it to fit your table. Or, you can buy paper doilies (Dollar Tree or It's my Party Store) and layer them on the table to make up a runner. To add a pop of color, you can lay down craft paper first! Use brown, orange, or red for a splash of color; then, you could glue the dollies to the craft paper. There are so many simple, inexpensive things you can do.
As you gather around that beautifully set table, and your family is finally together, take a moment either before your meal, while eating, or after you have dinner to go around the table. Each person says what they are grateful for. It is the season to be thankful, and we truly do have many things to be thankful for. It's a great way to hold a conversation and to tell those around you that you are thankful for them.
When hosting, I set all the food on our bar, so it doesn't feel so crowded at the table. Our Thanksgiving menu is the same every year. Roasted turkey, glazed ham, mashed potatoes, gravy, filling, green bean casserole, baked corn, homemade bread with cinnamon butter, cranberry sauce, and sometimes sweet potato casserole. For dessert, we have pumpkin pie, chocolate cream pie, ice cream pumpkin pie, and pumpkin roll. Dessert, we have twice throughout the day. Once after lunch, and then when we make sandwiches out of the leftover meat for dinner. I personally love to pair it with a slice of pie. Oh man, I swear that's my favorite part! A slice of chocolate cream pie with a fresh ham sammy on Thanksgiving night. (Dad, I look forward to that pie more than you know. But I know you know that from last year. *wink, wink*)
What's on your menu? Do you do a traditional Thanksgiving? I think it's always great to have two different kinds of veggies. Some people even do things like make mac and cheese with mashed potatoes. Shrimp, Jello salads, or candied yams are another few classics. If you haven't started your menu, jump on it this week if you didn't last week.
Lastly, other things to do two weeks ahead make your desserts. You can freeze many of the popular ones and freeze them. When I make my Thanksgiving pumpkin rolls, I freeze two for Christmas. It tastes just as good as the day I made it. I just don't decorate it until it comes back out of the freezer. Most pies and cakes can be frozen as well. You can also make things ahead, like sweet potato casserole without the topping, hashbrown casserole, baked corn, and even prep some of your Thanksgiving dressings. Also, pick casseroles that have the same bake temp so they can bake together.
Times a tickin'! Start now, so you don't have to stress later.
Andrea's Famous Pumpkin Roll
Ingredients:
• 3 eggs
• 1 cup sugar
• 2/3 cup canned pumpkin
• 1 tsp. Cinnamon
• 1 cup flour
• 1 tsp. Baking powder
Cream all ingredients listed together with mixer. Spread on a jelly roll pan lined with wax paper and greased. Bake at 375 for 15 minutes. Let cool 10 minutes, then turn into a t-towel sprinkled with powdered sugar. Roll up and place in frig. When cooled, unroll and spread with filling.
Filling:
• 1 (8oz) cream cheese (room temp)
• 1 1/4 cup powdered sugar
• 1 tsp vanilla
After spreading with filling, roll up jelly roll style.
*Note: I always make extra icing for my pumpkin rolls to decorate the top. I place the icing in a sandwich bag and cut the corner off for a tip. I then do a back and forth motion going slowly up the pumpkin roll for a drizzle, dust with powdered sugar using a small stainer, then top with fall sprinkles.