In Sports
November 2, 2022
574 Views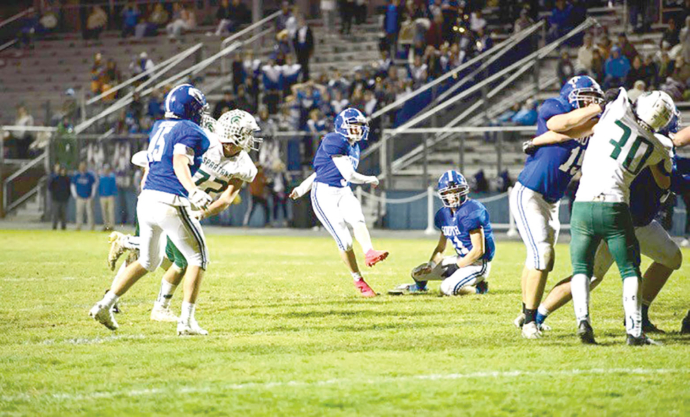 My articles are submitted on Friday. Yes. My lovely editor has the entire paper ready. She is always patiently waiting. Everything is on hold because of Sporting Matters. I have been on a roll lately — no more struggles with part-time mobile freelance procrastination. By now, the regular season is over. Several are gearing up
My articles are submitted on Friday. Yes. My lovely editor has the entire paper ready. She is always patiently waiting. Everything is on hold because of Sporting Matters. I have been on a roll lately — no more struggles with part-time mobile freelance procrastination.
By now, the regular season is over. Several are gearing up for the high school playoffs. I don't usually recap because these writeups get printed a few weeks later. But there is one contest where we will make an exception. It was a fantastic game between two old rivals. Both teams were tremendous. It was so intense, and there was a rollercoaster of emotions. I had the best seat in the house as my boys and I had the call on WEBB WEEKLY LIVE.
I have so many great part-time gigs that keep me in the action. Broadcasting football games is one of the best jobs in America. Hats off to my good friends from Little League International, Nick Caringi and Chris Downs are the guys behind the scenes. Nick is our producer. Chris mans the cameras. They are both top-notch people and make us look good. I enjoy working with these guys every Friday.
Drae Lewis is our color commentator. What a great kid, and he brings the energy. We have been together for the past two years, and we are developing some chemistry. Drae was a stud for Williamsport Area. He then played football at Ursinus College. Lewis tore an ACL his junior year. He decided to hang it up and started coaching. He was a terrific baseball player. Drae now coaches at Penn College. He is several years younger. But I love our conversations. He is getting better and better. My man even records stats on a brand-new whiteboard. Hobby Lobby gave us a discount.
Our crew did the Hughesville Spartan and South Williamsport Mountie double OT thriller. Again. I can't tell you how great this high school football game was. I would put it up there with one of my favorites. Both squads are having average years. Solid but nothing spectacular. We didn't know what to expect. South always likes to grind, and Hughesville has a great defense. The Mounties scored on their opening drive. Hughesville answered with their first possession. The offenses quickly stalled, and there wasn't much action. Both teams had some chances. But no one could find the endzone. The score was tied at halftime. We saw the exact same in the third and fourth quarters. It was ugly but exciting football. Neither team scored any points, and we headed to overtime.
Hughesville took the ball first and kicked a field goal. South missed an opportunity and sent Aleigha Rieppel for a game-tying 25-yarder. OK. Background. The Mounties haven't successfully kicked a field goal since 2016. Talk about emotions. The game was on the line. This kick was for all the marbles. Make it. We go to double OT. Miss it. Well. Better luck next week. Rieppel is a rookie, and SHE just started playing football. Aleigha is an exceptional athlete. She is a three-sport star and excels in soccer, basketball, and softball. Yes. Aleigha has played in many big games, but this was totally different.
"I was so nervous," Aleigha shared. "Especially when I was on the sidelines. I knew it might come down to a kick. I tried not to think about it. I was OK when I got on the field. I was confident from that yardage. I didn't want to let the guys down."
RIEPPEL. THE SENIOR. THE LEFTY. THE REDHEAD. I KNOW HER SISTER. FROM 25 YARDS. GOOD SNAP. GOOD HOLD. THE KICK. SHE DID IT. SHE NAILED IT. THAT BALL. THAT BALL IS HEADING TO CANDY CANE LANE. GOOD FOR HER. THAT WAS AWESOME. GOOD FOR HER.
Aleigha made it look easy and extended the game. South Side eventually won 16-10 in double overtime with Caden Harris' walk-off 30-yard touchdown. It was a tremendous game. Both teams were great. An instant classic. Yes. One squad came home with a victory, but there were no losers that night in South Williamsport. It was incredible. Kudos to Hughesville and South. What an environment, and special props to my new favorite kicker — Aleigha Rieppel. She nailed it. Cheers.