In Sports
October 26, 2022
394 Views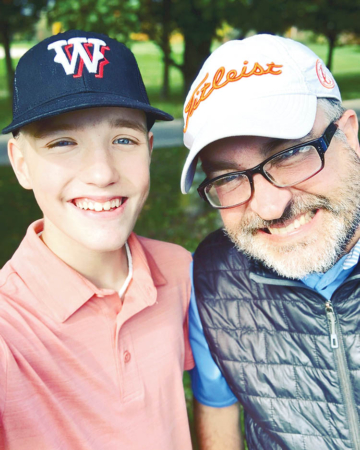 I was recently asked to tee it up in a few tournaments. I used to love golf, but now it's totally different. Yes. I am back to coaching at my alma mater. I am enjoying my interactions with the Lycoming College Warriors. But I don't play much. It's cool. I don't miss it. I seriously
I was recently asked to tee it up in a few tournaments. I used to love golf, but now it's totally different. Yes. I am back to coaching at my alma mater. I am enjoying my interactions with the Lycoming College Warriors. But I don't play much. It's cool. I don't miss it. I seriously can't remember the last time I played my own ball. It has been a few years, as I now mostly stick to scrambles. Isn't it funny how things go in cycles?
I used to be a rather good player. Feel free to take a look at my scrapbook. My entire life was built around the game. I golfed in high school and in college. My very first real job was with the United States Golf Association. I worked at White Deer Golf Course for 15 years. This is my second stint at Lycoming. My 16th season. Yes. I have played in many individual and team tournaments. Golf was a huge part of it.
Scrambles are a great way to keep things competitive. Everyone hits. You pick the best shot and keep at it. All walks of life can enjoy and add to this format. Good players help, but they are not required.
Now, I can still play from tee to green. I am getting shorter. But my wedge game is still elite. Putting was never my forte, and I tend to always miss. Thankfully in a scramble, you have three others that can help. Sometimes you get lucky and hole a putt. Scrambles are solid fundraisers. I would participate more, but they can get costly. I usually hold out for someone who is buying.
I played with a few chums in the Lycoming Homecoming Outing at Williamsport CC a few weeks back. One of our usuals was away, so we needed a scab. Times are tough, and we tried hard. My father got the nod after many invites.
Big Spence hasn't swung a club in at least five seasons. He had to rummage through my closet for a polo. I put together a mixed bag as he doesn't have his own set. Jim did his best, but he isn't very good. I think we only used two of his shots, and he killed a few squirrels. Pops even got to play from the forward tees, but that didn't help. It didn't matter as I had a great time with my dad. It was a good five hours well spent. Jim remembers faces but totally butchered several names. He had fun but said he was OK if he never had to golf again. It sure was fun while it lasted.
This past Sunday, my buddy Bob told me that I was playing in the Montgomery Elementary Wrestling Boosters. We usually stack a team but decided to do something different. Bob's son Camron is a freshman at Williamsport Area. He plays on the golf team and was looking for a little action. They asked if my son was interested. Geez. Jensen is a total rookie. He has no experience. We did play four holes when he was five. Jensen has only hit a few wedges in the backyard. My son has never shown any interest. He loves basketball. He enjoys baseball. But I never pushed it. Golf is different. It is too damn expensive. It is way too hard. Kids are too busy. And golf just isn't cool with our youngsters.
Jensen agreed when I told him that I would pay him. He also requested to drive the cart — another added bonus. We got to the course, and he was somewhat nervous. Jensen swung and missed many times, but he didn't get frustrated. He did make contact on a few occasions. Jensen lost a dozen golf balls. No worries. We used his tee shot and approach on the third hole. He didn't make a putt, but neither did his father. I was so proud of him for hanging in. Jensen and I had a blast, and he is hooked. He actually asked if we could play more holes. He now wants some new clubs for Christmas. Mom was actually supportive. I never heard him laugh so hard. Hopefully, this was the first of many father-son outings.
Golf is a family game. All three Spencers are self-taught. We have similar setups with very different results. My father isn't very good. He says he quit. I can still hang, and perhaps I am getting the bug again. Jensen is now showing interest. He wants to play more. It is a beautiful thing. Cheers.