In Sports
October 19, 2022
312 Views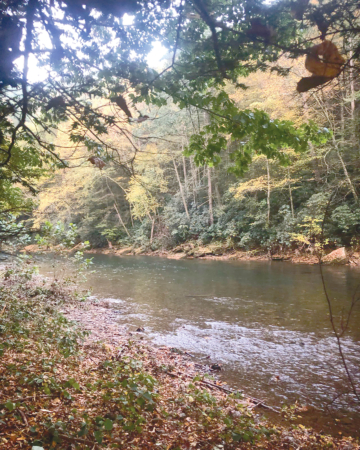 I love this time of year as North Central PA is on fire. Change is in the air. Everything is shining. Autumn brings us so many vibrant colors. The Visitors Bureau needs to give me a buzz. Our new addition has got me stressed. I wish there were more hours in the day. Sadly, there
I love this time of year as North Central PA is on fire. Change is in the air. Everything is shining. Autumn brings us so many vibrant colors. The Visitors Bureau needs to give me a buzz. Our new addition has got me stressed. I wish there were more hours in the day. Sadly, there is no time to fish. My casts have been replaced. I am finding myself hanging drywall instead of enjoying the great outdoors.
I never got into hunting. I was never introduced. I believe it's a family thing, and we decided to pass. But fishing is a passion. It is something that I truly love. And the fall is one of my favorite times to throw a line. Especially here in PA. The landscapes are just splendid. Pictures don't do justice. I am only looking for a pause in our construction to sneak away.
We live in Cogan Station, and my favorite stretch is only five minutes away. I am there an awful lot in the spring and summer. Maybe six nights a week. I am dead serious. Ask my lovely bride. But now I am struggling to find some love.
Blue-wing olives are still hatching. But very few fish are feeding on top.
I mostly prefer to throw dry flies, but I will switch to nymphing in the fall. Nymphs are tiny aquatic insects that are still in their underwater stages. It is said that over 90 percent of a trout's diet consists of the little critters. I totally believe it. Nymphing can be very effective on a year-round basis. Despite their size, trout constantly focus on these small bugs because of their abundance.
I am still a bug-chucking novice. And I have only been at this full throttle since COVID. I still have a long way to go, but I am starting to understand it. My basic nymph setup consists of a 9-foot leader, and I add another 6 inches of tippet. At the very end, I tie my nymph. I literally have hundreds in my box, but I normally stick to one of my favorites. A tungsten-beaded peeping caddis baby. Some folks will add another fly to the bend of the hook, but I normally stick with one. I tend to get tangled. I don't do well with knots. A split shot is added when needed. I will use a small weight a few inches above my fly. The last piece in my basic nymph rig is my strike indicator tied high above. Again. I am still learning. I have yet to master the High Stick or European method.
The amount of weight I use will always vary. A lot depends on the speed and depth of the water I am fishing. The key is to use enough weight to have your nymph bouncing along the bottom. Trout are more sluggish, and they don't work as hard. The placement of my strike indicator also depends, but as a general rule, it should be at one and a half times the depth. Always be sure that your presentation moves with the flow of the current. Your nymph should drift naturally. Drag free.
Pay close attention to your elements. Fish aren't as dumb as they look. Especially those that are holding over. They aren't as aggressive as their recently stocked counterparts. The water is clear, and it is filled with leaves. Patience is so important. Throw a few casts upstream to practice. Think slow. Watch that indicator and focus on what happens. Get that nymph close to the floor. You should be able to tell the difference between a strike and brushing the bottom. When you see a sudden twitch or pause, simply raise your rod. There is no need to set the hook like Bill Dance or Jimmy Houston. The fish will hook themselves. This obviously takes time to master. Don't get too excited, and stay humble. You are more likely to catch a few leaves. Patience is so important.
The Delayed Harvest section near Powy's is my personal favorite. I fish this stretch year-round. It provides some exceptional fishing, especially here in the fall. The surrounding area is just gorgeous and spending some time on the water only adds to the experience. I just asked my pops if he wanted to postpone the framing, but he said no. Give nymphing a try, kids. You will be rewarded. Cheers.