In Sports
October 12, 2022
251 Views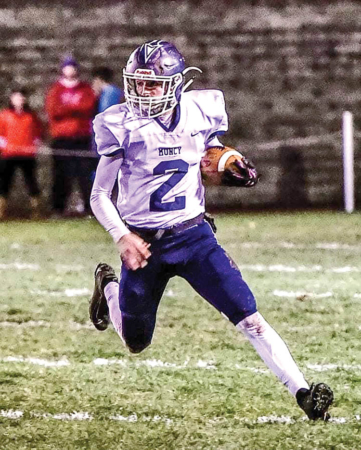 I am very thankful for all of my part-time gigs. It gives me the opportunity to come in contact with so many great kids. Whether it's coaching, broadcasting, or writing a note — I have made several new friends. This week's column features a young man I have known for quite some time. I went
I am very thankful for all of my part-time gigs. It gives me the opportunity to come in contact with so many great kids. Whether it's coaching, broadcasting, or writing a note — I have made several new friends.
This week's column features a young man I have known for quite some time. I went to school with his parents, and I would call his pops one of my good chums. Royce Eyer was an NCAA D3 Champion for Lycoming College. He was a stud. I am so glad his son decided to hang up his singlet and pursue other sports.
Branson Eyer excels at everything he does. My young friend has been in the spotlight since day one. He is a great kid who always puts his team first. Branson doesn't care about individual accolades and only gets satisfaction when his Muncy Indians prevail. They have had an incredible run. Branson is a true three-sport athlete and a tremendous student as well. Branson is currently 4th in his class. That is so impressive. More so than all of his accomplishments in football, basketball, and baseball.
"Branson is an outstanding player and a tremendous leader, too," local guru Chris Masse said. "A four-year starter in every sport. I still remember his first district final as a freshman against Canton. He led Muncy on a game-winning drive as a 15-year-old kid. Nothing seems to rattle him."
Eyer is one of the area's top quarterbacks. Muncy is off to a great 6-0 start. Branson threw for 207 yards and 2 TDs in a big 21-14 over South Side. He is having a solid senior season. Branson always leads by example. It doesn't matter the sport. He is the man. Good luck trying to find anyone who works like him.
"Branson is a SILENT ASSASSIN," hoops Coach Jason Greesh explained. "He is a four-year starter and a three-year captain. Branson could care less about getting his. He takes great pride in his defense and was named the Mid Penn's very best. Branson could easily score 20 points a game. But he understands his role and will constantly guard our opponent's top player."
Branson Eyer is very well-spoken, and I am so proud. He excels in everything. Branson plays them all. He doesn't focus on just one sport. He isn't too concerned about playing at the next level. If it happens. Great. Branson wants to get out of town. He is currently looking at some big schools down south. I think he will be quite alright.
"Branson is going to be successful in whatever he decides," Greesh continued. "He works just as hard in the classroom as he does on the field. Branson remains humble and always puts the team first. He is a terrific teammate. Again, he gets more satisfaction about the win instead of complaining about only scoring 2 points."
I enjoy getting to know these youngsters with all of these part-time gigs. Okay. I will miss talking trash to Branson before our hoops games. Eyer is a great kid, and it has been fun to see him grow. Not only on the field, court, or diamond. Branson Eyer is an exceptional student and an extraordinary lad. I am incredibly thankful that he and I are friends. Cheers.