In Sports
September 28, 2022
666 Views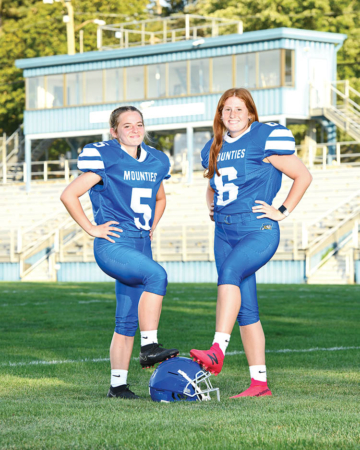 When repeatedly successfully completed, the out-of-the-ordinary becomes commonplace. Such has been the case this season for South Williamsport's special teams when converting extra point attempts after Mountaineer touchdowns. So effective have South's kickers become that no second thought is given that the ladies responsible — Aleigha Rieppel and Piper Minier — spend most of their
When repeatedly successfully completed, the out-of-the-ordinary becomes commonplace. Such has been the case this season for South Williamsport's special teams when converting extra point attempts after Mountaineer touchdowns. So effective have South's kickers become that no second thought is given that the ladies responsible — Aleigha Rieppel and Piper Minier — spend most of their week with the school's soccer team before their Friday night dates on the gridiron.
Both seniors, the talented athletic duo, have played leadership roles since their freshmen years in propelling South's soccer, basketball, softball, and track teams to outstanding seasons. When graduation rolls around in June, they will have left their mark on the school's record book, with Rieppel achieving 12 varsity letters and Piper nearly as many.
In recent seasons there have been some other schools that have benefited from the services of soccer-playing kickers, a few of which have been females. But what makes South Williamsport's situation unique is the tandem they provide, with each girl handling both extra points and kick-off duties.
For Mountaineers' coach Chris Eiswerth, the duo's kicking skills have filled a void that has greatly helped his team.
"There is no question; they've both been a big help to the team and are doing a great job. We have had soccer players kick for us in the past, but as we began pre-season practice drills, we didn't have anyone on the team that could kick. I told our players to help us find a kicker. They responded in a big way and found us two in Aleigha and Piper. We're giving each of them opportunities, both with extra points and kicking off. I am very glad to have them on the team."
As the season reaches its midpoint, the pair's talented legs have produced positive results. Although her first two extra-point tries of the season were blocked, Rieppel has since converted 12 of her next 14 kicks, while Minier has connected on 5 of 7 attempts. While alternating on kick-off duties, their ability to place the ball has greatly negated opponents' return yardage.
Although Minier was not available by press time, Rieppel took time to share her football experience with Webb Weekly.
"It's been a lot of fun. It is even a lot more fun than I thought it would be.
"I didn't know too much about football, and I didn't pay too much attention to it when I was watching from the stands. But being on the sideline and having to know when I go out on the field, what play we are on, I've learned so much about football and I actually enjoy watching football a lot more now."
Asked about her reaction when approached by team members to join the team, Rieppel was quick to respond.
"I was really excited about it because I have always wanted to be the kicker for the football team. When the boys wanted me to do it, I jumped on the opportunity."
Because both girls are standout players on the soccer team, Wednesday is the only day they get to practice their football kicking skills. Despite the limited practice time, Rieppel has adjusted well.
"The football is much heavier and shaped differently, but when I am kicking either ball, I use the same motion. Kicking extra points is pretty simple because it is the same motion every time. There are different types of kick-offs the coaching staff may want, onsides, long & high, long & low, just being able to adjust to the different types of kicks. It is good to have both of us because each of us has different strengths.
"I didn't get to kick at our first game at Milton, so I was super excited for my first extra point attempt at Montgomery. The first two kicks I tried got blocked, but even though that wasn't my fault, I panicked because it felt like it was my fault. But the boys helped calm me down, so I just kept going out there and trying. When I made my first kick after our third touchdown, I was much more relieved.
"I get nervous every time I try a kick, but it is very relieving when it goes through. I get happy when the kick is good, and all the boys are proud of me too. It gives me a warm feeling; I guess you could say. Compared to the other three sports I play, it is a different kind of pride. I think that it is because it is so new to me. It is like learning something as a little kid again."
In a sport where occasional trash-talking occurs, Rieppel has not been the subject of the same.
"I haven't experienced any of that, and I don't think Piper has either. There was one kick against CMVT that a player came crashing through to try and block it, but I had already gotten the ball through the uprights. He just slapped my back and said good job. So far, everyone has been real nice about it."
Rieppel and Minier have played in big games during their South athletic career, but the aurora of Friday Night lights has a different feel.
"It is really cool when they announce our names when we go out on the field," Rieppel confessed. That doesn't happen in the other sports I play."