In Sports
July 27, 2022
602 Views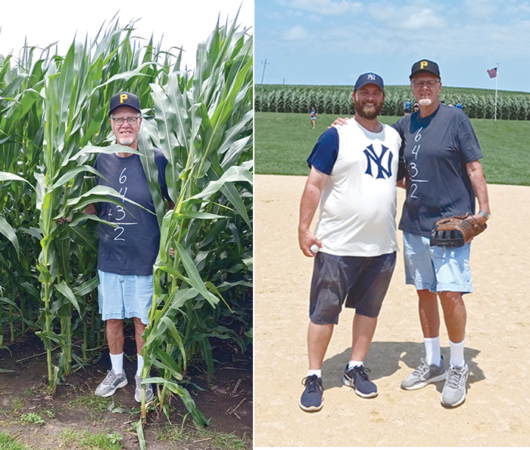 "Build it, and they will come" is one of the many often-quoted lines from the 1989 movie Field of Dreams. In actuality, the line in the movie was "build it, and he will come," referencing Shoeless Joe Jackson of the 1919 Chicago White Sox fictional appearance in that Dyersville, Iowa cornfield. Regardless, whether it is
"Build it, and they will come" is one of the many often-quoted lines from the 1989 movie Field of Dreams. In actuality, the line in the movie was "build it, and he will come," referencing Shoeless Joe Jackson of the 1919 Chicago White Sox fictional appearance in that Dyersville, Iowa cornfield. Regardless, whether it is they or he — let it be known people are coming to that iconic movie set location every day.
In my column last week, I had mentioned a conversation with a friend about an upcoming trip we were taking to Dyersville, Iowa, to visit the Field of Dreams and check off another one of my bucket list items. That trip was fulfilled last week and produced a special memory to me that was reflective of both my love for baseball and the message delivered in the movie that has since become a go-to destination for folks of all ages.
An 818-mile one-way trip to visit a makeshift ball field in the midst of a cornfield may indeed seem corny (pun intended) to many, but during the disruptive times we are now going through, it was a refreshing respite that reflected upon simpler times when hard work, reaching for your dreams, and family unity were important fabrics of the American way of life.
Those who have seen the movie understand that although the script centered on baseball, it was much more than that. One of the movie's most famous lines stated, "This field, this game: it's part of our past, it reminds us of all that once was good, and it could be good again."
As we approached Dyersville, a town of 4,477 in eastern Iowa, I expected to see a much more commercialized community built around the film's notoriety. What we found was refreshing. The town had that old-time Midwestern charm. Access to the Field of Dreams came via a two-lane road outside of town winding its way past planted fields arriving at the site. Parking was available in an unpaved field muddied a bit by an early morning rainstorm.
And suddenly, there it was before you, with the farmhouse and field looking just like it did in that 1989 movie. This was a come-as-you-are; do-what-you'd like attraction; no formality or strict rules to follow. Fathers, sons, mothers, daughters, and grandparents alike casually milled about reliving their own memories of the movie. Kids ran the bases, fathers played catch with their kids, and people walked in and out of the tall corn field circling the outfield area.
We sat on the small wooden first base bleachers taking it all in, and struck up a conversation with a gentleman from Kansas. Responding with Pennsylvania, when he asked where we were from, a family sitting behind us asked, "What part, we are from Picture Rocks?"
When I responded, "Williamsport," the woman asked, "Are you, Scott Lowery? I knew that had to be you!" Small world indeed.
The family, Amy & Kevin Meyers and their two daughters, had come to see the site just as several hundred others were doing that day. The irony of the moment then grew even deeper. During my working days as the executive director of the Lycoming County United Way, Amy was an account representative with Larson & Kellert, our accounting firm.
While enjoying a reminiscent conversation, I mentioned I wanted to play catch on the field, but Jean was a bit reluctant to do so. Kevin said he'd be glad to play catch with me. An avid Red Sox fan, I immediately saw the Yankees cap he was wearing but decided this opportunity was too good to pass up. So, we took to the field and played catch as our wives' cameras caught the impromptu moment for posterity.
On the other side of the Field of Dreams cornfield is the field MLB has constructed for their showcase game, similar to the MLB Classic held each year at Bowman Field. This year the game between the Chicago Cubs and Cincinnati Reds will be played on August 11. I struck up a conversation with a security guard mentioning that in Williamsport each summer, MLB plays a similar game during the Little League World Series
"I'm very familiar with that game and watch it on TV every year," was the response. "In fact, the operational crew that is here for our games departs to Williamsport to get things ready for your game."
We soaked up the inviting atmosphere for several hours, watching families enjoying themselves and seeing the satisfaction of parents playing catch with their children. It was a timeless moment all created by a fictional film that has left a legacy upheld by the pilgrimages of more than 100,000 coming to visit each year.
A few years after the movie was made, the film's star, Kevin Costner, remarked during an interview, "I believe there is a gentle call to come here."
For me, that 818-mile bucket list trip will always be held with fond memories of a special place.