In Sports
May 11, 2022
486 Views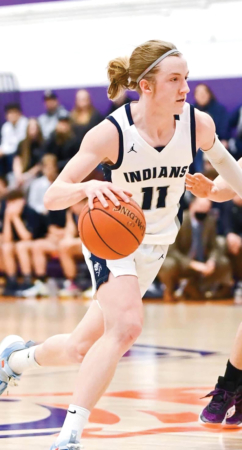 My wife has a good job, allowing me to have several part-time gigs. Whether it's broadcasting football, writing a column, or coaching hoops — I have the opportunity to come in contact with so many great kids. It is one of the many joys. So good news travels fast, and I am very excited for
My wife has a good job, allowing me to have several part-time gigs. Whether it's broadcasting football, writing a column, or coaching hoops — I have the opportunity to come in contact with so many great kids. It is one of the many joys. So good news travels fast, and I am very excited for my young friend — Ross Eyer from Muncy was recently named to the PIAA Class AA ALL-STATE first team. My man.
I have known Ross most of his life. Seriously. I went to Lycoming with his lovely mother, Sherry and his uncle Royce is one of my good chums. I even offered to sing backup in the family band. Ross is an exceptionally hard-working kid, and I am so proud of him. He had an outstanding junior campaign, and I was thrilled to see him score some state love. Ross deserves this.
"It means a lot," Ross told me via Skype. "I worked really hard to get here. I owe so much to those who helped. Several folks push me every day to become a better player. I'm so very honored to receive this accolade. There are so many to thank."
The junior swing had an incredible year. Ross averaged 20.4 points and an area-best 13.1 rebounds per game. Eyer also tallied 3.8 assists, 2.3 steals, and 1.9 blocks per clip. He recorded 24 double-doubles and helped the Indians reach the 2022 District IV Finals. Muncy finished the year at 19-7, and Ross was a huge reason why.
"Ross is driven by competition," Head Coach Jason Gresh explained. "When he was younger, if you drove by his house, you could count on seeing all of the Eyers (brother Stiles and cousin Branson) outside playing. I think this competition has really fueled all of them to constantly work to get better. It spills into other sports and also academics. This competition is contagious, and it impacts many others.
"We sat down and talked about some goals when he was in seventh grade," Gresh continued. "Ross told me that he wanted to score 1,000 points and get on a banner. He came back the next day and asked if anyone in school history had ever pulled 1,000 rebounds. I think it is important that none of those goals have been reached, but all of them are possible. It will continue to drive him next season."
His game has improved every year. The 6'4 athlete caused me and many other coaches several headaches. Ross can score both inside and out. His throwback post skills are legit. Eyer also drained 58 3-pointers this season. He has incredible range. Eyer fills up the stat charts. Heading into his senior year, Ross has 949 points, 709 rebounds, 191 assists, 132 steals, and 118 blocks. Dude. That is impressive. Ross Eyer will go down as one of Muncy's All-time greats.
Eyer's stats are insane. And he excels in everything he does. Ross is a two-time all-state safety in football and is one of the area's best on the mound. Eyer is an exceptional student, and he is a great kid. It has been a pleasure watching this youngster develop both on and off. He has a great work ethic, and he is so damn polite. My man has a great head of hair. I thoroughly enjoy our conversations after football games and our friendly banter in layup lines.
"Ross is a fantastic player," Gresh added. "He is a great leader. He is a great role model. He is a great teammate. But more importantly, Ross is a great person. He smiles, laughs, and is always quick to give to others. Being a first-team All-State Basketball Player is amazing. Our school's very first. I always thought it was a lofty goal, but Ross Eyer found a way. He did it. I couldn't be prouder. I could go on about him forever. Spence? Are you still on the line?"
Ross Eyer is just getting started. He will be back next year as a senior. Ross excels in all three sports. He doesn't concentrate or focus on just one. Play as many as you can, kids. Have some fun. All of these gigs allow me to interact with many in the area. It is a beautiful thing, and it is something that I cherish — especially getting to know some of the local youngsters. I also extend my congratulations to Ross Eyer. He is a stud on the court, and he is one of my personal favorites. Well done, Slim. Cheers.