January 26, 2022
147 Views
How many people got the urge last week to deep clean your fridge or clean a closet or drawer because of my column? Did I help motivate you to get a few things done? This might surprise you, but I wasn't always organized. Back in my younger days, I wasn't the cleanest. My parents were
How many people got the urge last week to deep clean your fridge or clean a closet or drawer because of my column? Did I help motivate you to get a few things done? This might surprise you, but I wasn't always organized.
Back in my younger days, I wasn't the cleanest. My parents were always on me about my bedroom. I never could seem to stay organized. I heard "clean your room" a few times a week. Funny, I have an eight-year-old daughter who is the same dang way!! No matter how hard I try, that child cannot stay organized! Her report card last marking period was wonderful! There was one R. I was like, what's the R stand for!?
It meant rarely shown. I slid my finger across the R to see what was rarely shown. It was organization. I literally started laughing out loud. I thought, "of course it is!"
I messaged her wonderful teacher Mrs. Thompson and was just curious what exactly it was that was unorganized. I figured her desk. Sure enough, that's what it was. I told Kenz she better keep it clean and that I would have her teacher send me pictures of it randomly if I had to. (She's done much better.)
Then I have my son, who is the complete opposite. So organized, and his room always stays so nice. I don't get it!? Well, I guess I do. My momma said she is just like me at that age. I think back and go, "yup, that's exactly what's going on here."
My mom and dad were worried I wouldn't keep a nice house when I couldn't even keep my bedroom clean.
The year I got engaged and was ready to be married, my dad and brother helped me move my bedroom down to our new home that sat right below my parents. We had bought our neighbor's house, Dorthy Bubb, who had passed away the year before. She left a sweet little 1948 home that sat up in the woods and had beautiful property. It needed to be updated, but after seeing the potential of this sweet home, we bought it. It was nice being right down the road from my parents.
My dad put everything in his truck and drove down the dirt road to our new place. I don't even think I was home that day to help. I don't know if he was on a mission to get me the heck out at eighteen years old or if he wanted to get it done and over with knowing his little girl was leaving the nest in a few days.
When I came home that night, he said to me, "Andrea Sue! Do you know what we found under your bed!?"
"Um, candy?" I asked. I was known to hide candy and snacks in my room for some odd reason.
"No, it wasn't candy. It was a hoagie!" he explained.
"What!? A hoagie!?" I asked.
"Yes, Andrea. A hoagie. I know you keep snacks in your room, but a hoagie is just not right."
"Dad, I swear to God it's not mine! Why would I keep a hoagie that needs refrigeration under my bed!?" I mean, I was young, and my brain still was obviously not fully developed at that point (haha!), but I knew that darn hoagie was not mine.
I knew exactly where it came from. A girlfriend and I went out to dinner, and she came back to the house with me. She brought it up to my room, so she had it when she went home. She must have laid it on my bed, and it fell between the wall and the bed, never to be seen again!
Guys, I still get grief about that hoagie to this day. Dad brings it up, I'd say occasionally. I still have to defend myself that it wasn't mine, and they still don't believe me. How rude.
Both of my parents now tell me what a wonderful housekeeper I am. My mom always says, "I never dreamed you would keep a house like you do; I am so proud of how clean your home always is."
So, what I am hearing when she tells me this, is that there is hope for my daughter Kenzy. Praise Jesus because that girl is driving me to drink with how sloppy this child can be. Ha!! (I really don't drink, just a figure of speech.)
It's not hard to stay organized. You just have to buy things that will help you stay that way.
For instance, in our freezer, I went to the Dollar General and bought two plastic bins that fit perfectly on our freezer shelf. I put labels on them that say, "healthy lunch," and the other says "breakfast items."
In the bathroom closet, I keep six plastic Sterilite containers that lock and are the size of a shoebox. They fit perfectly into our closet. I have labels that are first aid, medicines, Andrea's breathing medicines, sun care, extra toothbrushes & toothpaste, and last but not least, my personal favorite, poison ivy sh–. I get poison so easily and so bad that it makes me mad. That label felt necessary, and people that see it crack up laughing. I call it my conversation piece.
Our deep freezer has six bigger Sterlite containers that lock for different meats. It's so nice to go down and pull a tote out, and you know what will be in it instead of digging through a huge deep freezer that gets everything lost so quickly. Plastic containers are your friend here. Use them! You won't be sorry. Before you know, you'll be buying a label maker like me.
*wink wink*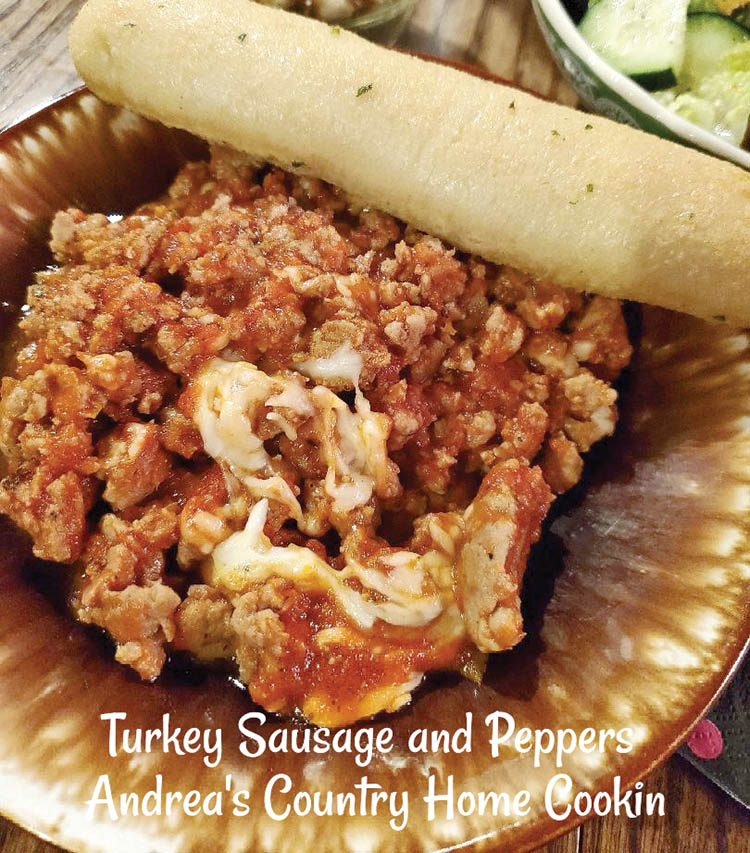 Turkey Sausage & Peppers
Ingredients:
• 2 lbs. ground turkey sausage
• 1/2 cup chopped onion
• 1 1/2 chopped bell peppers
• 1 tbsp minced garlic
• salt and pepper
• jar of good, tasty tomato sauce
• mozzarella cheese
Directions:
Cook meat in a large pot on medium heat with onions and peppers. After the meat has started to cook, add garlic, salt and pepper. When meat is fully cooked, slowly add the sauce. Turn heat down to simmer, and with lid on, let simmer for at least 30 minutes; stirring occasionally.
When ready to eat, sprinkle on mozzarella cheese.