In Sports
December 29, 2021
698 Views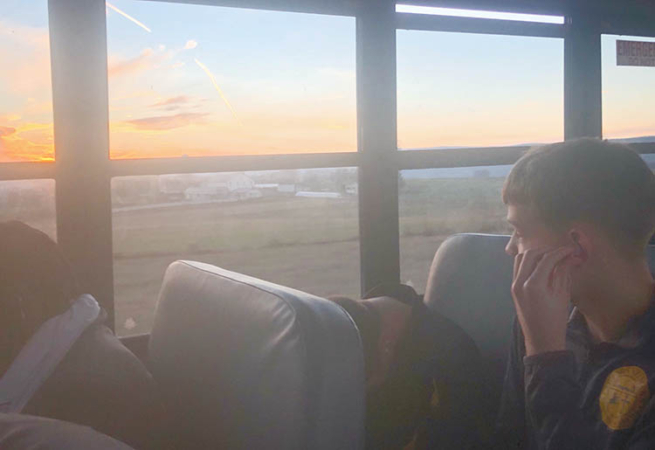 Sitting in the front seat of a yellow school bus on a backcountry road. We are on our way to State College to play St. Joe's. My guys are awfully quiet. They are all listening to their music and thinking about the game. I just looked back to see some smiles, and one of my
Sitting in the front seat of a yellow school bus on a backcountry road. We are on our way to State College to play St. Joe's. My guys are awfully quiet. They are all listening to their music and thinking about the game. I just looked back to see some smiles, and one of my players actually waved.
I still love the game of basketball, but my perspectives have changed. Coaching is hard. It is a very demanding and thankless gig. I get it, and a lot comes with the territory. But I've learned to appreciate these moments. They keep me sane.
My sincere apologies for last week's absence. I had to deal with a minor family crisis. There simply are not enough hours in the day. This part-time mobile freelance scribe was feeling overwhelmed. The St John Neumann Golden Knights and many others opened up their basketball seasons. We were in the 17702 Tuesday and hosted the mighty Royals from Redeemer a few days later. This is a great time of year. Practices are overrated. There is nothing more exciting and fun than being in a high school gym during the holidays.
I have so much respect for South Side's Joey Simon. He has been a good friend, and I am thrilled to see him back on the sidelines. Joe returned to coaching after a brief hiatus. He is a great dude and does it the right way. I also got to hang with Paul McGinn and JJ Manikowski during warmups. They are both helping, and I could tell you some stories. South Williamsport is in good hands, folks. Trust me. The place was packed, and it had an electric atmosphere. Both teams played well, and we witnessed a very entertaining game. SJNRA nipped their rivals 85-60. Our guards are outstanding.
We were back on the court that Thursday. It was a non-conference game with our brothers from Wilkes Barre/Scranton. Holy Redeemer is legit, and they exceeded all of my expectations. They were the only squad to give Loyalsock a loss last season. A lot of those guys were back, and man, were they impressive.
Neumann got off to a blazing start. But we ran out of gas. Our shots didn't fall in the second half. The Royals made life miserable. They were good. It was a terrific game for us early in the year. We lost 53-39. Relax kids. The Knights will be just fine.
The Loyalsock Lancers are off to their usual great start. The defending state champs have several new faces, but they are still the top dawgs. Expect big things for Senior Saraj Ali. The versatile 6'5" forward knows how to play the game. CI and his Lancers lost their opener but bounced back with an impressive 61-56 win in OT over Trinity.
I am excited to see the Millionaires. Coach Allen Taylor sure has some size. Williamsport plays stifling defense. They are holding their opponents to under 45 points thus far this season. Their offense is getting better. And I am glad to see that my alma matter is back.
Coach Nick Tagliaferri and I have been buds for a very long time. He is the best in the business, and his Spartans are tough. Tag has a scrappy group that plays with some heart. Hughesville is currently 4-1, and they are already battle-tested. Forward Carter Cowburn is a stud. The big fella is averaging a double-double early on.
Yes. It is a wonderful time of year. Hopefully, I will get a chance to see you in a local gym — best wishes on a successful season, boys and girls. My fingers are still crossed. Happy New Year. Cheers.