November 24, 2021
65 Views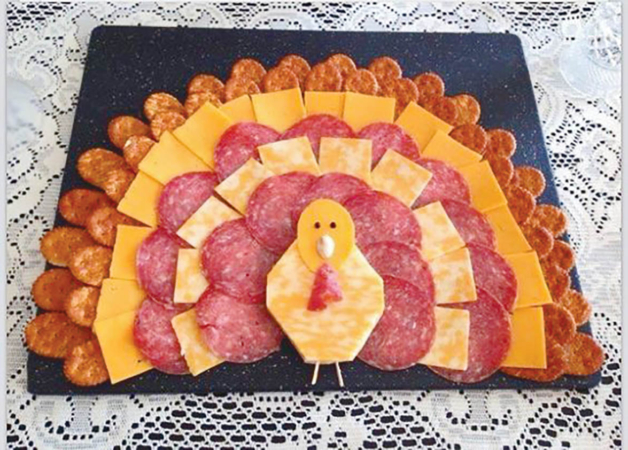 How cute is this appetizer idea!? Arrange with different crackers, cheese and meats to charm your Thanksgiving guest! One of my favorite weeks is finally here. The week of parent-teacher conferences, delivering lots of pumpkin rolls, special time with family, juicy turkey, Macy's Thanksgiving Day Parade, a little shopping, and then it's time to deck
How cute is this appetizer idea!? Arrange with different crackers, cheese and meats to charm your Thanksgiving guest!
One of my favorite weeks is finally here. The week of parent-teacher conferences, delivering lots of pumpkin rolls, special time with family, juicy turkey, Macy's Thanksgiving Day Parade, a little shopping, and then it's time to deck the halls out here in the holler. It's always such a fun week. After I get those parent-teacher conferences done, I'll start all those pumpkin rolls.
Years ago, I started making one for my Pastor for Pastor Appreciation. When it comes to Pastors, we have the very best, and I am so thankful for Robert Regan and his wonderful wife, Nancy Regan. They are such amazing people. But, my pumpkin rolls are so big, and just being two of them, I started giving it to him at Thanksgiving so he could share it with his family as they all enjoy it too. Why not spread the love of pumpkin rolls?
My dad loves pumpkin rolls, especially mine, so every Thanksgiving Eve, I go knock on his door and say, "Happy Thanksgiving Eve!" and deliver his very own personal pumpkin roll. Of course, I know he shares it with my stepmom, too, because it's supposed to be for both of them.
I end up delivering a few more that night and love making people's night as they are busy preparing for Thanksgiving. I usually make about 6-8 pumpkin rolls at the minimum. I am thankful I can cook and bake and share food with our loved ones. I am also thankful for my double ovens! Haha.
I am thankful for many wonderful Thanksgivings surrounded by family. We spent many Thanksgivings at my Gram and Pap's (Dwain and Margaret Perry's) house when I was little. So many good years there, until one year the table literally broke in half, and a good part of the food fell on the floor. That broke my gram, and it was just getting too much for them, so they started going out for Thanksgiving.
We then started having Thanksgiving with our Liddick family, which made for a huge Thanksgiving. But years after my parents split up, my Grammy Perry got very sick, and I wanted to have a big Thanksgiving of my own with her. So we had my dad, stepmom, gram, uncle, and my brother and his wife over for our very first Thanksgiving in our new kitchen and dining room. We hadn't had a Thanksgiving meal with my dad in years (since my Pap Perry passed away), and it was so lovely to be with him and actually have the room to host a bigger group comfortably. My gram then also passed away, but I kept the tradition of making Thanksgiving Day spent with my dad.
My brother and his wife (Luke and Loren Perry) started sharing Thanksgiving with us, and we take turns hosting now. Loren's family started joining us years ago, and also my in-laws! It's kinda cool the way Thanksgiving turned out over all these years, but I love how small and quaint it is. Usually about 12-16 of us. We have had it the past two years, and now the Perrys want to take over again.
We both love hosting each other's families. My brother and Loren do such a wonderful job too. We all just look forward to a day where you don't run all over trying to see everyone. The day is just spent eating delicious food, watching Christmas movies, looking through Black Friday deals, and just being together. My stepdad and momma (Mark and Susie Metzger) even come over now in the evening, after their traditional meal with the Liddick family.
I am thankful for the Thanksgiving mornings as a little girl when my momma made me hot cocoa and toast during the Macy's Thanksgiving Day Parade. I'm now 36 years old, and every Thanksgiving morning is still the same. My kids now look forward to the hot cocoa and toast while watching the parade as well, and of course, start looking for our sweet little elf Charlie who starts showing up around this time of year. I am thankful for all these little memories and traditions that continue on.
There are just so many things to be thankful for. Health is a big one. You know what they say, health is wealth, and that couldn't be any truer! Be grateful for each and every morning you can get out of bed.
I'm thankful for our warm home to come home to in the winter months.
I am thankful for my jobs. They say if you love what you do, you never work a day in your life. I am thankful for the wonderful businesses (Thanks Webb Weekly and Rust and Shine!) I work for and also the amazing families I clean for. Like, I can't say enough about them! I feel a part of their families as I am with them each week. So blessed to do what I do.
I am thankful for my incredible husband and wonderful kids, who complete me.
I am thankful for an amazing, loving family who would be there anytime I need them.
I am thankful for each and every one of you who take the time to read each week and take the time to tell me how much you enjoy my family stories and recipes.
Most of all, I am thankful in these hard days, we are living in that I have the Lord I can lean on and know that no matter what happens, he is in control. I know that whatever happens, it's in his hands. I am thankful he washed away my sins! Happy Thanksgiving, everyone.