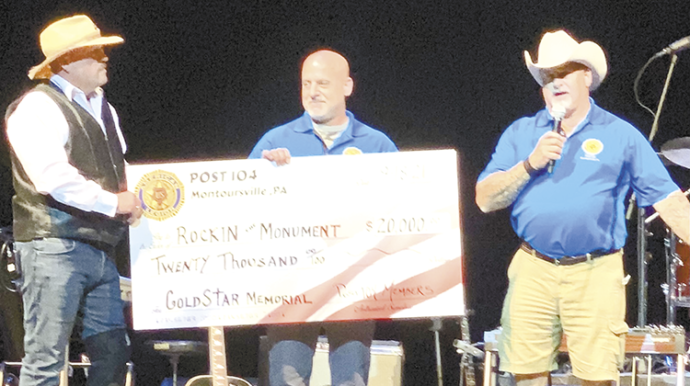 It has been great to hear from so many of you recently on such a wide variety of issues. So, before I put a wrap on September and move full speed ahead into October, I thought it would be good to share some of the conversations. First up, thanks to so many for the positive
It has been great to hear from so many of you recently on such a wide variety of issues. So, before I put a wrap on September and move full speed ahead into October, I thought it would be good to share some of the conversations.
First up, thanks to so many for the positive comments and conversations about Webb Weekly Live and our football coverage. It is truly a pleasure to bring it to you.
The most common issues folks want to bend my ear about involve President Biden, Nancy Pelosi, Chuck Schumer, and our current Federal government's decision-making. I think most Americans living in our area feel the same as I do about where they're taking our Country. I don't have enough pages within the Webb Weekly to go through each by issue, besides those that support President Biden and his sidekicks aren't going to see anything differently over something I write. I will, however, have an upcoming article about the five most important things that need to be changed immediately in the best interest of National security.
The next hot topic of discussion is the COVID-19 vaccine. I can't believe how much misinformation is out there. I have written about this before, but I think a quick review is necessary.
I am a firm believer in the rights of the American citizen. I am also a believer if the media and government provide factual information, "We are the People" will make the right commonsense decisions. So, most importantly, I want to dispel any rumors first about the effectiveness of the COVID-19 vaccination. All the factual information I read; all the sources I have talked to inform me that it has between 86 to just over 90% effective rate; this is based upon those showing up at hospitals and urgent care facilities testing COVID-19 positive. Evangelical Hospital has a daily Facebook post surmising the cases, and it's especially worth noting that the around 10% that are classified as breakthrough cases have immunities built to avoid critical care and/or a ventilator. The percentage requiring such care is less than 2%.
So, what does this all mean through my eyes? I am vaccinated, as well as my family. Only my wife had any negative reaction. Anytime you receive a shot for any reason, there is a chance for side effects. Regarding COVID, it's those commonly used words of risk versus reward you must weigh out. One of the concerns I hear from many is the possibility of future side effects of the vaccine as opposed to CDC-required immunizations that are developed and studied for a much longer time. Again, risk versus reward on a personal level. The best thing you can do is talk with your doctor or medical professionals you trust. Do not allow whether or not you get vaccinated become an issue of political affiliation.
I'm confused over the vaccine being a Republican vs. Democratic issue. After all, this is former President Trump's vaccine that he dangled billion-dollar carrots in front of big pharma to develop in a timely manner. Can you imagine if we would have had to wait for a bipartisan government to accomplish this? It is endorsed by President Biden and all democrats. Remember, they weren't going to take Trump's shot, but when Biden was elected, they ran to the front of the line; it then became the new President's mission to get shots in arms also. Don't allow your decision to be based on social media, mainstream media, or gossip. This should be a commonsense issue for what is best for your health or the health of your child. Please understand COVID-19 and its variants are going to be with us forever. Do not underestimate the seriousness of the virus, even if you have a strong immune system and great health.
Only you know your medical history, prescription requirements, and overall wellness. All of which are why this becomes a boundary issue that the Federal government/CDC should not cross in regard to one's personal liberties.
I am so over the guilt card that is played by the federal and state government when it comes to the COVID vaccine. Again, it is up to you to do what's best for you: It is up to you to use your mind, common sense, and moral compass, to then do what's best for your family, loved ones, and those you have frequent contact with.
The last issue of frequent discussion — I'll begin with asking for some patience and understanding for your neighborhood postal carrier and all those trying to get positive things done at the United States Postal Service. This goes especially for anything being routed out of the Williamsport/Reach Road hub.
There is a Webb Weekly for everyone in our distribution area. I thank you for your loyal readership and looking forward to receiving it each and every week. If, for whatever reason, you do not receive a Webb Weekly, contact my office, and I will make sure you get one lickity-split. It may even be me showing up on your doorstep with a complimentary Webb Weekly coffee mug and a thank you for letting me know.
The USPS has been hit very hard by all the challenges facing American businesses during the pandemic. In addition to this, they operate within the framework of the federal government. And I will leave it at that. One of the greatest challenges currently is just plain employee numbers. They need route carriers. Whether it is a beat feet city delivery or a rural route. If you're looking for a good job or know anybody that is, the pay starts at $18 an hour and up with great benefits.
Now for some great news, there is a new management team here overseeing Williamsport. I have had great conversations with them. They want to make sure the local USPS does the best job possible for you, the customer. I appreciate their determination and effort in addressing some tough issues. Again, if for any reason your paper doesn't show up at your door, my office number and my personal number are always on page 4.
Moving on to several tips of the Webb Weekly cap with the American Flag on the side to close out September.
I'll begin with the efforts of American Legion Post 104 and their donation of $20,000 for the Gold Star Families Monument at Lycoming County Veterans Park. An amazing job was done by Mr. Bart Howard, a Gold Star father, organizer, and performer at the event. Mr. Jeff Hamilton, Post 104 finance officer, and Post 104 Commander, John Heist. Their Rock the Monument concert donation was a milestone in Post 104 history, and they would like to thank everyone that contributed to the cause. The soon-to-be-completed monument memorializes all the families that have lost loved ones during any war. A special salute to Bart and his wife Connie Howard, who worked tirelessly for two years to make it happen.
And last but definitely not least, a double tip of the cap to Steve Noviello and my Editor and right-hand person, Steph Nordstrom, for their efforts in organizing and overseeing the first 9/11 Heroes Challenge which took place at Loyalsock's Ken Robbins Stadium.
Through their efforts and teaming up with Loyalsock Superintendent Jerry McLaughlin, just north of $3,500 was raised for the Families of Freedom Scholarship Fund. This is in honor of the first responders who lost their lives on September 11th.
A special shout out to all that completed the Challenge and contributed to the event. A Webb Weekly thank you to Jerry and all the Loyalsock School District teachers that participated in a dress-down day and donated to the event. A thank you to Kriger Fence, Valley Sports, and Classics/Weld Fab and the Sons of Italy for their contributions.
Please get out and about and do something positive to make our community a better place.
God Bless America.