In Sports
September 15, 2021
254 Views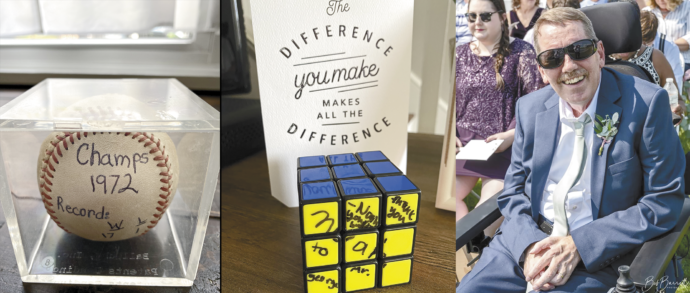 I can't completely put the 2021 Little League Baseball World Series in the rearview mirror without passing on one of those heartwarming stories that make Little League about much more than baseball games played by sub-teenagers. Ken Sawyer has repeatedly dubbed it "a series like no other," and some have expressed the opinion that it
I can't completely put the 2021 Little League Baseball World Series in the rearview mirror without passing on one of those heartwarming stories that make Little League about much more than baseball games played by sub-teenagers.
Ken Sawyer has repeatedly dubbed it "a series like no other," and some have expressed the opinion that it just wasn't the same without the participation of the international teams. While that may hold some validity, had not this Series been played with the format used, a lot of great stories would not have unfolded.
There would not have been the spectacular pitching performances of South Dakota's Gavin Weir, who threw two no-hitters and established himself as perhaps the most dominant pitcher ever to appear in the World Series. We wouldn't have seen Texas catcher Ella Bruning, the 20th girl to play in the Series and only the third to have two hits in a game. Hamilton, Ohio, would not have had the chance to advance to the championship game. All three of those teams had lost in the Regional final and would have been home watching on television.
But for me, one of the greatest memories of this year's Series occurred several blocks from the Lamade Stadium complex, right across the street from my own home. The story began in 2019 but reached new heights this year.
During the 2019 LLBWS, Little League honored Mike and Gretchen Piscotty with its Parents of the Year Award. The Piscottys are the parents of current Oakland A's outfielder Steven Piscotty. In 2017, after learning his mother had been diagnosed with ALS, Piscotty, then playing with the St. Louis Cardinals, asked the team to trade him to a west coast team so he could be closer to his family. St. Louis obliged, trading him to Oakland. Gretchen Piscotty passed away in 2018, and her husband, Mike, dedicated his life to raising funds and awareness to combat ALS.
During the 2019 Series, LLB invited my South Williamsport neighbor, George Schreppel, himself battling ALS, to throw out the first pitch. He did just that with an opening pitch into the mitt of 12-year-old Noah Culpepper, a catcher for the team from Loudoun Little League of South Riding, Virginia.
"When he gave me the ball, he said, 'here you go,'" Schreppel said at the time.
"I leaned into him, and I told him that when I played Little League [Schreppel played in the Original Little League and went on to play at Mansfield University], I was a catcher. He got a big smile on his face, and he patted me on the back. He was a really nice kid." Just how nice a kid Noah really was, he would find out after the Series.
When the Virginia team returned home following the Series, Noah remembered George. He sent him several baseball-related gifts that included a signed Little League World Series ball and jersey. A friendship that began with that first-pitch ceremony was born. The two have remained in contact these past two years.
On the first weekend of this year's Series, the Schreppel's received a surprise visitor, none other than Noah Culpepper and his family. They had driven up to see a Series game and renew their friendship. They returned for the championship game a week later, but not before making a very special presentation to George.
Now 14, Noah wanted George to have something very special from him. During his team's run to the 2019 Series, Noah engaged in a unique pre-game ritual. Prior to a Regional Tournament game, he was asked by ESPN if he had any special talents. He told them he could solve a Rubik's Cube in less than a minute. He performed the task and dropped the Cube in the grass. Impressed, ESPN had him repeat the feat in subsequent games. So, to a man he knew nothing about before catching that first pitch in 2019, Noah presented George with his prized possession — that very Rubik's Cube captured by ESPN cameras!
The inscription on the Cube reads, "Thank you, your buddy Noah, to Mr. George."
Moved by his young friend's thoughtfulness, George wanted to respond in kind with something he had treasured since he was 14. George was the catcher on a 1971 Babe Ruth championship team. George caught the final third strike of that memorable game and has kept the ball in his possession ever since. Undaunted, that ball marked with the words "champs 1972, won 17, lost 1" now has a new owner in a home in South Riding, Virginia.
A young man, a man battling ALS, a Rubik's Cube, and a prized baseball kept for 50 years have all combined to form a memory much stronger than anything seen before me on the playing fields of Lamade and Volunteer Stadiums.
In 1965, a Lovin Spoonful song asked the question, "Do You Believe in Magic?" Yes, I believe I do.