In Sports
August 4, 2021
226 Views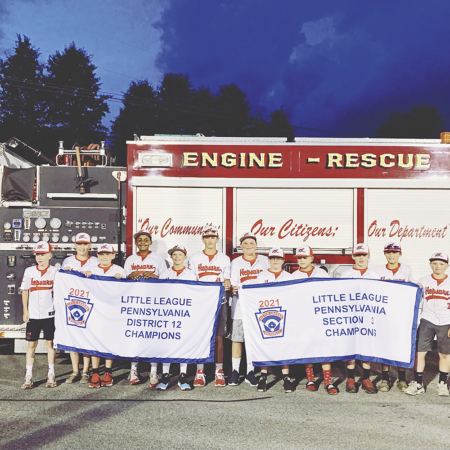 Oh, where to begin? Hepburn Lycoming just advanced in the State Tourney. We had a lengthy battle with Hollidaysburg. The "Boys of Summer" nipped the Tigers 8-7 in 8 innings. It was a fantastic game. Both teams were solid. What an atmosphere. Back and forth. It was amazing. Briar Persing did some major damage. He
Oh, where to begin? Hepburn Lycoming just advanced in the State Tourney. We had a lengthy battle with Hollidaysburg. The "Boys of Summer" nipped the Tigers 8-7 in 8 innings. It was a fantastic game. Both teams were solid. What an atmosphere. Back and forth. It was amazing.
Briar Persing did some major damage. He made some sick plays at shortstop and blasted three home runs. LJ Hill was a stud on the mound. He threw 85 pitches and also went yard. My man DJ Harris came up huge with another bomb. DJ is on fire and had two dingers in the past 24 hours. Cooper Roman was just terrific and got the W in relief. He also had some timely hits. What a game. I could go on and on and name every player because this was a total TEAM effort. But there is only one who gets my game ball. BIASED? Yes. It's my column, kids.
So, Jensen was struggling after the first couple of games. He isn't the most talented baller, and he was in a major funk. Jensen usually plays the mandatory two innings and only gets one at-bat. Something that was very new to him. He was frustrated and wanted to do more. Jensen didn't like being a sub.
I gave him a little pep talk on the way home from Beech Creek. I challenged him to be the best teammate. I gave him some examples of how he could still impact a game. I encouraged him to be the first out of the dugout to celebrate a home run. I wanted to hear him cheering for his friends after every single pitch. I asked him to go out of his way to give a teammate some love when he did something wrong. Be ready and do your very best when your number is called.
Jensen has had several shining moments during this historic run. RBI double vs. Muncy. Almost went yard at Volunteer in the District Final. Stole a base vs. Athens. A first for anyone from the Spencer household. Made a diving catch to save a no-hitter in the Sectional Final. Retired 5 of the six batters he faced in the State opener. Impressive. BUT…
Today's performance made me SO proud. Jensen played two innings in right field and struck out in the fifth. But Hepburn had five homers this afternoon, and Jensen was the first to home plate. He cheered and yelled the entire game. Obnoxiously at times that I could even hear him out in centerfield. It was beautiful. AND HE DIDN'T COMPLAIN IN THE CAR AT ALL. Jensen was so excited we found a way to win. My son was a good teammate.
I have been around for a long time, folks, and you have no idea how important role and bench players are. They are the difference between a decent squad and a GREAT team. Hepburn is great.
We packed our bags the very next morning. It was a new day, and we were playing the HOME squad. Valley West Little League also advanced. They were the host team, and they were grand. Hepburn's Briar Persing was in control early. He threw 85 pitches and struck out a ton. Briar also homered in the top of the sixth to give the good guys a 7-2 lead. Then my heart sank when they made a pitching change.
Jensen got the call from the pen. I started sweating badly, and his mother ran and hid. I know the next few outs were going to be tough. I was just hoping my son would hold up. We retired the first batter on a ground out to third. But then things got a little tense. I borrowed the next few lines from a good chum Mitch Rupert. He went on to say that it was one of the most exciting Little League games that he has covered.
"The heart of the Valley West lineup, which scored 22 runs in its first two tournament games, didn't go quietly. Chris Knelly homered to right field. Logan Hearity homered to dead center. And Jayden Harman homered to left. Incredible. Back-to-back-to-back round-trippers. Hepburn 7. Valley West 5. All of a sudden, a raucous hometown crowd was at a fever pitch.
"It prompted a visit from Coach Fred March, who shooed away the of the infield and grabbed a clearly dejected Jensen Spencer by both shoulders. With his pitcher's undivided attention, March talked about getting back to basics and continuing to pound the strike zone. He talked about getting just two outs to silence a now vociferous crowd which had been energized by the three consecutive home runs."
Oh, I was so nervous, sports fans. It was something that I have never experienced before. I felt numb. I wish I could somehow give my son a hug. He was all alone in front of 1,500 rabid fans.
"At one point, prior to a critical 3-2 pitch, Spencer stepped off the rubber and calmed himself. He responded with a beautiful fastball to the outer half of the plate for strike three and out No. 2. One batter later, Spencer did the same for another strikeout which ended the game and silenced the massive crowd."
Unbelievable. To be continued.