In Sports
July 28, 2021
206 Views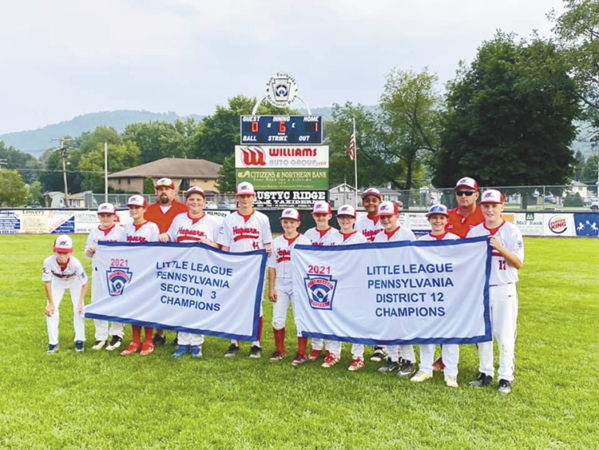 The entire county is buzzing. The kids from Hepburn Lycoming keep on winning. We punched another ticket this past weekend. Claimed our very first Section 3 Championship. The boys and I are now heading to the 11 & 12 Major Boys Pennsylvania State Tournament. Hepburn is one of eight teams in the Commonwealth that are
The entire county is buzzing. The kids from Hepburn Lycoming keep on winning. We punched another ticket this past weekend. Claimed our very first Section 3 Championship. The boys and I are now heading to the 11 & 12 Major Boys Pennsylvania State Tournament. Hepburn is one of eight teams in the Commonwealth that are still standing. This is insane.
"We are really clicking," Coach Marc Hess mentioned. "Everyone is contributing, and we had a great crowd for the title game Monday. It has been an unbelievable journey, and we are receiving all kinds of love."
Hepburn remains undefeated. They are now a perfect 7-0 in the postseason. Things got started Friday. It was a total team effort against Athens. Hepburn won that game 10-4. Briar Persing earned the victory, and a host of players came up big. Briar only threw 50 pitches. LJ Hill, Cooper Roman, Jensen Spencer, and Ethan Hugar all pitched well in relief.
Persing then left. He and the rents flew out to Kansas City for the T-MOBILE Little League Dinger Derby. Briar and Montoursville's Noah Kirby were amongst the top sluggers in the entire nation to make the trip. More on that epic adventure at another time.
"We knew we had to step up," Coach Hess continued. "We were without Briar and needed to play well without him. Our bats were on fire. LJ Hill pitched an absolute gem. I am so proud of the boys for finding another way to win."
Hill was sensational in that Saturday afternoon romp. Hepburn blitzed Berwick 12-2 and earned a Section 3 Championship spot. LJ went the distance and also hit a home run. The mojo was with Hepburn, and they were far from being done.
Briar returned that Monday and made it back for the final game. He was a bit disappointed with his derby performance but was determined to do big things. The 12-year-old phenom got the ball for the Championship. He was incredible and scored Hepburn's only run. Briar smacked one up the middle in the first and later scored on a passed ball. Briar dominated Tri-Valley and was in total command. They had no answer. Hepburn's defense was solid, and there was only one ball that was — Well — Here's the recap.
My son Jensen was in right field in the top of the fifth inning. I am usually a cool customer, but I was nervously pacing back and forth. A kid from Tri-Valley sliced a fastball that was heading towards the gap. Jensen got a great jump and somehow came up with a diving catch. I totally lost it and went absolutely nuts. I was yelling at the top of my lungs and even gave a few strangers some chest bumps. The entire crowd applauded. Even several of the Tri-Valley fans tipped their caps. It was an incredible play. Jensen was smiling from ear to ear, and I was such a proud dad.
"Briar was incredible," Hess explained. "Both pitchers dominated the game. We were lucky to get one run, and it turns out that was all that we needed. We beat a very solid team in Tri-Valley. It was a great game. It could've gone either way. Our defense was solid. The entire squad stepped up. Jaxson March was a stud behind the plate. Jensen made a spectacular play in the fifth. It definitely saved Briar's no-hitter. Thankfully, he gets all of his athleticism from his mom."
Hepburn went on the win 1-0. What an unbelievable game. We are the Section 3 Champs. The journey continues as we are now heading to States. Who knows what will happen, but I am extremely thankful and blessed to be a part of this historic run. I still vividly remember my Little League days. I played for Boulder Arrowhead in Billings, MT. I was on the mound in the district final, and I took the L. I have played that game in my head for the past 30 years. But now I have new visuals that will soon replace those hanging curve balls that ended up over the fence.
Major love Victor, Big E, DJ, Little Hoff, Briar, Cooper, Jaxson, Nolan, LJ, Cody, Jensen, and Mason. A big shout to Coach Fred, Big Tom, and Marc. Congratulations boys. Thanks for all the memories. Cheers.