In Sports
July 21, 2021
386 Views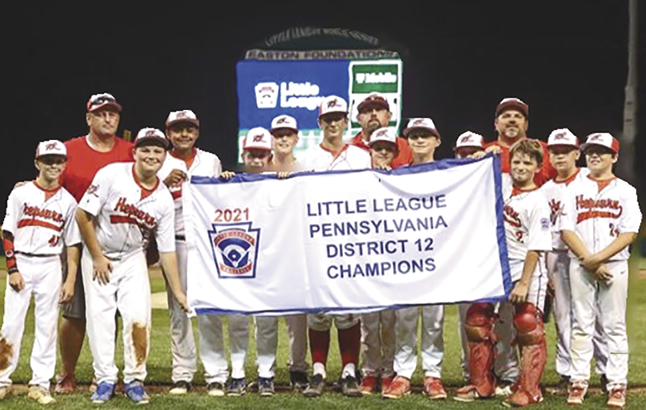 So, the boys and I are still buzzing. The past few weeks have been nothing short of amazing. We have experienced all kinds of different emotions. It has been an unforgettable experience. What a journey for the coaches and kids as well as us parents. Jensen and his mates were victorious. They claimed the 2021
So, the boys and I are still buzzing. The past few weeks have been nothing short of amazing. We have experienced all kinds of different emotions. It has been an unforgettable experience. What a journey for the coaches and kids as well as us parents.
Jensen and his mates were victorious. They claimed the 2021 District 12 Major Boys Championship at Volunteer Stadium. It was an instant classic. We are now heading to Athens for the PA Section 3 Regional Tournament.
Hepburn Lycoming has been solid. They got off to a great start against Muncy in the opener. The boys then outlasted a very scrappy GSV squad in the second round in Beech Creek. I still have that foul ball in my sock drawer. My arm is feeling much better.
We caught a huge break against WALL in the semifinals. Hepburn was ahead 4-2 after four innings. The game was called because of lightning in the outskirts of Clinton County. "Look. The sun is still shining in Williamsport." My last comment before getting tossed from the press box. Tough break, and I give WALL so much credit. They handled the decision much better than expected. WALL battled back to beat a talented Montoursville team the very next day. Major props, boys. You deserved a chance to play for the title.
Kudos to my friends from Little League International. They allowed us to play on one of the ultimate stages. We were the first game at Volunteer since the start of COVID. What a joy for these kids. It was an unbelievable atmosphere. The field was totally amazing. Every blade of grass was groomed. There was a huge crowd, and the roars just echoed in this marvelous stadium. These two teams tangled just two days prior. One team would move on. But regardless of what the scoreboard said — there were clearly no winners or losers.
The fans were treated to an incredible showcase. Both teams played well and made some amazing catches. Hepburn's Briar Persing and WALL's Zion Hughes were outstanding. Both pitchers went the distance. It was a great night of baseball with hundreds of memorable moments. Each league hired some pros who took thousands of photos.
I was asked to be the official scorer. No coaching or cheering was allowed. I was located behind home plate underneath the bleachers. My view was spectacular. The sounds were like nothing other. I have been around sports for a long time, and this memorable experience was definitely up there. I still get goosebumps.
Jensen led things off in the top of the fourth inning. He swung at the first pitch and absolutely smacked it. The centerfielder from WALL is a player. He caught Jensen's deep fly ball at the fence. I couldn't believe it. It would have been a home run in any other Little League stadium. I was crushed. But Jensen's smile when he came back to home plate to retrieve his bat was PRICELESS. I now have it in a frame at the office.
Congratulations to Hepburn Lycoming. They won 5-2 in an outstanding game. Their first District title since 1977. Thanks again for all of the memories, and best of luck moving forward. Major love Victor, Big E, DJ, Little Hoff, Briar, Cooper, Jaxson, Nolan, LJ, Cody, Jensen, and Mason. A big shout to Coach Fred, Big Tom, and Marc. What a run. You will forever be champions.