In Sports
June 23, 2021
234 Views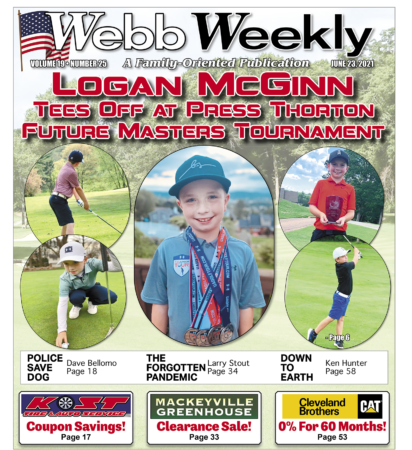 Paul McGinn and I have been good friends for a very long time. We coached hoops together and called several games on WEBBWEEKLYLIVE. Paul is a good dude, and he is always around. We don't see much of each other nowadays as we both focus more on our boys. I reached out to Paul this
Paul McGinn and I have been good friends for a very long time. We coached hoops together and called several games on WEBBWEEKLYLIVE. Paul is a good dude, and he is always around. We don't see much of each other nowadays as we both focus more on our boys. I reached out to Paul this week because I was in the deep rough. I wanted to do a story on his son and his passion for the game of golf.
Logan McGinn isn't your typical nine-year-old kid. The South Sider excels in several things, but there is one sport, in particular, where he is just a stud. Logan is a very sweet and quiet yet determined youngster. He started playing golf at an early age, and he hasn't stopped grinding ever since. Logan's midichlorian levels are off the charts. He has a drive that is second to none. Young McGinn has already experienced many successes, but now Logan is receiving some major love. He is going toe to toe with some of the nation's best.
I ran into my little buddy twice this past week. The boys from Hepburn had a baseball game at Lyons Field on Thursday. My son Jensen and Logan posed for several post-game photos. The young phenom even gave me a quick putting lesson in between innings. He was excited to hear that I was going to tee it up again. The next day I spotted Logan and his dad at Williamsport Country Club. It was so neat to see my young friend in his element. While everyone else searched for their balls, my man Logan McGinn was in the middle of the fairway on every single hole.
"Logan has been around the game since he was an infant," Paul explained. "What really triggered his love was a documentary called 'The Short Game.' He was completely hooked and realized these kids were just a few years older. He has watched this movie 1,000 or so times. So, when most kids were watching cartoons or 'Toy Story 2,' Logan preferred tuning into the Golf Channel or memorizing this movie on junior golf."
Logan's dreams are now becoming a reality. My man is now competing at the highest level. The McGinns have traveled all over to participate in some big-time tournaments. Logan is holding his own. McGinn had a very impressive 2020, and he is off to a great start in 2021.
Let's take a quick look at his resume.
Logan took home a first-place trophy after winning the CALLAWAY Junior World Championship in San Diego, CA. He finished fifth at the US KIDS GOLF World Championships in Pinehurst, NC. Logan is just nine years old, but he recently qualified for the 9-11 UNDER ARMOUR National Championship at Disney World. McGinn had two wins, a runner up and three other top-fives to earn the top seed from the Baltimore region. Insane.
Logan took home the top prize at the US KIDS GOLF Virginia Invitational. McGinn birdied the last five holes and shot an incredible six-under to win by one stroke. He won the US KIDS GOLF Seaview Open in Atlantic City, NJ. He was the best at the US KIDS GOLF Carolina Invitational in Southern Pines, NC. Logan also won the US KIDS GOLF Colonial Classic in Williamsburg, VA. Logan McGinn. Where do I begin? He is currently ranked 9th in the country for his age group.
"We are very proud of Logan," Paul continued. "He is a well-rounded and gifted kid who works extremely hard. I joke with others, as Nicki and I have actually tried to introduce him to video games. But Logan wants nothing to do with them. It's all about golf, and he'd rather hit balls or practice his putting downstairs. This drive totally comes from him. We don't pressure Logan to do anything. We marvel at his accomplishments and look forward to what his future holds."
Logan can certainly play, and his short game is off the charts. The kid loves to practice. Don't let his size fool you. Logan is deadly from 100 yards in. I would put him up against anyone. He is already a great golfer, and he is turning into a phenom. McGinn recently won the Northeastern PA Drive, Pitch, and Putt qualifier. He will advance to the next round later this summer. Logan was flawless in each category. Impressive. You get three chances, and there are no mulligans.
Logan and his family are now off to Alabama. He was invited to tee it up in the prestigious PRESS THORTON FUTURE MASTERS. This tournament is off the charts, kids. It is one of the most traditionally rich outings in the world. Logan will compete against some of the very best. It has been around for over 70 years and has served as a proving ground for many former and current PGA champions. Logan will be on his own for this one. No caddies are allowed.
"Logan is ready," Paul continued. "I am usually on the bag for every tournament. But this will be quite different. I won't be out there to give him advice. He will have to do everything. We have prepared for the past few weeks. Logan is getting more comfortable reading the greens and making his own decisions. It will be a great test, and I am excited to see how he handles it."
Congratulations to my young friend Logan McGinn on all of his successes. He is a great kid as well as a phenomenal golfer. We wish him the best in Alabama. I would also like to thank him for the putting tip. Safe travels, McGinns. Cheers.