February 17, 2021
38063 Views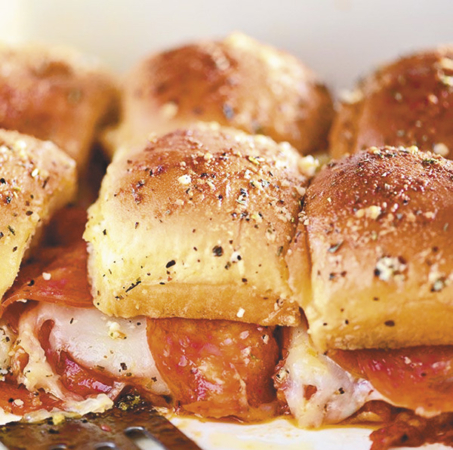 I can't believe we are working our way to the end of February already. It's unreal. I feel like once we get through February and March, we have winter in the bag. January always flies for us. My stepdad's birthday is the first week of January, my daughter's is the second week, and my husband's
I can't believe we are working our way to the end of February already. It's unreal. I feel like once we get through February and March, we have winter in the bag. January always flies for us. My stepdad's birthday is the first week of January, my daughter's is the second week, and my husband's is the third week. So needless to say, January goes so fast for us, and it is party-party all month long.
My gram's birthday is in there too, but this year we couldn't celebrate with her, God love her. Gram, Lois Liddick, loved parties. Mostly she loved throwing them or hosting anyone for dinner she could. I remember she would have missionaries from our church over for dinner pretty often, and sometimes even keep them overnight like she was running this little bed and breakfast. My gram served the Lord with all of her heart and did what she could for others anytime she was able. When I was in elementary school, we had show-and-tell days. I always wanted my gram's dog Holly, who was a shih tzu, to come into school with me. Gram never said no.
She was always there for us anytime we needed her. I am sitting here giggling thinking about the one morning she picked me up with Holly and just decided to drive me to school and do show-and-tell early. We were backing out of our driveway on Roosevelt Ave., and my gram took out the neighbor's mailbox with her car! She felt so bad. I remember that like it was yesterday! My gram was an incredible grandmother, and it breaks my heart we haven't been able to hug her in almost a year.
My momma is just like her momma. She loves to host! I remember when I was younger, Mom would have company over, and we would have her famous stromboli. Being a kid, I just got so anxious for company! Mom and Dad's friends had kids, so we got to play. I always looked forward to the Hoyts coming over, the Merteses, Frys, and others. In fact, Lindsay Mertes was in my wedding and is still one of my very best friends. Growing up with these friends was a special time. I always wanted my kids to have that excitement of company too. Our house is pretty much the party house.
I love when our friends always volunteer our home. It makes me feel good that they love coming over and making themselves at home. Typically, every year over the winter, my husband and I enjoy having different families over for dinner. This year we were super dedicated. This week will be our seventh weekend in a row hosting, and we still want to continue through March at least. We have picked a family every weekend to come over and join us for dinner. Friends we don't get to see as often over the winter and have that one-on-one time with them.
With our crew, we go out to eat every weekend together, but I never really get to cook for them often. So, having them each two or four at a time gave us a little more one-on-one with each other. I've been making easier things, so it is easier to clean and gives us more time for visiting. Some of my menus looked like this:
– Stromboli & Salad
– Ham & Cheese Spirals with Tortellini Salad
– Pizza Roll Up Sliders with Fruit Salad
– Lasagna, Cheesy Bread & Green Beans
– Different BBQs with Crockpot Mac & Cheese
Nothing too extreme, but everyone really enjoyed it! Even made homemade ice cream a few times too! It was just about getting friends together and helping these long winter days to go by faster. Giving someone something to look forward to. Those pizza sliders!? Oh, my goodness!! They were to die for! I made a nice salad to go with it, had chips, and fruit salad, and it was a perfect meal that everyone loved.
Do you like to host? It doesn't have to be hard. It's about being together and doing something for others. Going above and beyond. I think people really look forward to someone cooking for them. Why wouldn't we!? Shoot, even a hot dog roast sounds good to me! As long as I am with my family and friends, it doesn't matter what you make. It's the memories that go with it. I really think that's what my gram thought about, and why she did so many things for others. Making people happy, made her happy.
Pizza Roll-Up Sliders
Ingredients:
• 12 Hawaiian dinner rolls (don't break apart)
• 3/4 cup pizza sauce
• 2-3 cups shredded mozzarella (how much do you like cheese?)
• 8 ounces of pepperoni
• 1/2 cup butter, melted
• 3 Tbsp grated parmesan (extra for sprinkling)
• 1 1/2 tsp Italian seasoning
• 1 tsp garlic powder
• 1 tsp onion powder
Directions:
Preheat the oven to 350'. Spray an 11 by 8-inch pan with cooking spray.
Use a bread knife to cut through the middle of the rolls. Separating the top from bottom. Place the bottom half of the rolls in the dish.
Spread sauce on the bottom layer of buns. Then, sprinkle cheese over top. Top with pepperoni. I then sprinkled a little parm over the top before placing the lids on.
In a small bowl combine melted butter, parm cheese, Italian seasoning, and both powders. Brush evenly over sliders. Cover the dish with foil and bake for 15-20 minutes or until the cheese is melted.