November 18, 2020
267 Views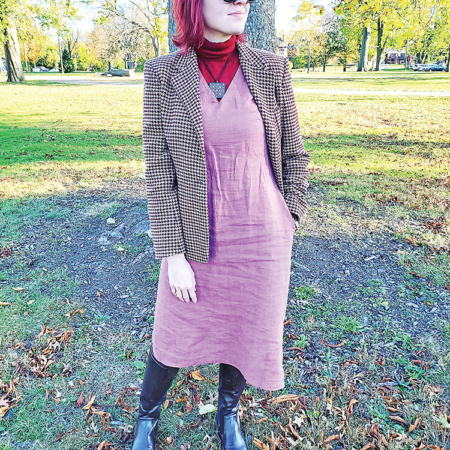 We've all heard of sweater weather when the temperatures drop, and the air turns crisp, requiring the addition of a cozy knit layer to your everyday wear. Well, November is also the start of turtleneck time! When it comes to finding a balance between chic and cozy, nothing beats a turtleneck. This versatile basic is
We've all heard of sweater weather when the temperatures drop, and the air turns crisp, requiring the addition of a cozy knit layer to your everyday wear.
Well, November is also the start of turtleneck time! When it comes to finding a balance between chic and cozy, nothing beats a turtleneck. This versatile basic is the unsung hero of a cold-weather wardrobe. Whether you don a chunky sweater, or a form-fitting knit, a turtleneck adds an air of sophistication while providing the necessary coverage as fall turns to winter. Here are a few tips and tricks for styling basic and not-so-basic turtlenecks.
A black turtleneck is striking in its simplicity, yet it can also make a bold statement. If wearing on its own, I always think of Audrey Hepburn in "Funny Face," as the beatnik-turned-model romping around a smoke-filled Parisian coffee house in cropped black pants and penny-loafers. Sure, all-black can look a bit gothic, but with a fitted silhouette, this type of look has a very modern feeling while also being functional. I love a black turtleneck under a button-down shirt, topped with a blazer and jeans for layering. This outfit formula has a lot of versatility; you can opt for a printed shirt or a plain white oxford. Go with a fitted or oversized blazer, skinny or flare-legged jeans. Or switch the blazer for a long cardigan and jeans for khakis. For easy tucking, consider a turtleneck bodysuit. If wearing solo, be sure your black turtleneck is opaque enough so has not to accidentally flash passersby. Look for knits with a tight weave in a durable fabric. Stretch it out a bit over your hand to test if your palm is visible.
An ivory turtleneck is another chic neutral that can be quite the outfit workhorse for fall and winter. This lighter shade pairs seamlessly with more colorful pieces, as opposed to the standard black or gray turtlenecks. I'd recommend leaning more toward an off, or winter white as opposed to a bright-white version. A chunky pearly white knit makes quite the statement under a pop-of-color red puffy vest or elevates a pair of joggers and denim jacket.
Late autumn is a great time to experiment with color, and turtlenecks are no exception. Turtleneck tops in fall-friendly shades like burgundy, mustard, red, and magenta bring a fresh sense to relaxed pants and jeans. Wear a brightly colored turtle on its own or use it as a layering piece in place of your standard black turtleneck from above. I also like a boldly hued turtleneck under floral summer dresses. You can get a few more wears out of a flowery sundress when worn over a turtleneck and tights. Shift and midi-dresses also pair well with turtlenecks and boots. A brightly colored turtleneck knit will add a vibrance to any fall outfit.
Speaking of fall now is the perfect season to play around with equestrian-inspired looks. Think jodhpurs, riding-style boots, tweedy blazers, and of course, turtlenecks. A lightweight turtleneck pairs beautifully with a fitted cardigan, blazer, leggings, and knee-high boots. Or style it with a fall-fun plaid trouser, wool socks, and loafers. For a more minimal look, pair a fitted oatmeal turtleneck with a sleek high-waisted midi skirt and slide-on sneakers.
Turtlenecks can also be edgy when paired with combat boots, leather jacket, and faded jeans. They are great at helping you look cool while not feeling the cool. And they can help you switch things up layered under a jumpsuit or romper. I also love the idea of mixing in textures with a cable-knit turtleneck worn with pieces in other plush fabrics, like shearling jackets and corduroy trousers.
There are a multitude of ways to wear turtlenecks through fall into winter. And multiple retailers have stocked up on turtlenecks for the season. Stores like Target and Walmart have affordable options in a variety of colors and patterns. Online, H&M has turtleneck dresses and jacquard-knits, while Uniqlo and Gap have basic neutral turtlenecks for all of your layering needs. If you're looking for an investment piece, check out the cashmere turtleneck sweaters from Boden, Macy's, and Nordstrom. However, you wear it, there's something uniquely powerful about a turtleneck, and you'll never regret buying one.