In Sports
November 18, 2020
197 Views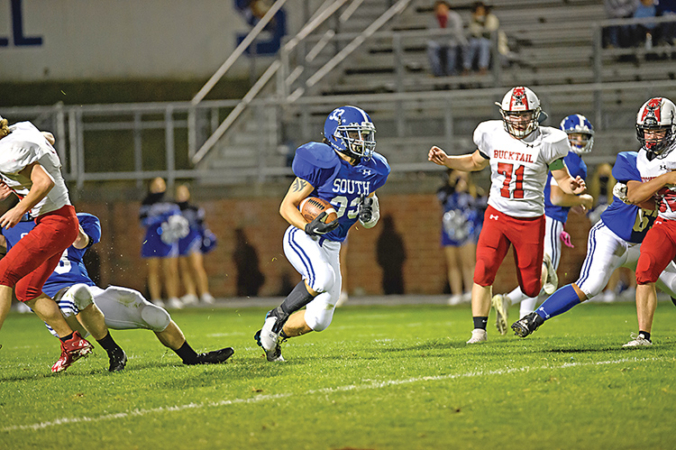 In the grand scheme of things, it mattered little. The outcome of Southern Columbia's 49-14 Class AA District Four championship win over South Williamsport (their 28th in the last 30 years) was already sealed as the final seconds ticked away off the scoreboard. With eighteen seconds remaining, South Williamsport's senior running back, Zack Miller, took
In the grand scheme of things, it mattered little. The outcome of Southern Columbia's 49-14 Class AA District Four championship win over South Williamsport (their 28th in the last 30 years) was already sealed as the final seconds ticked away off the scoreboard.
With eighteen seconds remaining, South Williamsport's senior running back, Zack Miller, took a handoff at the Tigers four-yard line and appeared devoured in a sea of black jerseys. With legs churning and pent-up memories urging him forward, he somehow burst through the gridiron humanity into the end zone on his final carry of an impressive season while at the same time vanquishing some personal demons.
During his promising sophomore season, Miller was on the receiving end of a devastating hit by an all-state Southern Columbia lineman. The hit resulted in a severe concussion. He was carried off the field on a stretcher, his season over, and some doubted he would ever play football again.
"Ever since that sophomore season, when I was injured, I've always had a chip on my shoulder when we played against Southern," Miller related. "I always wanted to put it to them after what they did to me. I don't know how much effect it had on Southern, but to accomplish some of those things I was able to do had its own special meaning to me."
Some of those personal things included the 152 rushing yards Miller gained against the Tigers in his final game. Entering the contest, Southern Columbia had only allowed 622 opponents' rushing yards the entire season, and no one had rushed for 100 yards against them. In his junior year, Southern Columbia had not allowed a point through the first five games until Miller scored a touchdown in week six.
"That play was like an exclamation mark, to be honest," Mountaineer coach Chris Eiswerth stressed. "We talk about straining all the time. You have to strain to play the game of football. On that play, he strained two or three times, twisted, contorted his body, and got himself into the end zone. After that big hit he took his sophomore year, we weren't sure he was ever going to play football again. But he did, and for a guy to rush for as many yards as he did in such a short season, he has to be commended."
In South Williamsport's seven-game COVID shortened season Miller was outstanding. He rushed for over 100 yards in every game, joining South's long history of 1,000-yard rushers, ending with 1,111 yards. He also scored 16 touchdowns, leading all Lycoming County players.
"With the short season we had, it definitely meant a lot," Miller added. "I didn't know if we would be able to accomplish as much as we did in the shortened season we had. Football is very important to me. Growing up, I've always loved football. I have dedicated a lot of time in the weight room, did my schoolwork, and listened to the coaches and did what I could do to make myself a better football player."
"Zack had his goals," Eiswerth explained. "He had said to me early on that he was going to go after Dom Bragalone's records. Those are some gaudy records, to say the least, but it shows you what kind of football drive he has. The fact that he wanted to chase greatness excited us. Having that motivation to do those things and do the things he did in the weight room; he did to get stronger all paid dividends for him.
"Zack is a guy who has earned everything he has accomplished. As a coach, that is what makes you so proud to be a part of young people's lives. As a seventh-grader, he showed great potential, was a little rough around the edges, but continued to come around. He had some good moments as a sophomore and junior. But he waited his turn, and then his senior year, he just exploded into a big-time player that we could count on. He ended up showing everyone that hard work pays off.
"Watching his development this season was a little bit like watching a painting come to life on canvas. He ran with a great purpose. Each week it was neat to watch. It was a growing, a maturity, and a process of blossoming. He was doing more things each week, doing them a little better and a little faster. There was a kind of beauty the way he was twisting and moving and exploding through holes.
"He is a guy that loves the game. The other day I went down to watch a Pop Warner game, and Zack was there playing catch with the younger kids. He loves playing touch football games. Over the years, when recruiters would come to watch players, one of the questions they often ask is, 'Do you like the game of football?' That was what kept him going, his love of the game. He is just a great competitor. He wants to win, and he strives for excellence."
His high school year now over, Miller can look back and be proud of what he accomplished.
"Achieving 1,000 yards is very special to me, especially in light of the shortened season we played. With the fewer number of games on our schedule, I didn't think I'd be able to reach 1,000 yards."
Miller knows he has his teammates and coaches to thank for making it all possible. Especially Eiswerth, for whom he says "means a lot to me. He is like a father-figure to me."
To anyone who has ever coached, those are the highest words of praise.