In Sports
July 29, 2020
87 Views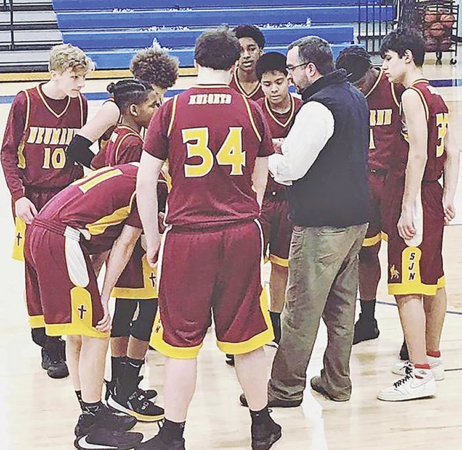 I truly appreciate all the love. It was great to hear from several former players and old friends. I apologize for all the missed calls, texts, and tweets. My phone literally blew up last week, but I plan on responding at some point. I am extremely thankful for this incredible opportunity. Coaching basketball is a
I truly appreciate all the love. It was great to hear from several former players and old friends. I apologize for all the missed calls, texts, and tweets. My phone literally blew up last week, but I plan on responding at some point. I am extremely thankful for this incredible opportunity. Coaching basketball is a passion. The game and I go back many years. Several people have played significant roles. I love teaching the Xs and Os. But it is the relationships with my players that keep me coming back for more. It isn't about the wins and losses either. I only coach to help mentor young lads and make an impact. I am incredibly honored and humbled to be chosen.
I look forward to getting back in the gym at St. John Neumann. COVID pending.
The Golden Knights are loaded. Our returning backcourt is sensational. The Brothers Hill live up to the hype. They are the two younger brothers of local legend and current Indiana Pacer Alize Johnson. David will soon be a senior, and he already has several Division 1 offers. This smooth crafty scorer is having a busy summer. I keep in touch, and the last time we spoke, he was in Missouri at a high-profile workout facility. Davion will be a sophomore. He is coming off one of the greatest freshman campaigns EVER. The younger Hill was named first-team all-state. The fearless and super tough point gets better every day. That's a scary thought, kids. Davion also made the trip with Dave. I watched some of their intense sessions in amazement.
Keon Burkholder is a stud on the diamond. He throws hard and is a great athlete. Keon started every game for us last season. The senior forward brings a lot of energy. Jerval Weeks-Shuler is in the same boat. He prefers baseball, but has amazing potential. Jerval played JV and was an animal on the glass. He has incredible raw talent, and this will only be his second year of organized basketball. Essex Taylor and Kane Wright are also ready. These sophomore guards are tough and bring a lot to the table. The same goes for Zach Lisi, Angelo Fernadez, and Brady McKimpson. I enjoyed coaching them last year, and they are total team players. I have to give some love to Josiah Coleman and little Corey. They love the game and will contribute to our success. I apologize if I missed anyone. I didn't do it on purpose, but I am almost positive that I will hear about it in the morning. Oh, my bad. I forgot about Neef.
I am so proud of my man Hanief Clay. He will be a junior and will make an immediate impact. I told you the story of how he was ineligible for all of last year this past winter. That decision came directly from the PIAA. Don't get me started. I learned a lot from this kid. He handled it with class and still came to every workout and game. Hanief was our leader without ever playing a single minute. He is well beyond his years and has experienced so many hardships. Again, I cannot stress how much love I have for him. Hanief will be a junior, and you can expect big things. He is another high caliber player but an even better person. This youngster will turn some heads. Hanief can handle the ball and plays with such passion. Neef and I got together this week and had a great conversation. We talked about all of the uncertainties with this great Nation. Our topics included race and, of course, COVID. It was very refreshing and educational to get this 16-year-old kid's perspective. Several folks at Perkins said hello to us that morning. We enjoyed our pancakes and used my coffee creamers to diagram plays.
Several asked why I decided to get back into the game. I will admit that the entire culture has changed. High school sports definitely have their flaws. Coaching is a tough gig, and you are sometimes walking on eggshells. Keeping everyone one the same page is quite a chore. Balancing between the administration expectations and parents is a major challenge. This is a totally new experience, and it will test my abilities as a coach. But as long as I have great kids who are willing to work hard, I am quite alright with all of the other drama. We will be just fine, and we will win our fair share.
I am looking forward to this incredible opportunity to work with these boys. WEAR YOUR MASK so WE CAN MAYBE HAVE A SEASON. Cheers.