In History
December 18, 2019
162 Views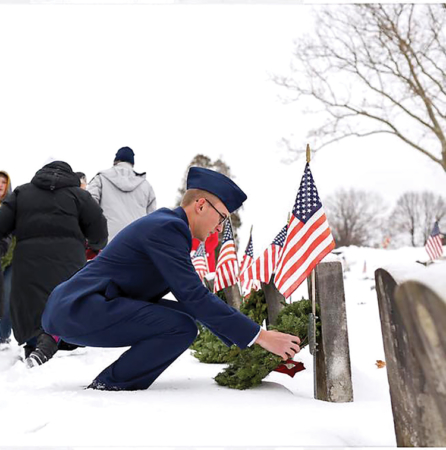 Quietly, in the peace and solitude of Wildwood Cemetery, dozens of volunteers devoted their time last Saturday, December 14 to pay their respects to local veterans as part of the annual Wreaths Across America tribute to our fallen heroes. "Our observance was held in conjunction with hundreds of other such events going on in local
Quietly, in the peace and solitude of Wildwood Cemetery, dozens of volunteers devoted their time last Saturday, December 14 to pay their respects to local veterans as part of the annual Wreaths Across America tribute to our fallen heroes.
"Our observance was held in conjunction with hundreds of other such events going on in local and national cemeteries in all 50 states to honor those who served our country," explained Dori Rankinen a volunteer with the Blue Star Mothers Chapter 12 that organized the event.
The wreath-laying movement began in 1992 when the Worchester, Massachusetts Wreath Company began a tradition of placing wreaths on the headstones of our Nation's Fallen Heroes at Arlington National Cemetery. The annual tribute went on quietly for several years until 2005, when a photo of the headstones at Arlington, adorned with wreaths and covered in snow, circulated around the internet. Today, Wreaths Across America is a 501(c) (3) nonprofit organization that was founded to continue and expand the annual wreath-laying ceremony at cemeteries and other locations across the country and beyond.
In 2018, nearly 1.8 million veteran wreaths were placed on headstones at 1,640 participating cemeteries around the country in honor of the service and sacrifices made for our freedom, with each veterans name said out loud.
Locally, the Blue Star Mothers began laying wreaths the second Saturday in December as part of the Wreaths Across America movement a few years ago. This year they were able to place wreaths at the headstones of 538 veterans at Wildwood, which is an increase from the 303 placed last year. The non-profit organization still has a long way to go as there are 3,000 veterans buried at the cemetery. It is their goal to be able to increase awareness and funding so that wreaths can be placed at the grave of every veteran buried at the cemetery.
Funding for the commemorative wreaths was provided by area businesses and individuals. Those interested in obtaining additional information regarding Wreaths Across America or making a contribution are encouraged to contact Dori Rankinen at 570-772-2423.