November 6, 2019
496 Views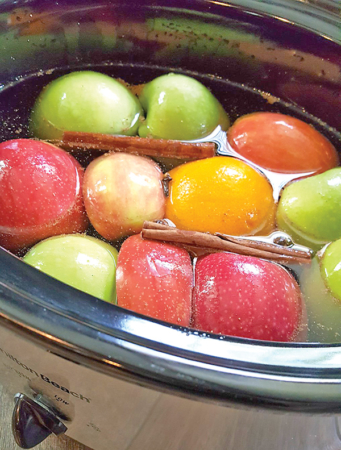 When fall rolls around, we all look forward to our seasonal favorites. Some people are pumpkin people. Some people are apple people. And some people are like, forget both of them, and would rather have a pina colada while wishing summer would stay forever. I'm thankful to live in Pennsylvania and have seasons. Watching the
When fall rolls around, we all look forward to our seasonal favorites. Some people are pumpkin people. Some people are apple people. And some people are like, forget both of them, and would rather have a pina colada while wishing summer would stay forever.
I'm thankful to live in Pennsylvania and have seasons. Watching the leaves change and fall to the ground like snowflakes is something I would miss. I love the glow of pumpkins in my home, and of course, can't pass up a yummy pumpkin shake from Diamond Square Market! But, apples seem to get put on the back burner. When September 1st rolls around, it's like — "Deck the halls with boughs of pumpkin!"
Nothing against pumpkin at all. But apples have a lot to offer too!
In fact, starting in August when I'm driving on Lycoming Creek Road, there is that little fruit stand right along the road near the old Bass Pro Shop that I just love. I watch for their sign to say honey crisp apples. Every year I buy our apples from that little stand, and they never let me down. Honey crisp and granny smiths are my favorites. I love an apple plain, and I love dipping it caramel this time of year. Baked apples, apple dumplings, apple cider, apple crisp, and the list goes on! What's your favorite?
Here is one I think a lot of folks enjoy. Whether it's hot, or cold, or even frozen, it's a perfect autumn treat! This will make your home smell absolutely amazing! So get your crockpot out, turn it on low, and let the cinnamon, spices and apples do their thang!
Ingredients:
• 5 or 6 apples ( I used red and green)
• 1 orange
• 2 cinnamon sticks
• 1/4 tsp. ground all spice
• a few small cloves
• 8 cups of water
• 1- 1/2 to 3 cups of sugar (all to your likin' and how sweet you want it!)
Directions:
Wash and cut apples. You can leave the seeds and everything because you strain it anyways after cooking.
Place apples in bottom of your crock pot. Add all the ingredients EXCEPT the sugar. Let cook on low for 6-8 hours. Watch your orange though! If it cracks take it out, it may make your apple cider taste bitter. It has never happened to me yet.
Stir every once in awhile if you get the chance. About an hour before the cider is ready, mash your apples real well with a potato masher. Cook one more hour.
Finally, strain the apple cider into a heat proof container and stir in sugar. Serve hot and add garnish of whipped topping or caramel if you wish!
Place leftovers in refrigerator.