October 30, 2019
779 Views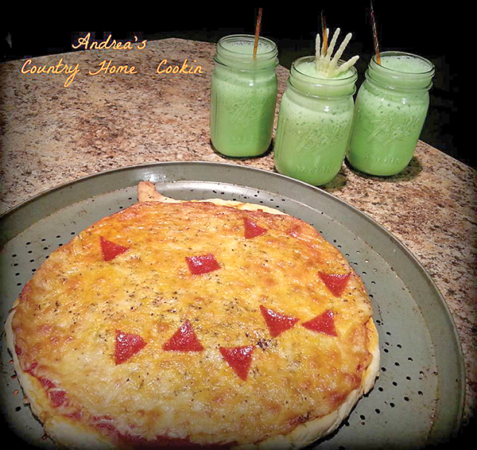 It feels like it wasn't many years ago that I was looking forward to getting dressed up to go out trick or treating. Mom would stay home and pass out candy, and dad would walk my little brother and I around the neighborhood going from door to door saying, "Trick or Treat!" We always made
It feels like it wasn't many years ago that I was looking forward to getting dressed up to go out trick or treating. Mom would stay home and pass out candy, and dad would walk my little brother and I around the neighborhood going from door to door saying, "Trick or Treat!"
We always made sure to stop at both of my grandparents' houses too. At my Pap and Gram Perry's (Dwain and Margret), we would always go to the front door and ring the doorbell. This was something we only did on Halloween. Usually, we used their back door all the time. That was the main door to us. So going to the front door, ringing the doorbell, and trying to stump Gram who it was every year was always fun. Then we would trade candy with all my cousins. Your Kit-Kat for a Reese Cup? Plus, Gram and Pop always bought the big candy bars. Oh yeah, they were the house to hit up if you were trick or treating!
After that, off we went to Pap and Gram Liddick's (Floyd and Lois) house. They always had donuts, cider, chips, popcorn, and bologna and cheese waiting for all of us. All of my cousins and aunts and uncles would be there too. As kids, I can't tell you how much we looked forward to this. It became a tradition. Over the years, us grandkids got older, and for the first time ever, cousins were off to college, or we were all just busy with our lives and didn't dress up anymore. I remember this year like it was yesterday. My brother and I found out no one was going to be around on Halloween night. We were like, "What!? Noooo!! We have gone to Gram and Pap's on Halloween night since we were born! This can't be the end!"
We were so sad. Well, Gram found out, and even though my brother worked that night till 10 p.m., Gram and Pap still had my brother, hubby, and I over after 10 p.m. that night! Gram had everything on the dining room table as if it were dinner time. Usually, it was out on the counter in the kitchen. But we walked into the table set, and goodies galore. Lois Liddick sure knew how to make everything just so special. It didn't matter if there were only three of us, or 25, she made sure that night was just like every other year knowing it meant that much to us. There were still those same snacks laid out on the beautifully decorated Halloween table. There we sat at 10:30 at night, laughing, snacking and enjoying each other's company while my brother wore a mummy mask and a hat that had just a cow's bottom half and a turd laying below it. Not sure what he was supposed to be. Haha!! (Boy, do I remember that hat!) That night was extra special because it's a night my brother and I will never forget!
After Gram couldn't do it anymore, my brother didn't have kids, so — God love him — he and my sister-in-law took over hosting the whole Liddick family with those same very snacks we grew up on as kids. Now, he has a little girl and takes her out on Halloween night, so my momma took over having her kids, grandkids, and whoever in the family would like to stop by after trick or treating is over. My kids, ESPECIALLY my oldest, Tyler, cherishes this as much as we did at his age. He loves traditions and holds them dear to his heart, just like his mother!
I am so beyond blessed to have these wonderful memories I get to share with you all.
I like to make holidays as special as I can for my kids. Creepy crawly lunches for school on Halloween, our annual picture of them in their costumes with their lit jack o' lanterns that we carved a few nights before at my annual pumpkin party night, and making a special dinner with a little "Boo" factor on Hallow's Eve. These are things they will never forget, and boy, do I love making it special for them! This jack o' lantern pizza and slime drink is one of my favorites! So easy, and it will be sure to put a smile on the faces of young and old. Happy Halloween!!
Jack-O- Lantern Pizza
First you will need a pie crust. You can buy one premade, use frozen bread dough, or pre-packaged pizza dough. I have my homemade dough recipe also, whichever you prefer and is easiest for you!
Ingredients:
• 1 package (1/4 ounce) active dry yeast
• 1 teaspoon sugar
• 1 1/4 cups warm water (110° to 115°)•
• 1/4 cup canola oil
• 1 teaspoon salt
• 3 1/2 cups all-purpose flour
• 1 can (15 ounces) pizza sauce or 1 cup of homemade sauce
• 3 teaspoons dried Italian seasoning
• 2 cups (8 ounces) shredded part-skim mozzarella cheese
• 1 cup shredded sharp cheddar cheese
• *Pepperoni, olives, peppers, and whatever you desire to create you Jack-o-Lantern!*
In large bowl, dissolve yeast and sugar in water; let stand for 5 minutes. Add oil and salt. Stir in flour, a cup at a time, until a soft dough forms.
Turn onto floured surface; knead until smooth and elastic, about 2-3 minutes. Place in a greased bowl, turning once to grease the top.
Cover with saran wrap , and let rise in a warm place until doubled, about 45 minutes.
When your dough is ready place on a lightly greased pizza pan. Shape into a circle and make your stem of the pumpkin. Then you can create you pizza!! The kids can have fun with this recipe. My pizza was 12 inches and baked for 20 minutes at 400'.
Slime Drink
Ingredients:
• 1/2 Quart of Vanilla ice cream (or yogurt for a healthier version)
• 1 1/2 cups of orange juice
• 1/2 cup milk
• 2 bananas
• 2 cups of ice
• Green food coloring
Place in your blender the first 4 ingredients. Mix well until bananas are blended. Then add your ice and food coloring. Place in glasses, and chill in freezer for 10 minutes.
I made (3) 2 cup Ball Jars with this recipe.