September 25, 2019
502 Views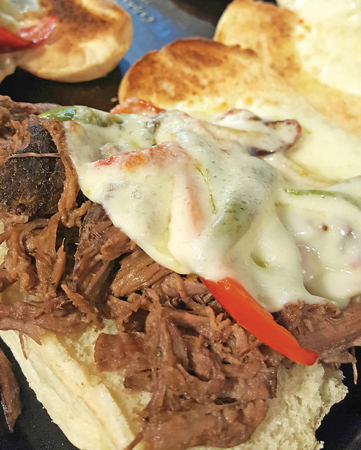 Talk about a recipe that will make the men in your life happy! I am so excited to share this one with you all. It literally melts in your mouth. The first time I made these Beef Drip Sandwiches was for our family weekly dinners together. My momma makes dinner for my brother and his
Talk about a recipe that will make the men in your life happy! I am so excited to share this one with you all. It literally melts in your mouth. The first time I made these Beef Drip Sandwiches was for our family weekly dinners together. My momma makes dinner for my brother and his wife, my sweet little niece, and my husband and I and our two kids just about every Thursday. She says it's her favorite night of the week, as it is ours. We love just love being together. My brother, Luke Perry, is one heck of a guy. I am so lucky to have him as a brother, and close neighbor out here in the country. He is four years younger than me, but we always had a close relationship. There isn't anything we wouldn't do for each other. Dinner was always a special time growing up. Mom and Dad would ask about our day as we sat around the table together and enjoyed Mom's good cookin. I'm sure I probably kicked him in the shin under the table a few times. I mean, after all, I was his big sissy! The older one picks on the litter one, right? Poor guy, he still never lets me live it down that I wouldn't sled ride with him once I started dating Chris back when I was fourteen. He still says "Sis, you weren't fun anymore after you started dating Chris. Left me hanging sled riding and everything!"
I was fourteen, he was ten. Fourteen is a big year for girls. I was too busy putting big scrunchies in my hair, jammin out to my boom box, wearing my jelly shoes all while hitting adolescence. I didn't have time for nonsense sled riding, playing Playstation, or hide and go seek outside. God bless him, he was used to playing with me because we lived in a neighborhood where there were no boys to play with. Like Zero. Yea, he had friends over here and there, but I think deep deep down, he still missed me. *Insert big cheesy smile here.* I was nineteen when I married, so he was fifteen when I moved out. Again, missed me like crazy. What was I thinking off getting married to this Chris guy!? This guy swept me off my feet at a young age and left my brother hanging to sled ride his dang self! Hahaha. This will be a joke that will never leave us.
Now we are neighbors, and are blessed to be right up the dirt road from each other. I mean, he mows his grass about every 3 days, so I get to see him doing some serious nascar racing on his zero turn mowing and wave to him as he makes the turn at the bottom of his yard. This grass out here in Linden is just insane! It grows like a centimeter an hour! Gee whiz! (Those of you who know my brother are probably cracking up right now.)
My brother loves to mow grass. No joke. I always tease him about it.
All jokes aside though, he is a hard worker, amazing dad, son, father and brother. I wanted a sister so bad, but the day he was born I fell in love with him, and still love him bunches!
Cooking for my family is something I do to show my love.
Now, all the men approved these sandwiches. I had everyone over for dinner that week and what a hit they were! Fed nine people easily and everyone really enjoyed them. So whether it be your dad, husband, brother or friend, they are sure to love these! And for the love of God, please, always sled ride with your siblings. I don't care if you are 8, 16, 29 or 44. Get on the dang sled and take'r for a joy ride or you will never live it down.
Crockpot Beef Drip Sandwiches
Ingredients:
• 3 lbs of chuck roast
• 1 ¼ cup beef broth
• 1 tbsp. Worcestershire sauce
• 1 tbsp. Italian Seasoning
• Salt and Pepper
• 3 tbsp. butter
• 1 small onion cut in slices
• 1 green and 1 red pepper; cut in slices
• Package of hoagie rolls
• Provolone cheese
Directions:
Try to trim some of the excess fat off before placing roast in a crockpot. Once roast is ready to cook, dump the beef broth over roast, then sprinkle on Italian seasoning, salt and pepper. Scatter half of the sliced onion all around and on top of roast. Place on lid, and cook for 6-8 hours on low. Low is best for that slow cooking process which will end up being melt in your mouth meat.
Skim excess fat off top of cooked meat and shred with two forks. Keep in the crockpot while preparing your veggies. Melt butter in saucepan. Add onions and peppers, stir for about 5 mins until veggies are tender. When cooked, add it to the crockpot.
Place hoagie rolls on a cookie sheet. Generously add meat, veggies, and top with a slice of provolone cheese. Put in oven under broil until it's nice and toasted. Enjoy!