September 4, 2019
271 Views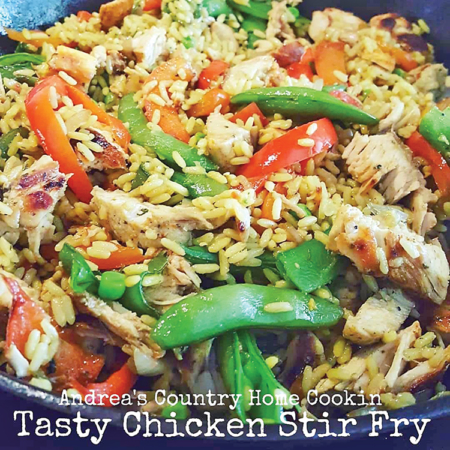 Back about 15 years ago, I was a new wife and we just moved into our new home. I was young. 19 years old to be exact. I couldn't wait to be play the wife roll. Playing "house" was my favorite thing to do when I was little. Cooking food in my cute little 1980's
Back about 15 years ago, I was a new wife and we just moved into our new home. I was young. 19 years old to be exact. I couldn't wait to be play the wife roll. Playing "house" was my favorite thing to do when I was little. Cooking food in my cute little 1980's Little Tikes Playskool kitchen was the best. I mean, I was frying my plastic chicken leg and eggs like a boss! I was ready for the real thing. I had prepared for this since I was knee high. Let's do this.
Well little did I know that I still had a lot to learn! As you know, I grew up with a mother who always cooked wonderful meals for us. I'd watch her slave in the kitchen and cook up things with love. She loved to cook for others, and she was darn good at it! Dinner was always such a special time, and still is. I was ready to start making meals for my new husband. He was such a hunka burnin' love. Hasn't changed either. He is just like a fine wine, gets better with age! *Insert cheesy smile here* I wanted him to come home from a hard days work, walk in to see his wife with her cooking apron on making this big yummy meal, wearing a big smile and saying, "Hi honey! How was your day? Dinner will be ready in 30 minutes." Guess I was setting my standards high, because that didn't happen.
As we both went back to work after all the wedding bliss, I was excited! Go to work, come home and show him just how well I could play the wife roll! I was amazing at making fried chicken. I had practiced for years in my Playskool kitchen. The chicken would fry for 10 seconds, making those cute little frying noises, and come out looking perfect every time!
I was a pro at making chicken and eggs, and what working man wouldn't want to come home to mashed potatoes and country fried chicken!?
When I got home from work, I changed my clothes quickly. No apron. Didn't have one at the time! Can you believe it!? I went into the kitchen and pulled out these brand new beautiful stainless steel pans my in laws had bought us for our engagement. They were Cuisinart, and so shiny that you could see your reflection in them. I grabbed my oil, poured it in my new pan and placed it on the stove. I looked at the time, Chris would be home soon. It was almost 5:00 p.m. and he worked three miles away from our house at that time. "OK, I have to get this going so when he walks in it smells like heaven," I thought to myself. I put the matching lid over the pan and turned that puppy on high. That will heat it up for sure!
I went into another room while waiting for this thing to heat up because my chicken was already prepped. Don't ask me why I left. You already know where this story is going anyway, I'm sure! It was after five and I heard the door open. I walked out into the living room and started to say "Hi Honey! How was —," and before I even got it out he says, "What in the hell is burning!?"
"Um, I have oil on the stove but it's just heating up," I said.
He goes out into the kitchen and smoke is starting to roll out of my lid. Chris quickly grabs a hot pad and takes the lid off. Flames are now coming out of the pan.
Oh my gosh! What have I done!? My Playskool kitchen never did this to me!
"Babe!! You can't turn the burner on high with oil then put a lid on! What were you thinking!?" he said.
I wasn't thinking. I didn't know! It was my first time and I failed miserably. I never did it after that, and learned as I went. Now I am a pro at fried chicken! And I don't mean at my Playskool kitchen haha! I still have it though up in my attic. Chicken legs, eggs and all! Something I will never part with. But, I think after all that I thought I'd try eggs next, I had to be good at something! Come to find out, Chris didn't like eggs…
Tasty Chicken Stir Fry
• 2 pounds boneless skinless chicken breast, cut in strips, seasoned and grilled
• 2 large red or yellow bell peppers, sliced
• 1 cup snow peas, fresh or frozen
• 1/2 cup onion chopped to your preference (I chopped finely)
• 2 tablespoons soy sauce
• 2 pouches (8.8 ounces each) Uncle Ben's Ready Rice Roasted Chicken
Marinate your chicken overnight in whatever season suits you best. I used McCormick's Herb and Wine marinade. I then grilled my chicken and cut into strips in small slices to throw into my stir fry when ready. (You also could cube your chicken and cook in 2 TBSP. of oil in the skillet right before you cook your veggies for the stir fry.)
In large nonstick skillet, heat oil over medium-high heat. Cook and stir peppers and onions, 4 to 5 minutes or until vegetables soften.
Stir in snow peas; cook 2-3 minutes.
Meanwhile heat rice as directed on package. Stir chicken and rice into the veggie mixture, heating about 2 -4 minutes until thoroughly combined. Add soy sauce, and serve.
Posts Carousel