In Food
June 19, 2019
545 Views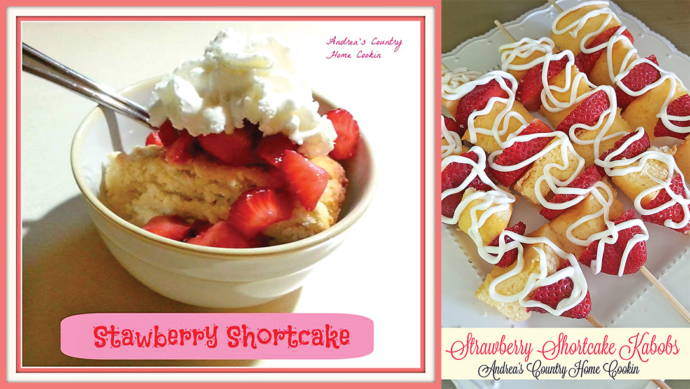 Strawberry Season Ahhh, the beginning of June! Schools out, and the pickin is grand! Strawberry pickin that is! I remember back in my younger days that when school left out, we had a strawberry pickin day with mom. As long as it wasn't hot, I didn't mind it, but if my upper lip started to
Strawberry Season
Ahhh, the beginning of June! Schools out, and the pickin is grand! Strawberry pickin that is! I remember back in my younger days that when school left out, we had a strawberry pickin day with mom. As long as it wasn't hot, I didn't mind it, but if my upper lip started to sweat and my shirt was stickin to me, I wanted to tell those little red bites of heaven where to stick it. I loved eattin' them though, and pickin was worth it with everything my momma made out of these simple quarts of strawberries. Guys, it was tough for me to just pick a few of my favorites for you! I'm gonna give you my families old fashion strawberry shortcake that I grew up on that is so simple you won't believe it. I just had a lady at church come up and say to me that she used my Shortcake recipe for a bunch of extra strawberries left that she didn't know what to do with, and enjoy it so much. The ingredients are everything that should be handy right in your kitchen.
I then put a spin on Strawberry Shortcake by adding a Kabob twist to it! Oh man do I love me some Kabobs!! The things you can put on a stick to eat. Then, last but not least, my favorite beyond any other strawberry recipe out there. Homemade Strawberry Jelly! Another delicious favorite I grew up on! Loving it on my PB and J, toast in the mornin', and momma's homemade biscuits. My cousin, Lindsay Clark, has been a big fan of strawberry jelly too since our momma's are sisters and we all grew up on this stuff. I've given her a few each year of my jellies, but this year she wants me to show her how to make it, and we are gonna go pick together. Nothin like pickin, and an afternoon in the kitchen with your soul sister. My favorite pickin spot is Green Barn Berry Farm in Muncy, and Berried Treasure in Linden. Two great spots that are sure to have wonderful berries for you and your family. Enjoy and good pickin!
Old Fashion Strawberry Shortcake
2 cups flour
2 Tbsp. sugar
3 Tbsp. baking powder
½ tsp. salt
½ cup room temp butter
Mix well by hand till it forms a crumb like texture.
Then add:
One beaten egg
2/3 cup milk
Mix well. Batter will be thicker!!! Place into a greased pie dish. If you have to use your hand to spread it out, that may be the easiest. Bake at 450 for 15-18 minutes. Serve with cut up strawberries coated with sugar, milk, (for me, the more milk the better!) and cool whip. Also, sprinkle a little extra sugar on top if you desire.
Strawberry Shortcake Kabobs
1 container of strawberries, washed and cut in thirds
1 package of dessert shells, cut in fourths (You could use angel food cake, shortbread, or sponge cake too!)
1 container of icing or homemade
Kabob sticks
Icing:
1 cup powdered sugar
1 tsp. Vanilla
2 Tbsp. milk
Combine till smooth, then place in small baggie and cut a small hole in corner of the bag.
Alternate the strawberries and cake on sticks. Then drizzle with icing! It's that easy, and so easy for a summer dessert!

Strawberry Jelly
2 cups crushed strawberries ( buy or pick 1 qt. fully ripe strawberries. Picked are best, but whatever you prefer.)
4 cups sugar, measured into separate bowl
3/4 cup water
1 pkg. SURE-JELL Fruit Pectin
Rinse 5 (1-cup) plastic containers and lids with boiling water. Dry thoroughly. Discard stems. Crush strawberries thoroughly, 1 cup at a time. Measure exactly 2 cups prepared fruit into large bowl. Stir in sugar. Let stand 10 min., stirring occasionally.
**IT's important to measure everything exact or it won't set. **
Mix water and pectin in small saucepan. Bring to boil on high heat, stirring constantly. Continue boiling and stirring 1 min. Add to fruit mixture; stir 3 min. or until most of the sugar is dissolved.
(A few sugar crystals may remain.)
Fill containers immediately to within 1/2 inch of tops. Wipe off top edges of containers; immediately cover with lids. Let stand at room temperature 24 hours. Jam is now ready to use. Store in refrigerator, or in freezer up to 1 year.