In Sports
December 26, 2018
599 Views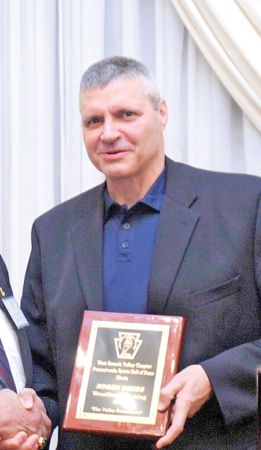 Coach and I go way back. I first met him when my family and I moved to town. I wouldn't say that we are super tight, but he has always been someone I could count on. Coach and I worked both worked in the Athletic Department. I was only part-time and coached different sports, but
Coach and I go way back. I first met him when my family and I moved to town. I wouldn't say that we are super tight, but he has always been someone I could count on. Coach and I worked both worked in the Athletic Department. I was only part-time and coached different sports, but he helped me a great deal. Now when I see him — we tend to focus more on the finer things. Bad golf shots, fishing, and form-fitting singlets are usually the topics of our conversations.
Roger Crebs has been the Head Coach of Lycoming College Wrestling for the past 26 seasons. That's an incredible achievement. Crebs recently claimed his 400th career win as his mighty Warriors handled Kings, Muhlenberg, Pitt-Bradford and Penn College. Coach improved to 401-135-2 overall. That's a staggering .747 win percentage over his 26 years at the helm. The Warriors moved to 8-2 on the year and have several wrestlers currently ranked in the top ten. Well done.
Roger Crebs is Lycoming College Wrestling. My man has coached 51 conference winners, 28 All Americans and four national champions. Crebs has also mentored all seven of the school's 100 match victors. He has lead Lycoming to five Middle Atlantic Conference team titles and three NCAA East Regional team tiaras. The Lewisburg native was a three-time MAC champion for the Warriors from 1984-86. He was later named head coach of his alma mater by the legendary Budd Whitehall who stepped down after his historic 37-year run. Impressive.
Coach has never forgotten the great legacy of his mentor. He has hosted the Budd Whitehill National Duals every year since 1995. An event that brings many of the top Division III powers to Lycoming every January. It is considered one of the finest and most competitive weekend tournaments in the country.
The Warriors have recorded six 20-win seasons. The 1996-97 squad was one of his bests, and I remember them well. Creb's grapplers went 22-0 that year and won the MAC and Eastern Regionals. They were the top dogs at the Budd Whitehill National Duals and finished seventh at the NCAA Division III National Championships. Three Warriors earned All American honors that season. What a run.
Roger Crebs is more than just a successful coach. He is a true ambassador of Lycoming. Don't let that rough exterior fool you — Coach Crebs cares deeply about all of his wrestlers and the college. He has put his heart and soul into this program. I have yet to find anyone who wants everyone to succeed like Roger. He has an unbelievable connection with his wrestlers. Current or former — Coach Crebs has tabs or some information on them all. It's a bond that you cannot describe. He cares.
"The 400 dual meet victories is the real milestone," Former NCAA Division III National Champion Royce Eyer explained. "This feat exemplifies Coach Crebs' consistency. It is a true testament of how he gets the very best out of his wrestlers year after year. Congratulations Coach."
Coach was named the 1994 National Wrestling Coaches Association's Rookie Coach of the Year. He was also honored as the 1997 NWCA Division III Coach of the Year. Crebs is a member of the District 4 Wrestling and the NWCA Hall of Fames. Roger was also inducted into the West Branch Valley earlier this fall. Roger lives on the crick up on 87 with his lovely bride Tara and their two sons, Gable and Cael. Well done Coach. Congrats and continued successes. Special thanks to SID Joe Guistina with the assists. Cheers.