In Arts
December 19, 2018
1143 Views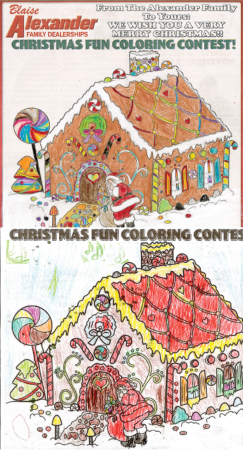 The following are the Winners of the Blaise Alexander Family Dealerships Christmas Fun Coloring Contest! Congratulations to all of our winners and many thanks to all of our entrants! We had over 400 entries this year! You kiddos wore our elves out with judging!! We'd also like to thank all of the people who offered
The following are the Winners of the Blaise Alexander Family Dealerships Christmas Fun Coloring Contest! Congratulations to all of our winners and many thanks to all of our entrants! We had over 400 entries this year! You kiddos wore our elves out with judging!! We'd also like to thank all of the people who offered prizes for this year's contest including: Flyworld, English's Model Railroad, Treasure Castle Playland, Elery Nau Hardware, Hooplas, Harder Sporting Goods, Digiplex, Dairy Queen, Gustonian Gifts and Faxon Bowling. All winners will be contacted by phone.
The prizes for the winners will be:
1st Place – A $200 Gift Card to Liberty Arena.
2nd Place – Train sets or slot car from English's Model Rail Road.
4 and under – Thomas & Friends, Bertie and More starter set;
5-7 – HO Bachman Northfolk Southern Train Set;
8-10 – Knight Rider Slot Car Racing Set
3rd Place – Two Admissions to Treasure Castle Playland.
4th Place – A sled from Elery Nau Hardware.
5th Place – A $25 gift card to Hooplas,
6th Place – A ball of your choice from Harder Sporting Goods.
7th Place – A $10 gift card to Digiplex Movie Theater.
8th Place – A $10 gift card to Dairy Queen.
9th Place – A $10 gift card to Gustonian Gifts.
10th Place – 2 free games from Faxon Bowling.
And the Winners Are!
4 and Under Winners:
1st – Ben Gusick
2nd – Aubrey Horning
3rd –Meadow Stroup
4th – Jordyn Geisel
5th – Rylee Ward
6th – Anna Bjorkman
7th – Lincoln Dincher
8th – Isabel Goss
9th – Joseph McErn
10th – Chase Waltz
5-7 Year Old Winners:
1st – Ariel Hall
2nd – Aiden Wallace
3rd – Gianna Ring
4th – Chase Ward
5th – Carly Miller
6th – Emerson Metzger
7th – Molly Dalton
8th – Ellyette Sekel
9th – Asher Ulmer
10th – Grace Koslap
8-10 Year Old Winners:
1st – Kendall McEwen
2nd – Jayla Koser
3rd – Adilyn Deck
4th – Kaylee Ward
5th – Morgan Hersh
6th – Josephine Renninger
7th – Sydney Kennedy
8th – Milo Gelnett
9th – Tiana Hayes
10th – Azelyn Dincher
A big thank you to everyone who entered! Not everyone can win, but we want to acknowledge everyone who entered the contest! You all did an amazing job!
4 and Under Entrants:
Ellis Baier
Anna Bjorkmon
Cameron Boehret
Adrian Boehret
Elizabeth Boehret
Aubrielle Caputo
Raiden Caroway
Silas Carrasco
Linkoln Cipriani
Trevor Clark
Ethan Clark
Jahsaii Cobb
Tessa Condran
Logan Dangle
Lincoln Dincher
Gabe Dougherty
Salem Engle
Malinda Fisher
Amos Fisher
Miriam Fisher
Luke Flynn
Liam Folmar
Mayzie Fowler
Penelope Gair
Jordyn Geisel
Mikayla Golden
Isabel Goss
Ben Gusick
Titus Hall
Alayah Hockman
Caiden Hoffman
Aubrey Horning
Khloe Huggler
Ava Hughes
Maddi Hunter
Zachary Janson
Ellie Kline
Tristan Klobe
Lola Kreamer
Tessa Kunkle
Charlotte Lovell
Clara MacInnis
David Marzo
Joseph McErn
Stephen Meixel
Levi Meskell
Lucas Miller
Samuel Miller
Jacob Miller
Maura Murphy
Sophea Neese
Luke Paulhamus
Emily Pedraja
Brynlee Reeder
Anabel Rego
Adelyn Reynolds
Gideon Richards
Abigail Seese
Xavier Seese
Conrad Sherman
Colleen Sherman
Lola Stokes
Meadow Stroup
Penelope Thomke
Emma Trick
Bronson Walk
Simone Walk
Chase Waltz
Rylee Ward
Kaylee Weaver
Oliver Weihagen
Imogen Wertz
Harleigh Wilson
Braxton Yetter
5-7-Year-Old Entrants:
Cullen Ayers
Harper Barr
Autumn Basinger
Lyden Beaghley
Stephen Beiler
Ashlynn Beiter
Rhett Bender
Zachary Bonislawski
Ashtyn Bower
Mila Bower
Concetta Brooks
Kendall Brooks
Colby Brouse
Regan Brouse
Kaylee Budd
Amelia Burgett
Sophia Burley
Broderick Campbell
Makenzie Caputo
Jakobi Caroway
Kaden Caster
Olivia Ciccarelli
Braelyn Clarke
Lillyanna Colley
Juniper Cowan
Molly Dalton
Coraline Dauber
Lexie Daugherty
Elijah Day
Carson Deck
Cadence Decker
Liliana DeGregorio
Maddox Digan
Sofia Donlin
Noah Dougherty
Elizabeth Easton
Leslie Eshleman
Isabella Ettinger
Breeze Eveland
Cara Ferguson
Mary Fisher
Elvin Fisher
Aiden Flynn
Chance Fox
Kaci Fraunfelter
Airalyn Gardner
Tarek Ghayyada
Jove Godin
Logan Goff
Kammi Gottschall
Brightyn Grey
Wyatt Grimes
Brecken Gusick
Braiden Gusick
Ariel Hall
Judah Hall
Alivia Hamilton
Avory Hamm
William Hamm
Nolan Hanna
Grayson Harer
Nico Harlan
Luca Harlan
Addyson Harrison
Evan Hartzel
Henry Hawkins
Griffin Heivly
Lina Henry
Scarlett Hensler
Harrison Hersh
Jacob Hilkert
Landry Hill
Logan Himic
Morgan Hoherty
Brennan Hostrander
Lyle Huggler
Madelyn Hughes
Kristen Johnson
Kaydence Keefer
Olivia Kelley
Kaybree Kendall
Gabe Kenyi
Elliot Kenyon
Ella Kenyon
Sophie Kerstetter
Chase Kerstetter
Kash Kimball
Kaylee King
Anabella Kinley
Cole Klinger
Rachel Knapp
Avery Knoebel
Abigail Koshy
Grace Koslap
Danika Krebs
Myles Kunkle
Averie LaForme
Tucker Laidacker
Jonathan Lapp
Alvin Lapp
Reuben Lapp
Kaytlin Larson
Wyatt Lewis
Teagan London
Mya Lorson
Allie Loudenslager
Ruby MacInnis
Cooper Mackey
Ivy Magargle
Alexander Mahaffey
Ryder Martin
Julian Mayeresky
Ella McClain
Adriana McElwee
Kaydance Meixel
Colton Meixel
Emerson Metzger
Adalyn Mexel
Jax Miller
Carly Miller
Dayna Miller
Tatum Montgomery
Kyrie Moore
Olivia Morgan
Abigail Morris
Macy Murphy
Teagan Myers
Adelyn Newlen
Javon Ottaviano
Ethan Palski
Samuel Pedraja
Tabitha Pike
Lee Raup
Tommy Reid
Amelia Richards
Gianna Ring
Lia Ritter
Madelyn Rogers
Sofia Sartori
Daelyn Scarfo
Eleanor Schwanger
Benjamin Seese
Genevieve Seese
Ellyette Sekel
Anthony Sherman
Blaze Sherman
Kaylnn Slagenweit
Isabella Smith
Landon Smith
Chloe Snell
Levi Sparks
Zane Steele
Drew Stevens
Isaac Stiger
Ava Stiller
Sydney Stokes
Issac Stoltzfus
Leah Stoltzfus
Susie Stoltzfus
Serenity Thomas
Zane Thomas
Asher Ulmer
Lyric Utter
Gabby Wall
Aiden Wallace
Josephine Waltz-Seese
Chase Ward
Maxon Weihagen
Reese Werner
Alexis Wheeland
Landen Williamson
Rachel Williamson
Easton Yetter
Madeline Zartman
8-10-Year Old Entrants:
Tabitha Aderhold
Charlotte Baer
Ava Barto
Spencer Beatty
Elijah Bechtol
Sarah Beiler
Abram Beiler
Josette Bentley
Jocelyn Bentley
Faith Bierly
Hailey Bixby
David Bjorkman
Alexander Bjorkman
Steven Bott Jr.
Lael Bradley
Ethan Bragunier
Jonathan Bryson
Samantha Burkhart
Bradyn Carper
Spencer Carriere
Ava Carter
Jayana Cobb
Audrey Cook
Brent Crawford
Alaina Dadzie
Adilyn Deck
Charlotte Decker
Luca DeGregorio
Azelyn Dincher
Elle Donlin
Kaitlyn Dougherty
Sophie Dufrene
Luka Easton
Katie Emery
Colin Engel
Sidney Engle
Elmer Esh
Kayden Ettinger
Donovan Farver
Chloe Ferguson
Linda Fisher
Aaliyah Fourney
Katie Fravel
Lindsay Garber
Noel Gardner
Korin Gardner
Sara Gearhart
Ariana Geasey
Milo Gelnett
Kara Gerber
Nadia Ghayyada
Michael Glick
Grace Godin
Ty Gorham
Isabella Gottschall
Kaitlinn Gottschall
Ainsley Grigas
Telissa Gross
Teagab Hall
Timothy Handy
Avery Hannan
Noah Hatzel
Jennifer Hawkins
Tiana Hayes
Saul Hensler
Camryn Herr
Morgan Hersh
Malinda Hershberger
Caroline Hicks
Kinsley Hill
Tianna Hostrander
Lauren Johnson
Sydney Kennedy
Maddie Kenyi
Elizabeth King
Gage King
Barbie King
Coy Kitka
Mason Klobe
Jayla Koser
Kaylene Kriner
Zoe Kunkle
Erika Kunst
Rebecca Lapp
Barbara Lapp
Omar Lapp
Lena Lapp
Sadie Lapp
Anthony Llewellyn
Taylor London
Nora Lorson
Lynette Martin
Julia/Loretta martin
Crystal Martin
Jaylynn McCollum
Kendall McEwen
Kai Meskell
Danielle Metzger
Patrick Metzger
Katelyn Miller
Addison Morehart
Natalie Morris
Aria Myers
Wesley Nearhoof
Kamdyn Neitz
Logan Parish
Trista Paulhamus
Alex Paulhamus
Kaidence Ramek
Valkyrie Ranck
Olivia Raup
Rylee Reeder
Vivian Reem
Wyatt Reichelt
Josephine Renninger
Elliot Rinehart
McKenzy Rinker
Angelo Rupert
Jenna Schmidt
Elvin Seese
Ethan Shetler
Haley Smith
Kately Solomon
Kylee Solomon
Brian Soto
Isaac Sparks
Blake Stevens
Avery Stevenson
Aaron Stoltzfus
Nancy Stoltzfus
Simeon Stoltzfus
Abby Strom
Sammy Styer
Amos Swarey
Amelia Thomas
Elleah Thurston
Reagan Tucker
Andrew Ulmer
Kieran Ulmer
Morgan Waldman
Elijah Walker
Anna Wall
Kayle Ward
Logan Weaver
Bryson Weigel
Cali Wheeland
Wyatt Wolfanger
Isabella Wood
Kaia Yaw
Jairus Young
Martha Zook
Joshua Zook
Sadie Zook
Tyquan
Dahlia