December 12, 2018
646 Views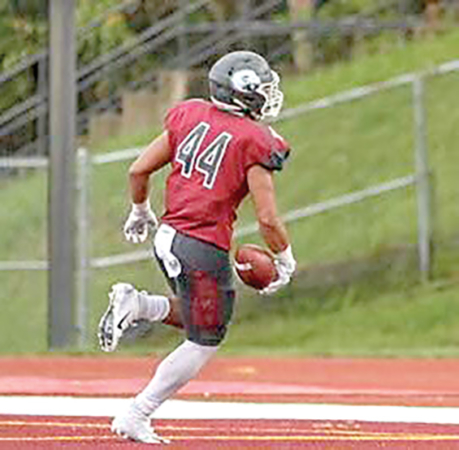 I need to apologize for the two-week sabbatical. I was at a loss for words, and couldn't find a pencil. Tis the season boys and girls. No, I didn't cash in on any Black Friday specials, but I am now well rested. I also have plenty of material for the next couple of months. Sorry
I need to apologize for the two-week sabbatical. I was at a loss for words, and couldn't find a pencil. Tis the season boys and girls. No, I didn't cash in on any Black Friday specials, but I am now well rested. I also have plenty of material for the next couple of months. Sorry to leave you hanging.
I have mentioned before that I am no longer in the loop. My playing days are over, and I retired from broadcasting and coaching. I still have great relationships with many who are. And every once in a while, I will get to reconnect with some fine young people. I first met this lad when he was playing football for the Williamsport Millionaires. He had a tremendous senior season and earned All-State honors. I then followed him as he went off to college.
Jalen Jackson was recently named an All-American. The sophomore tight end for the Lock Haven Bald Eagles earned a spot on the American Football Coaches Association (AFCA) Division II All-America Second Team.
Jalen broke through and was one of the premier tight ends in all of NCAA Division II football in 2018. The physical, yet nimble, Jackson hauled in 44 catches and 537 yards this season. He also tallied seven touchdowns, which ranked him in the top ten of the entire PSAC.
The hard-working local product simply shined after the catch. His speed and agility helped him average 48.8 receiving yards a game. Jackson was also an outstanding teammate and blocker for an improving Bald Eagle squad. Jackson is the first LHU football player ever to earn a spot on the AFCA All-America Team.
"It's such a great feeling," Jackson explained. "I am extremely competitive, and I simply want to be the best. Whatever it may be. I owe a lot to my former Millionaire coaches. They really pushed me to grind and instilled a work ethic that has helped me achieve. This was something on the radar. A lofty goal, but I didn't expect this by any means. I am extremely thankful and honored to be chosen."
Jackson saved his best performance for last. The quiet and humble youngster scored three touchdowns in the regular season finale over Gannon. Jackson caught eight balls for 136 yards in a come from behind win in the snow.
No stranger to individual accolades, the former Millionaire was named to the 2018 Division II Conference Commissioners Association (D2CCA) Super Region Team. He was also a 2018 All-Pennsylvania State Athletic Conference (PSAC) First Team selection.
"I love playing football at Lock Haven," Jackson continued. "It's a great place, and I wouldn't want to be anywhere else. We have a great young team, and we continue to get better."
Jalen Jackson is finishing up his first semester of his sophomore year. He is majoring in Criminal Justice and one day plans to work in law enforcement. Jalen is a great kid who works extremely hard. I am very proud to know him and hear about all of his accomplishments. Well done kid. Congratulations pal. Cheers.