In Sports
November 21, 2018
823 Views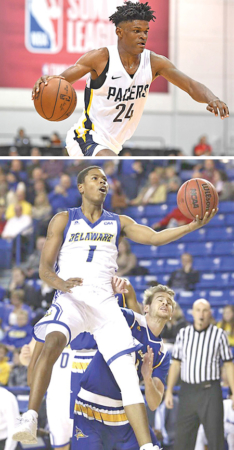 Alize Johnson took the area by storm when he was selected in the second round of the NBA draft. The 6'9″ lanky athletic forward from Williamsport then had an incredible summer league with the Indiana Pacers. He became an instant fan favorite, and his incredible nose for the ball turned several heads. Johnson averaged 12.4
Alize Johnson took the area by storm when he was selected in the second round of the NBA draft. The 6'9″ lanky athletic forward from Williamsport then had an incredible summer league with the Indiana Pacers. He became an instant fan favorite, and his incredible nose for the ball turned several heads. Johnson averaged 12.4 points and a team-best 8.4 rebounds per clip. Many thought this youngster was the steal of the draft and you can even buy his officially licensed jersey on NBA.com. My man.
Johnson also signed a deal with NIKE and almost as soon as the ink dried on that contract, he made a few calls. Now, his alma mater — along with the Williamsport and Loyalsock basketball teams — will be wearing free NIKE shoes this winter compliments of Mr. Johnson.
"It's a great feeling. In years past I wasn't able to do these things. I had plans, but financially I wasn't stable enough to carry them out," Johnson explained, "Now that I do, it's going to be huge for what I have to offer the city and for what's to come."
Alize only appeared in three Indiana Pacer regular season contests. He averaged three minutes in those games but managed to score eight points and grab nine boards against the Memphis Grizzlies. Look, folks, this is the NBA and Alize understands that it is a long process. The current roster is loaded, and he is patiently waiting for a shot. He continues to get better and is gaining more and more confidence. I still marvel at how far this Saint John Neumann Regional Academy stud has come.
The Pacers then moved the former Missouri State Johnson to its G League affiliate. Alize is now balling for the Fort Wayne Mad Ants in the minor leagues. He is making the most of this opportunity and is putting up some impressive numbers. Alize is averaging 22.3 points and 15 rebounds in just three games with his new squad. Johnson had a monster performance last week when he tallied 27 and grabbed 20 in a dominating win. Pretty impressive for a kid who grew up in the east end of town.
His former high school teammate is also doing well. I wrote a story about Kevin Anderson and his Blue Hens last fall. Kevin was off to a great start with Delaware last winter. The 6'5" freshman point guard seemed like he was a favorite to win the Colonial Athletic Association Rookie of the Year. Anderson scored 23 points against a then ranked Notre Dame. He also had a season-high seven assists without a turnover that game. Kevin scored 22 against Cal State-Bakersfield, but a knee injury in practice ended his year prematurely. Anderson ended up averaging 13.7 points and 4.9 rebounds in his shortened 11-game season.
"Last year he was playing as well as any young guard in our league," third-year Delaware coach Martin Ingelsby said, "and really learning the game, quarterbacking our group, running a team, kind of being an extension of a coach out there."
Anderson is back to 100% after a year away. The former Golden Knight is now a sophomore starting point. Kevin gives the Blue Hens what all college teams treasure — a savvy guard with size who is adept at passing but can also get to the basket or drain a 3-pointer. Delaware is off to a 2-1 start with the help of the young ICE man. Anderson is averaging 14.7 points and eight rebounds in those three games. He has stepped up and is ready to lead. The one time Pennsylvania's Class A Player of the Year never lost a regular season or district playoff game at Neumann. I'd say he has made a smooth transition to the collegiate game too. Well done.
I am extremely thankful to have a relationship with these two fine young men. One of the joys of coaching, broadcasting, and writing is that you get to watch extraordinary kids develop both on and off the court. I am so proud of Alize and Kevin on what they have accomplished. Continued success and best of luck. Happy Thanksgiving. Cheers.