October 31, 2018
583 Views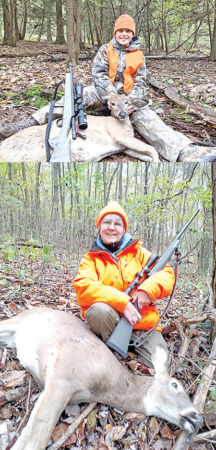 Mentoring — what is it? I looked up the word "mentor" in the dictionary, and it's defined as someone who guides, trains or advises someone with less experience. Many of us, who hunt and fish often, serve as mentors to family members and friends. To be honest, it's often just as rewarding to see a
Mentoring — what is it? I looked up the word "mentor" in the dictionary, and it's defined as someone who guides, trains or advises someone with less experience. Many of us, who hunt and fish often, serve as mentors to family members and friends. To be honest, it's often just as rewarding to see a loved one or a friend share in that excitement. I had that opportunity twice in just a few days last week.
Last Thursday, my wife and I participated in the statewide special firearms season for antlerless deer only; yes, we qualify in the senior license holder category. My wife came from a non-hunting background, so I have had the privilege of acquainting her with the great outdoors. As we arrived at our hunting spot just as daylight broke, several deer were standing in the cornfield as we drove back the lane to the woods. We quickly headed down into the hollow to get away from some of the wind, and we spooked several more deer as we walked into where we wanted to take our first stand — a spot with a good view of the wooded ravine below. Within minutes of getting settled, three more deer walked into my left; I didn't take the shot in hopes that Sheila would be able to use her tag first, but they disappeared before she could get a clear shot.
What a start to the day! Hardly five minutes later another deer showed up in the ravine below the two of us, and it walked up the slope right towards the two of us. This time my wife had a good clear shot — the 243 barked, and the deer took off in a dead run down and across the tiny creek. No blood trail for the first 40 yards, but then I found a few drops and our confidence grew. After following the blood trail for a short distance, we spotted the downed doe — a big one at that. Success and a great hunt that we enjoyed together.
On the following Saturday morning, I had the opportunity to take my 11-year-old grandson, Gavin, out for the Youth Mentored hunt. His father usually takes him but was out of town, so I got the nod; it would be my first hunt with my grandson. We were in our treestand, or maybe I should say "tree house" before daylight. Over the next three hours, the silence was only broken by a squirrel or two. Gavin was trying to catch up on some lost sleep when I suddenly caught sight of a deer coming right at us. The drowsiness quickly turned to excitement as he laid the gun across the rest and took aim. It was in a dead run, but when I blurted out a grunt, it suddenly stopped broadside at 25 yards. He fired, and the whitetail took off. After a little wait, we began to look for it. Gavin spotted it first; it barely went 75 yards before it dropped. Trust me; it's a treat to see that kind of excitement on a kid's face.
Two great hunts in the span of three days, and memories that will last a lifetime. If you haven't already done so, take somebody hunting. And now that I'm done writing this story I think I'm going to grab my compound bow and go try to make a memory for myself.