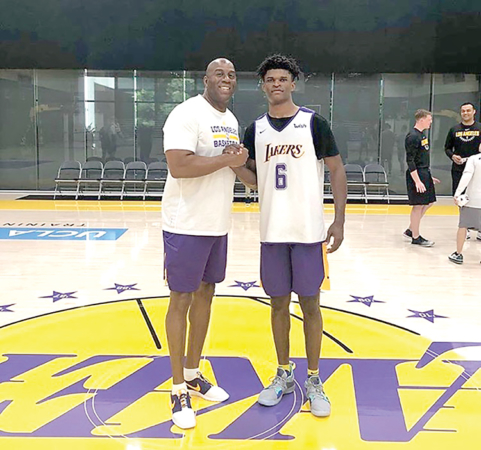 We all had dreams growing up as kids. I wanted to be a professional basketball player at an early age. I often thought about balling at a major D1. Then, ultimately, finding a home in the NBA. I can't tell you the number of times I was alone in the driveway with those intentions in
We all had dreams growing up as kids. I wanted to be a professional basketball player at an early age. I often thought about balling at a major D1. Then, ultimately, finding a home in the NBA. I can't tell you the number of times I was alone in the driveway with those intentions in mind. I would dribble and drive against Magic, Larry or Michael right there on Lincoln Ave. It's what I did.
My bubble busted when I got to the 8th grade. I was too slow, and I then realized that I didn't have what it took to be a pro. I was a decent shooter, but there was absolutely no way I'd ever make it to the league. Unfortunately, I needed to grow another two feet, and my lofty goals soon evaporated. I stopped dreaming about becoming a professional basketball player.
My nine-year-old son loves the game too. He has already decided on playing basketball at Lycoming and will test the waters after his freshman season. I love it. Fifteen others from Hepburn-Lycoming have the very same intentions. What do you want to do when you grow up? I'm probably going to play in the NBA. You can't make this up. Hang in there, folks. I am just painting the backdrop.
A long time ago in a gymnasium nearby, a friend was in a bind, and he was looking for a little help. I'd been away from the game for almost a year, but I missed coaching. I quickly talked things over with my lovely bride and agreed to take the St. John Neumann Regional Academy Boys Junior High Hoops job. No time to celebrate. Practice started on Monday.
The SJNRA FRAGGLES finished up their very first "workout," and I looked defeated. Coach Pectavage then introduced me to some of his Varsity players. I'd already seen most of them in action, and I was impressed with one in particular. We got to talking, and we hit it off immediately. His name was Alize Johnson, and I vividly remember our first conversation. He was tall and talented, and I absolutely loved his character. He was a quiet 6'4" lanky junior but had this silent swagger. Alize was very respectful, and you could see that this youngster was destined for greatness.
Alize Johnson now stands at an impressive 6'9". He is coming off a spectacular two-year stint at Missouri State. He's had a hectic summer traveling all over the US showcasing his talents on the ultimate stage. Johnson was invited to the elite NBA draft combine where he got to play with some of the nation's best. Many of his pickup games and drills were even televised on ESPN. He definitely held his own and gained some valuable confidence. Alize was then invited to participate in several individual team workouts. The Williamsport native was in LA, Houston, Indianapolis and New Orleans this spring. His stock is rising and the former St. John Neumann superstar's dreams are becoming a reality. It's an unbelievable story and at 11:30 p.m. late Thursday evening it became even better.
Alize Johnson continues to amaze. His hard work and determination have finally paid off. He is still a great young lad with a terrific smile. Johnson remains humble despite defying all odds. He wasn't highly recruited out of high school as Alize took the road less traveled. He played two seasons at a junior college in Texas before heading to Missouri. Many folks didn't give Alize a chance, but now this lanky kid from the Port was named the 50th overall pick in the 2018 NBA draft. Say what?
Yes. The Indiana Pacers selected Alize Johnson from Missouri State in the second round. This is unbelievable and unprecedented sports fans. Alize has always flown under the radar, but he believes this adversity will only help him. Johnson obviously impressed several teams including the Indiana Pacers. I erupted when I saw my young friend's name on the scrolling ticker. I jumped for joy and woke up the entire neighborhood with a barbaric yelp. My nine-year-old son did too. He begged me to stay up to watch. It was bedlam in the 17728. Uncharted waters. No one from our area has ever been selected in the NBA draft.
Alize earned first-team Missouri Valley Conference honors the past two seasons. My man was a double-double machine for the Bears, and he was one of the NCAA's top rebounders. Johnson averaged 15.0 points and 11.6 rebounds per game as a senior. His improved outside shooting and relentless motor have really turned some heads. Alize has great skills. His vision and court sense are off the charts. He isn't the typical "big," and his athleticism allows him to play and defend all five positions.
"I've put in a lot of work, and I'm just thankful to be here," Johnson told me a few days before the NBA draft. "We'll see how it goes. I'm just trying to stay humble, and hopefully, it will all come true. I've learned so much from this entire process. I'm not nervous. Anything is possible."
Hundreds of fans gathered downtown to watch the NBA draft and show some love. The place was packed, and it got awfully loud about halfway through the second round. No one knew for certain if he would get the nod. Originally, Alize and his family made plans to attend the event in New York City. But they decided to pull the plug and surprise everyone in attendance. Alize was looking extra fly sporting a navy blue suit and a pink bow tie. The fans erupted when he walked into the room. Alize thanked everyone for coming out as he posed for pictures and gave out many fist bumps. He was very excited and determined.
I could only imagine the emotions when he finally got that call. Alize Johnson from little St. John Neumann Regional Academy in Williamsport, Pennsylvania — you have just been selected in the 2018 NBA second round. What an experience, and I can't begin to tell you how proud I am of this extraordinary man. Alize and his family worked hard and continued to believe. They faced many obstacles and somehow persevered. How many kids have dreamed about getting a shot? I am speechless. Kudos to you big fella. Your dream just became a reality. Much love to Mom and Dad and your other younger siblings too. Congrats and continued successes. This is only the beginning. Cheers.