"She felt fairly confident that with a great deal of practice and effort, she would succeed in the end." ~ Matilda
Roald Dahl is one of the most beloved authors of children's books. One of his most popular works, "Matilda," was adapted into a Tony Award Winning Broadway musical. The Lycoming College Summer Stock Program at the Community Arts Center will present a local adaptation of this work from July 21 through 23.
"We are excited about the return of the Lycoming College Summer Stock to the Community Arts Center stage. This collaboration between Lycoming College and the Community Arts Center is an amazing opportunity for local middle and high school students to work with theatre professionals and to perform in the region's largest performing arts venue. This is an incredible way to start off our 2023-24 Performance Series and our 30th Anniversary year!" Steven Ault, Manager of Marketing Communications at the Community Arts Center, told Webb Weekly.
"It's an honor to once again be hosting Student Summer Stock here at the Arts Center. This is a program that's been a part of the CAC's summer programming for many years, and we're thrilled to partner with Lycoming College to provide such a unique experience for area student performers. I've been lucky enough to see this cast in rehearsals, and they're a talented bunch led by a very capable group of teachers and professionals. We can't wait for opening night – it's going to be something special," stated Jim Dougherty, Executive Director of the Community Arts Center.
Inspired by the twisted genius of Roald Dahl, the Tony Award-winning Matilda The Musical revels in the anarchy of childhood, the power of imagination, and the inspiring story of a girl who dreams of a better life. With a book by Dennis Kelly and original songs by Tim Minchin, Matilda has won 47 international awards and continues to thrill sold-out audiences of all ages around the world.
Matilda is a little girl with astonishing wit, intelligence, and psychokinetic powers. She's unloved by her cruel parents but impresses her schoolteacher, the highly loveable Miss Honey. Over the course of her first term at school, Matilda and Miss Honey have a profound effect on each other's lives, as Miss Honey begins not only to recognize but also to appreciate Matilda's extraordinary personality. Matilda's school life isn't completely smooth sailing, however — the school's mean headmistress, Miss Trunchbull, hates children and just loves thinking up new punishments for those who don't abide by her rules. But Matilda has courage and cleverness in equal amounts and could be the school pupils' saving grace!
Lakeesha Blakeney is the local show's director, and he has a passionate view of her work with the local cast of this production.
"We are in service to the story, not ourselves. My voice is powerful," a mantra I have the kids repeat. "I am truly proud of all the cast has accomplished," said Blakeney.
Packed with high-energy dance numbers and catchy songs Matilda is a joyous girl power romp. Children and adults alike will be thrilled and delighted by the story of the special little girl with an extraordinary imagination.
Tickets are still available for this production and are available through the CAC's box office, which you can contact at 570-326-2424, or at caclive.com.
Performances are Friday and Saturday at 7:30 p.m., and there will be a matinee on Sunday at 2:00 p.m. Tickets are $20 for adults and $10 for students.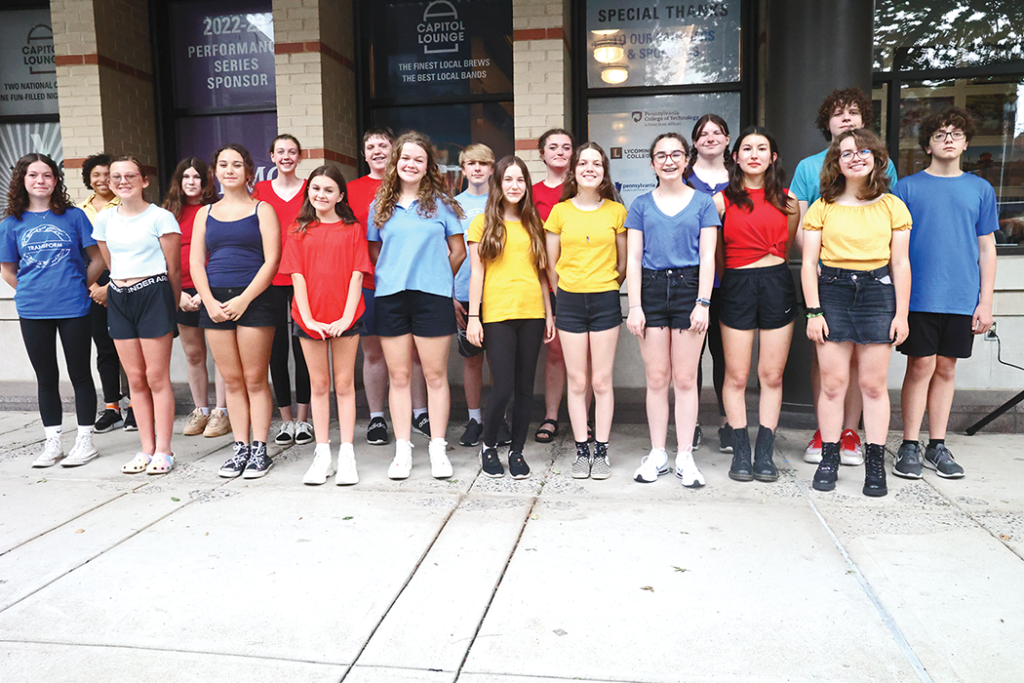 The cast at July's First Friday. Back Row: Lana Perry, Kristen Dinges, Claire Nestor, Elijah Nilson, Christian Berwanger, Grace Barkauskas, Isabelle Campbell, Albert Campbell, Elias Rodriguez. Front Row: Maddy Lundy, Maryn Fry, Payton Paules, Kendall McEwen, Lila McEwen, Janae Tymeson, Hannah Bastian, Elizabeth Kirk, Muireann Tran, Akira White. Missing: MaKayla Flournay-Brown.