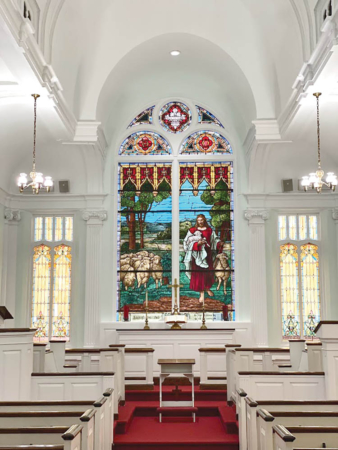 This Sunday will be a day of celebration, and nostalgic reflection as the congregation of Messiah Lutheran Church, at the corner of Howard Street and West Southern Avenue in South Williamsport, rededicate their "Little Chapel." The "Little Chapel" is an integral part of the almost 130-year-old church, which had humble origins. The Little Chapel of
This Sunday will be a day of celebration, and nostalgic reflection as the congregation of Messiah Lutheran Church, at the corner of Howard Street and West Southern Avenue in South Williamsport, rededicate their "Little Chapel."
The "Little Chapel" is an integral part of the almost 130-year-old church, which had humble origins.
The Little Chapel of the Good Shepherd began its existence as a children's chapel attached to the main church building, which was dedicated in June 1890. Under the leadership of the Reverend Robert G. Bannen (served 1891-1939), the chapel was enlarged in 1895.
Messiah's membership was growing, so in 1910 an addition was built to the old chapel for adult classes. Adjoining the old chapel, a new children's chapel was constructed for the beginners and the primary department. The chapel, "a thing of beauty and joy forever," was finished in colonial style with beautiful stained-glass windows.
The answer to Reverend Bannen's prayers for these plans was a cathedral window at the front, a gift of W.D. Crooks, which depicts Christ as the Good Shepherd. Mr. and Mrs. Crooks also donated the two windows at the rear of the chapel: "Christ Blessing the Children" and "The Flight to Egypt."
The remaining windows were gifts from individuals and classes in the Sunday School. The cost was large — nearly $14,000, which would be worth almost $423,000 in 2022.
After the death of the Reverend Bannen in 1939, the Reverend E. Raymond Shaheen responded to Messiah's call. Pastor Shaheen envisioned using the children's chapel as a special worship place. The answer to his prayers for these plans was congregation member, Mr. John Hurr, who agreed to finance the project. Hurr owned Hurr's Dairy, whose dairy stores were a fixture in the Williamsport area for many years.
Reverend Ellerslie A. Lebo, a member of the United Lutheran Church of America architecture committee, was hired and transformed the space into a charming and inviting chapel highlighted by the stained-glass window of the Good Shepherd.
An organ was still needed. With two faithful congregation members, Pastor Shaheen took advantage of a bargain organ by placing a down payment of $25 but had no plan for the remaining cost of $600. As has always been the case, the Messiah congregation rose to the challenge and raised the money. On October 11, 1942, Pastor Shaheen's dream was realized as the newly named Little Chapel of the Good Shepherd was dedicated "to the glory of God and in loving memory of Isabelle Diener Hurr by her son John H. Hurr."
The rededication will take place this Sunday following church services and will include appropriate remarks and refreshments.
"This church is a special place for so many people, particularly our older members," Gary Hutchinson, a member of the church's Congregational Council, told Webb Weekly. "They have fond and special members of attending Sunday School, getting married, various baptisms, and funerals as well. The rededication activities are a wonderful commemoration of all the special things this church represents to our members and their families."