January 12, 2022
324 Views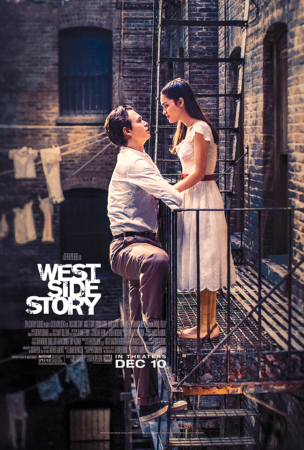 Steven Spielberg's "West Side Story" achieves so many unlikely triumphs that, at times, it seems downright miraculous. Based on the beloved 1961 musical, this is a rare remake that's every bit as good as the original — maybe better. Yet somehow, it manages this without actually eclipsing that film — without modernizing or updating it
Steven Spielberg's "West Side Story" achieves so many unlikely triumphs that, at times, it seems downright miraculous.
Based on the beloved 1961 musical, this is a rare remake that's every bit as good as the original — maybe better. Yet somehow, it manages this without actually eclipsing that film — without modernizing or updating it and without feeling like a rip-off or a rehash.
Set in the same mid-50s era, the film also feels both old and new — enchantingly nostalgic and vigorously fresh.
Best of all, the tunes and choreography are so perfectly integrated — so natural and unstudied — that this "West Side Story" hardly even comes across as a musical.
Instead, it's a powerful, important, and beautifully acted love story in which the characters do occasionally sing and dance.
Fortunately, they're singing and dancing to some of the greatest tunes ever written for the American stage:
"Tonight," "America," "Something's Coming," "Gee, Officer Krupke," "Maria," "Somewhere" — they're all here, and they all sound like they were written yesterday.
Spielberg and his screenwriter — Broadway veteran Tony Kushner — do add some tweaks to this tale of a young man and woman who fall madly in love even though they hail from competing ethnic factions in a fight-filled Manhattan enclave.
Chief among these changes is a part for 90-year-old Rita Moreno, who played Anita in the original. And unlike the first film, this one gives her "Somewhere" to sing.
Smart move.
The rest of the players are sensational, too. Among other things, Spielberg cast full-blooded Latinos in the Puerto Rican roles — in particular, assigning Maria not to a Caucasian (i.e., Natalie Wood in 1961), but to cinematic newcomer Rachel Zegler, who knocks it right out of the park.
Both she and the more-familiar Ansel Elgort ("Baby Driver," "The Fault in Our Stars") inhabit these lovely and well-known songs with absolute authority. Second leads Ariana DeBose (Anita), and David Alvarez (Bernardo) are likewise superb; but really, there isn't a dull performance in the entire film.
Long-time Spielberg lens-man Janusz Kaminski ("Schindler's List," "Saving Private Ryan") is at the top of his game here; he may find himself with a third Oscar come March 27.
But for me, the most impressive feature of "West Side Story" is the way its musical set-pieces never feel tacked-on or artificial. Though I love "Top Hat" and "Singin' in the Rain," I'm not a huge fan of musical films — in part because Hollywood doesn't always adapt them well, but mostly because all that spontaneous bursting into song can seem tacky and unreal.
But not in Spielberg.
Since this is his first foray into the genre, I have no idea how he managed it. Still, there's an utterly compelling vitality — a raw and organic effortlessness — to virtually every tune onscreen, especially in the fire-escape scene. And this ambiance is all the more notable because we might expect the wide familiarity of these tunes to leave them feeling stale or worn-out, but those terms don't apply to a single thing in this incredible film.
See it in the theater if you can.
**** (out of four)
Rated PG-13; 156 min.