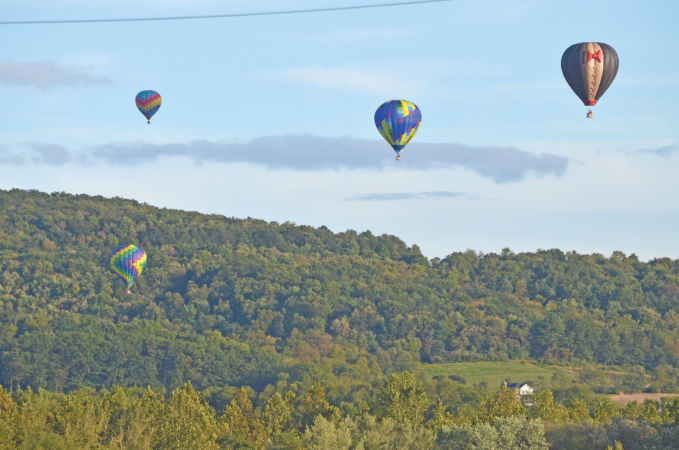 This COVID-19 year, many annual events that have been part of our cultural, entertainment, and recreational landscape have had to yield to the pesky virus. However, one that is not is the 14th annual Balloonfest Air Show and So Much More put on by the Lycoming County Rotary Clubs, which will take place this Saturday
This COVID-19 year, many annual events that have been part of our cultural, entertainment, and recreational landscape have had to yield to the pesky virus. However, one that is not is the 14th annual Balloonfest Air Show and So Much More put on by the Lycoming County Rotary Clubs, which will take place this Saturday and Sunday, September 12 and 13 at the Lycoming County Fairgrounds in Hughesville. The event will be held "rain or shine."
"To say the least, planning for our event has been a challenge. Thankfully, the committee that works together to plan this event every year has been willing to face and work through each challenge," Sandy Spencer, Event Chair, told Webb Weekly. "We have learned about, and learned how we must implement COVID protocols at our gates and throughout the event. We have dealt with challenges from those who cannot participate (volunteer groups, performers, exhibitors, etc.) because of restrictions, and it has caused us to think of creative new ideas to safely implement so attendees can have every opportunity to socially distance but also enjoy top-notch entertainment."
One major change in this year's event involves balloon rides for the public. Although there will still be balloon launches early morning and late afternoon, weather permitting, they will not be selling rides to paying passengers. Obviously, it is impossible to socially distance in a balloon basket that may be in the air 45 minutes to an hour. But please, come out and see the balloons and weather permitting, there will be a tethered balloon onsite with COVID precautions taken and enforced! Organizers appreciate the fact the commercially licensed balloon pilots, organized by Balloonmeister, Rebecca Elkins, will be here to add color to the skies! We will also have air show performances that will include Geronimo Skydiving (sponsored by Sheetz), Jason Flood, (stunt pilot sponsored by Lycoming Engines), and Paradigm Aviator, exciting paramotor performances, all overseen by David Schultz Airshows. Dialed Action BMX shows have always been quite popular at this event, and they are happy to welcome them back for three shows on Saturday and two on Sunday. And the ATV races organized by PA Sleds and Treads will be returning with "sound and action" for those who enjoy the excitement of what they offer. A heavy equipment contest offered for anyone ages five years and up is being organized by Jason Weaver and his team, with trophies being awarded for age groups. And truly a crowd favorite, the laser light show by Accent Lighting choreographed to a soundtrack by Datman Sound will end the day's activities on Saturday. The Sunday finale will be an air show performance at 1 p.m.
Also, at the event will be opportunities to participate in a "family dance-a-thon," roving musical performances, vendors of all types, including food and non-food, and magician performances and more. And although some things seem to change almost daily for the planning committee, they truly feel those interested in participating are looking forward to a day, or two, where they can forget some of the concerns of this past year and enjoy time with family and friends. This is a "rain or shine" event, and they do recognize that the weather definitely impacts some parts of the event, but organizers will do all they can.
"I offer heartfelt appreciation to the team that has worked and planned together for a full year to make this event possible. This year has not been easy!" Spencer said. "I am truly blessed to work with each person who unselfishly does their part to support the "bigger picture." This is the last year the event will be known as "presented by the Rotary Clubs of Lycoming County" since we are expanding our "committee base" to include any clubs or individuals who are service-oriented and dedicated to the vision and mission of what we offer. Feel free to contact us if you or your organization is interested in continuing to grow this community and beyond, event."
Ticket prices and options for ticket purchase (one-day or two-day) are on the website along with vendor information and more at LCRotary.com.