In Stories
October 16, 2019
9918 Views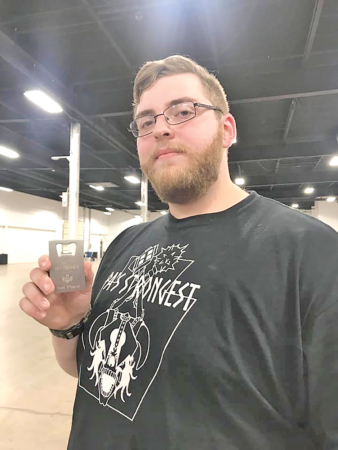 For 360-pound Adam Grimes II, his decision to enter for PA's Strongest, a strongman style event for men and women, was last minute in training terms. The 19-year-old only had six weeks to train for the event. Due to his size, he has always had an interest in strength training but only recently got the
For 360-pound Adam Grimes II, his decision to enter for PA's Strongest, a strongman style event for men and women, was last minute in training terms. The 19-year-old only had six weeks to train for the event. Due to his size, he has always had an interest in strength training but only recently got the bug to compete. That is when he went to his father, also Adam, who happens to be a veteran lifter himself, to begin training.
Knowing in advance that the events were going to be the deadlift, side hammer hold, Husafell carry, circus dumbbell press, and truck pull gave Grimes a starting point. "Feeling that the deadlift technique was going to give me the most trouble, that is what we concentrated on the most," said Adam Grimes II. Father and son trained at least four days per week for an hour to an hour and a half per session in their home gym.
The strongman event, which took place September 28th in Phoenixville, PA, consisted of the combined score of multiple events, which included:
Circus dumbbell press: A thick-handled, 80-pound dumbbell was to be cleaned (lifted) from the floor with one or two hands to the shoulder then pressed overhead with one handle only. The weight was to be cleaned between each press for as many repetitions as possible in a set period of time. "I had been training this event hard, and it showed with 12 full clean and presses. This put me in first for the event," said Grimes.
Maximum Deadlift: A test of pure strength where a barbell is lifted off the floor until the lifter is in a completely standing position with their knees locked out and back fully erect. He had a bit of difficulty with maintaining proper form but, despite this, still managed to set a personal best of 465. This earned him second place in this event. Grimes was able to lift the state record of 485 off the floor but failed to lock it out.
Side Hammer hold: A test of grip strength and muscular endurance where two 35 pound hammers are held out to the lifter's sides at 'arm's length and shoulder height for time. Grimes surprised himself by holding the hammers up for 39 seconds and earning another second place.
Husafell Carry: In this event, the lifter carries a 210-pound stone on their chest for a maximum distance. Having trained little in this event prior to the competition, Adam was uncertain how he would perform. Ultimately, he made it approximately one and a half laps around a track to place third.
Truck Pull: Each competitor is strapped into a harness that is attached to a truck. The truck is then towed for 60 feet or as far as possible in 90 seconds. The time clock stops when the athlete reaches the finish line. According to the young strongman, this was definitely the most challenging event that he had faced. "I had a lot of difficulty getting the truck moving, but once I did, boy did it start rolling! I did come a little bit short of the finish line putting me in third for that event," said Grimes.
It was a tough contest, but Adam Grimes II was able to take 2nd Place in the Teen division. Of all the things that were remarkable about PA's Strongest competition, what stood out the most was friendliness and camaraderie of the strongman community. "My direct competitors were actually cheering for me. I even had the opportunity to make some friends," said Grimes.
When asked if there was anyone that helped him with his success, he said, "I have to say that I could have never have done this without the full support of my family. My dad training me; my wife and mom cheering for me. I owe it all to them and my faith in God."
Adam plans on continuing his strongman career and has recently registered to compete in the upcoming Oktoberpress competition at the Legacy Gym in Martinsburg, West Virginia, and is also planning for his return to the PA's Strongest in 2020.
1 comment