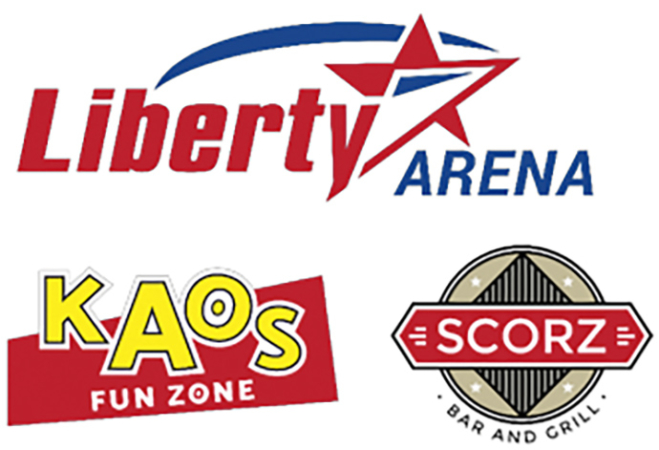 The recently renovated entertainment complex will hold official Grand Opening on Thursday, February 28 After a $5 million renovation, the expanded Liberty Arena is hosting an official grand opening to mint the complex as the newest destination for fun in downtown Williamsport, bringing together attractions, entertainment and quality food under one roof. The Liberty Arena
The recently renovated entertainment complex will hold official Grand Opening on Thursday, February 28
After a $5 million renovation, the expanded Liberty Arena is hosting an official grand opening to mint the complex as the newest destination for fun in downtown Williamsport, bringing together attractions, entertainment and quality food under one roof.
The Liberty Arena is holding an official grand opening on Thursday, February 28, from 4-6 PM. In addition to a ribbon cutting ceremony, KISS-FM will be onsite for a live remote. Located at 315 Hepburn St. in Williamsport, guests are invited to tour the newly renovated facility and have a chance to win some amazing raffle prizes.
The upgraded Liberty Arena offers many new attractions and activities along with current offerings at The Liberty Arena to keep both adults and youth engaged in healthy and fun activities. In addition to the previously existing turf fields, batting cages and state-of-the-art golf simulator featuring 87 world-class courses and Fly World Trampoline Park, Kaos Fun Zone was created to house four of the main entertainment attractions, including:
• Laser Quest – the only laser tag arena in the area with 20 phasers
• Level Up Arcade – 6,000 square foot arcade with over 40 games to satisfy the inner gamer
• Liberty Lanes – 12 state-of-the-art boutique bowling lanes with larger-than-life TV screens and plush couch areas
• Fly World – a full indoor trampoline park complete with slam dunk hoops and a dodgeball court
Kaos Fun Zone is also home to Screamz, an arcade-side family bar featuring everything from candy and ice cream to specialty adult milkshakes.
The perfect compliment to the turf and Kaos Fun Zone, Scorz Bar and Grill is the area's newest restaurant featuring a menu of great American cuisine in a sport-friendly environment. Featuring 15 screens, NFL Sunday Ticket, 12 beer taps with a selection of rotating craft beers, and both indoor and outdoor seating, Scorz Bar and Grill has a great selection of appetizers and entrees for eat-in or take-out.
The upgraded Liberty Arena has provided the area with six new full-time jobs, as well as over 50 part-time employment opportunities.
Owned and operated by The Liberty Group, The Liberty Arena strives to be the finest family entertainment center in central Pennsylvania, with first-class facilities, dynamic programming, unrivaled attractions, quality entertainment, and diverse special events. In doing so, The Liberty Group's goal is to positively impact all guests through activities that build character, strengthen families, promote fun and healthy competition, and present an opportunity for everyone to play their own way.
Additionally, The Liberty Group is proud to add an economic impact, an increased customer base, and a variety of opportunities to downtown Williamsport. The Liberty Arena complex will bring families, traveling sports teams, and customers of all ages to visit the downtown Williamsport area, while not only supporting The Liberty Arena additions, but several local businesses surrounding the complex. The Liberty Group is excited to be a partner with the greater Williamsport and surrounding areas to continue to make an economic impact for our local employees, families, and the community.

Paid Advertisment.