In Sports
December 26, 2018
1104 Views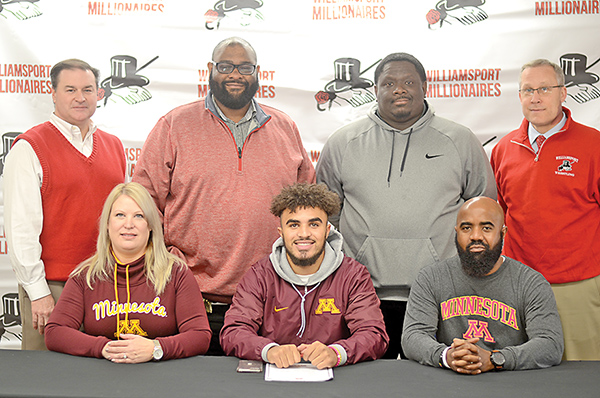 A small group of students, parents, and coaches gathered inside Williamsport High School's library for a letter of intent signing that would change lives for the better. Treyson Potts sat at a table with Williamsport's school logo on a wall behind him, his mother Georgia to his right and his father Jerome at his left
A small group of students, parents, and coaches gathered inside Williamsport High School's library for a letter of intent signing that would change lives for the better.
Treyson Potts sat at a table with Williamsport's school logo on a wall behind him, his mother Georgia to his right and his father Jerome at his left side, and he signed his letter to play at the University of Minnesota.
"It's just a blessing for the University and coach (P.J.) Fleck and his staff just to have the confidence and know just what type of player I am," Potts said. "It just means a lot, and I'm just living it up right now. It's a dream come true."
Potts dreams of Division I athletics and beyond started at a young age when his father instilled a work ethic few could match. He also gave Potts the chance to dream and see, even with small ones, what could happen if he worked toward those dreams.
As a sophomore with Williamsport, Potts rushed for 2,016 yards, scored multiple touchdowns, and averaged 10.8 yards per carry. Potts's sophomore season would be good for most players' entire time in high school, but it wasn't good enough for him. Potts continued to work hard throughout the offseason, but something happened during the first game of his junior season that would change his life — injury.
Potts fell to the ground and knew he was injured. He wouldn't know exactly how bad until later in the night, but once confirmed it was clear the season was over.
"He's always been positive," Jerome Potts said. "The injury never affected his mental state. He's just a worker. He strives for greatness, and he demands greatness out of his teammates. That's just the type of kid he is."
Rehab started early for Potts, who wasn't about to shy away from a challenge, especially if it meant getting back on the field. Minnesota seemed like a dream that might not happen, but the University and head coach Fleck continued to believe in Potts.
"They just showed that they really wanted me in their program," Potts said. "Even with the injury they continued to stick with me, and that was just the best option for me."
Potts only managed to play five games as a senior, but it was easy to see, even with an injury, that he was a cut above most players on the field.
In an effort to help him at the next level Williamsport coach Chuck Crews pushed Potts through rehab and handled him perfectly throughout his senior season. Potts wanted to stay on the field, but Crews could see the bigger picture.
"Division I football players are born they aren't made," Crews said. "You can't make an athlete that special. Sunday football players are born. What we had a hand in doing was making him a better person. A better teammate. Football is just a small part of what we do here at Williamsport."
Jerome and Georgia Potts, head football coach Chuck Crews, his assistant coach Kevin Brown, and a countless number of teammates and friends will be there to continue to support Potts when he departs for Minnesota. The only thing for him will be the hard work it takes to be a successful athlete at the highest level outside of the professional ranks. If history is any type of teacher, Potts has a big future in front of him.