In Sports
December 19, 2018
2419 Views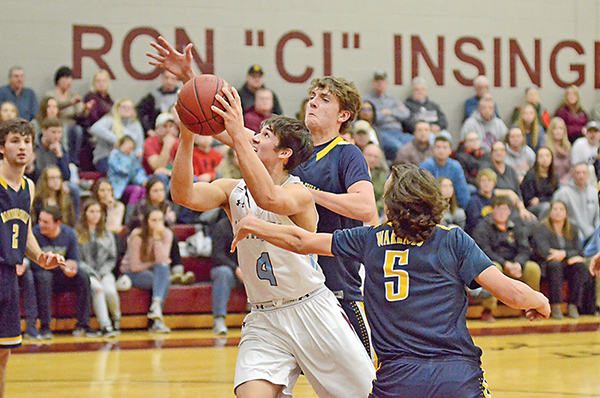 When Connor Watkins walked off the field at Bloomsburg fans and players thought it would be the final time they would see him in a Loyalsock uniform. There were tears, jeers, and plenty of fears as he left the field with an injury that looked severe. The only person who wasn't worried about getting back
When Connor Watkins walked off the field at Bloomsburg fans and players thought it would be the final time they would see him in a Loyalsock uniform.
There were tears, jeers, and plenty of fears as he left the field with an injury that looked severe. The only person who wasn't worried about getting back on the field was Watkins, who immediately knew it would take a lot of work, but it would be worth it for one last chance to play.
He wanted to compete with his teammates one last time and was determined to make it back for at least one game.
"I really didn't have any worries," Watkins said. "I was just sad because I didn't get to play some of my senior year with my men. That was the saddest part, but I had full faith, and I'm just happy I can be back now."
The weeks following the injury tested the Villanova bound senior as he spent hours in the gym rehabbing and trying to get back on the field. The hours not in the gym were spent helping teammates on the field, giving Watkins a new look at the game.
"It's been a great learning process, to be honest," Watkins said. "I've learned so much more through this process about mental toughness and really just studying the game from a different perspective. I definitely feel like coming back I'll be better for it."
Watkins didn't sit around or feel sad for himself through the process. He made a promise to himself that he would do whatever it took to get back on the field.
Loyalsock dropped its first two games without Watkins, falling to Montoursville and Selinsgrove and only scoring a combined 14 points. Watkins, now taking on the role of assistant coach, helped the young players make adjustments. He started to see the game from a different angle, once again making the most of his situation.
"It's so cliché, but you really don't know what you have until it's gone," Watkins said. "It's so true. I never had a serious injury before, and when it happened, I was devastated, but it feels great to be back."
Loyalsock managed to win its final four games of the regular season, including a 48-12 win over South Williamsport to qualify for the postseason.
Watkins, after weeks of rehab, was cleared for the playoff game and got one more chance to play with his friends and teammates.
"There's nothing like Friday night football," Watkins said. "It was nice to suit up with my men regardless of the outcome. Obviously, I wish it would have gone differently, but it was huge for me to suit up one last time."
It was amazing to watch Watkins play injury and pain-free only weeks removed from the injury. It was a testament to what type of athlete and person he has grown into over the years.
The next challenge was getting on the basketball court, and there was little to no falloff after the injury.
"He didn't miss any practices what so ever," Loyalsock basketball coach Ron "CI" Insinger said. "The weight room has really helped him. His upper body strength is amazing."
Watkins had a breakout game against Lewisburg, scoring a team-high 24 points. That included a near half-court shot that tested his arm strength and left no questions.
The process of getting back was long and grueling, but one Watkins met head-on. Now, as he works through basketball and prepares for baseball, there will be no questions as to health.
"I'm back at 100 percent," Watkins said. "Shout out to the training staff and Dr. Carey for getting me back to 100 percent. I feel good."