November 14, 2018
1357 Views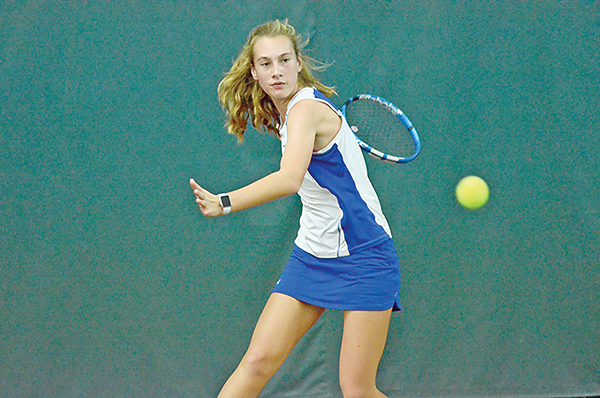 South Williamsport's Olivia Dorner completed an undefeated regular season, won the District 4 title, and finished third at the PIAA Tennis Single Championships. That was all as a freshman. Dorner's journey to becoming the top tennis player in the area started with her love of the sport, hard work, and sacrifices. Dorner has left countless
South Williamsport's Olivia Dorner completed an undefeated regular season, won the District 4 title, and finished third at the PIAA Tennis Single Championships. That was all as a freshman.
Dorner's journey to becoming the top tennis player in the area started with her love of the sport, hard work, and sacrifices. Dorner has left countless hours on the court with coaches, players, and even friends as she crafted her skills.
Emotions nearly boiled over after she fell in the semifinals of the PIAA Tennis Singles Championships in Hershey last weekend. After a season of complete domination, the matches started to get tighter until Lower Moreland's Nikole Lisovvy finally handed Dorner her first loss of the season.
"I was actually really impressed with Olivia's maturity," South Williamsport Tennis coach Theresa Summerson said. "She dug deep. Things went against her there, and she fought really hard."
Dorner was stunned by the loss, but she regrouped enough to win her consolation match and be declared the No. 3 player in the state. She looked eager to get back onto the court. She might have even taken a rematch right there at the Hershey Racquet Club.
"The good thing about Olivia is I won't have to do much, because she will herself," Summerson said. "She sets some really high goals and will do the work required to achieve those goals. I know this will light a fire in her belly to come back next year and do very well."
Dorner hasn't just performed well in this area against local players. Her tennis schedule goes all year and has her traveling to tournaments all around the country to face the top competition. Dorner takes care of the work on the court, but its the sacrifices of her family that help get her to the events that really helps her shine at the next level.
"We travel to Philadelphia and Pittsburgh, and we travel out of state," Dorner's mom Jennifer Caris said. "She's doing really well with it. When it's your kid, you make the time and commitment. We know it means a lot to her."
Dorner was rarely challenged throughout the season as her hard work and preparation were constantly being put on display. She has a knack for moving players around the court and getting the shots she wants.
"She has looked strong and confident all year," Caris said. "She's really confident and knows the kind of game she has. I didn't see her nervous at all."
Dorner cruised through the regular season as she rarely dropped a point let alone an entire game or set. She finished with an undefeated individual record, but she also helped her team earn the No. 1 seed in the District 4 Tournament.
South Williamsport's team dreams of reaching the State Tournament as the top seed out of District 4 came down to a match against Montoursville. Dorner was outstanding, but so were her teammates as Lauren Peck won a singles match and the No. 2 doubles pairing of Alayna McGovern and Jen Bowman won their match to give South Williamsport its second District 4 title of the postseason.
It was clear early on that Dorner had something special going with tennis. Her father Jonathan Dorner is the head coach of Williamsport and works at the West Branch Tennis Club. It was the perfect setup for Dorner, but even her parents were impressed early on by her skills on the court.
"She was willing to try anything and was really motivated," Caris said. "She worked a lot of hours with her dad when she was growing up. When we saw her pick up the racquet we knew she had something "There was just a willingness to learn and evolve."