In Sports
October 31, 2018
1168 Views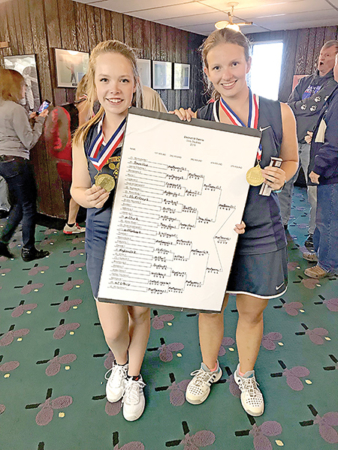 It was just another lazy summer day for Lydia Barbour as one of her friends approached her with the idea of taking part in Montoursville's annual tennis game hosted by the high school team. Barbour went there looking for something to fill the void left by a hot day without much to do. She got
It was just another lazy summer day for Lydia Barbour as one of her friends approached her with the idea of taking part in Montoursville's annual tennis game hosted by the high school team.
Barbour went there looking for something to fill the void left by a hot day without much to do. She got on the court and was taught the basics, but something stirred inside of her that gave her a deeper connection with the sport.
Barbour spent the next two years crafting her skills into some of the top in the entire district. She worked her way up to be named Montoursville's No. 2 singles player, but her ultimate accomplishment would come with a partner as she topped the District 4 Class AA Team Tennis field with Maddy Reeves.
It was the furthest any Montoursville individual or team had advanced since Jo Anne Reeves took over the team four years ago.
For Barbour, who played outstanding throughout the second set as Montoursville overcame a 3-1 deficit, it was the culmination of years of hard work after that fateful summer day she decided to attend the camp.
"She worked extremely hard the last two years," Reeves said. "She's very dedicated, and I'm extremely thankful to have her on the team. To go from our tennis game two years and be named district champion is just amazing."
Montoursville's players of Maddy Reeves and Barbour started on a cold Saturday, eliminating multiple teams throughout the day to give themselves a trip to the semifinals of the tournament.
Once at the West Branch Tennis Club, which features indoor courts with controlled temperatures, the girls reached the finals and took on Montgomery's top pair of Katie Forrestal and Abby Stryker. In both sets, Montgomery was able to gain a lead, but Reeves and Barbour were able to come back and win.
The drive and determination by the two girls were outstanding. It was also a perfect display of just how important summer camps can be for teams.
"We do a tennis camp each summer for our community and have got younger kids excited about the sport," Montoursville tennis coach Jo Anne Reeves said. "This year we tried to think about more ways to give back."
The team organized a bake sale for their senior day and donated all the money earned back to families in need.
"They just really come together when they need to," Reeves said. "I appreciate all the hard work they put into the sport and over the summer. It's been great."
That hard work paid off with a district championship, but it also paid off by teaching the importance of giving back to the community.
"It's a really good group of girls, and I've been fortunate to be coaching them," Reeves said. "Tennis as a sport, in general, has really nice players and respectful players."
Reeves started coaching her current group of seniors when they were freshmen just starting high school and the varsity experience. She worked with the group of seven seniors, getting players like Barbour through the camp and building around competitors with strong work ethics and a will to learn the sport. With more players joining the team and successes like winning the district the future looked promising for Montoursville tennis.
1 comment