In Sports
August 29, 2018
988 Views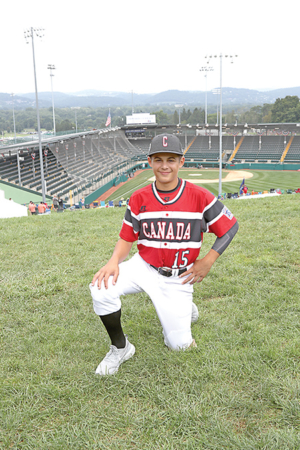 One Little Leaguer from the Whalley Little League of Surrey, British Columbia, came within an eyelash of not being able to join his teammates here at the Little League World Series because of an immigration issue. The Little Leaguer, Dio Gama, was caught in a web, not of his making. According to Canadian Broadcasting Company
One Little Leaguer from the Whalley Little League of Surrey, British Columbia, came within an eyelash of not being able to join his teammates here at the Little League World Series because of an immigration issue. The Little Leaguer, Dio Gama, was caught in a web, not of his making.
According to Canadian Broadcasting Company (CBC) journalist, Devin Heroux, who along with a colleague, helped break the story and helped bring about the happy ending, the story happened this way.
Dio Gama, who was born in Las Vegas to Mexican parents, has lived in Canada for three years. His parents have been seeking refugee status in Canada for more than a decade, but the family's case remains in legal limbo after a federal judge ordered a review of their case last month.
Heroux, who accompanied the Canadian team to the LLWS, told Webb Weekly, "Our CBC Sports team was notified of Dio Gama's situation the day following the national championship. CBC was the exclusive broadcaster for the event, and had made some great connections with the family. We received an email from Noe Gama, Dio's father, not too long after the championship game alerting us of the issue. I think he reached out to Noe and set the story and fact-gathering in motion."
The process has been complicated by the fact that Noe has previously been denied status in Canada. In 1997 he was convicted on a drug charge in the United States. Under a plea agreement, Noe received a 60-month prison sentence and agreed to deportation from the U.S. He was transferred to a Mexican prison to complete his sentence and was released in 2001. In 2008, Noe first arrived in Canada with a visitor visa and claimed refugee protection.
The family hoped its case would be resolved by now, but just days before the national championship game, the family got a letter from their lawyer saying the application was still pending, and advising that Dio should not leave the country because there was a chance he wouldn't be allowed back into Canada.
Dio kept it all a secret. He didn't tell his coaches or teammates he wouldn't be able to fulfill his dream of playing in the Little League World Series if the team won the Canadian title.
The team left for Williamsport without a heartbroken, tear-stained Dio.
But on Wednesday evening, August 15, the family received a letter saying Dio would be able to go after all. Federal Immigration Minister Ahmed Hussen is granting Dio a temporary resident permit in order to allow him to play with his team.
It took a lot of effort and hard work by Dio's Member of Parliament, Ken Hardie, and his staff to help bring about this positive outcome for Dio. They intervened with officials in Ottawa, Canada's capital, and the matter was even brought to the attention of Canadian Prime Minister Justin Trudeau.
Heroux was asked what he thought about Ottawa's response to Dio's situation.
"As an objective reporter, I try not to editorialize the stories I'm working on — that said, it's my understanding the Minister of Immigration's office worked day and night for a couple of days trying to make this a reality. The Gama family's immigration issues and past are extensive and complicated, but the Canadian government was able to find a way to get the 13-year-old to the baseball classic. It really is a remarkable story at a time when immigration issues are a hot topic in the media."
The CBC journalist was asked what he thought about the happy ending the work that he and his colleagues produced.
"At the end of the day, I was just doing my job, which I believe to be telling stories and letting others come to their own conclusions. I certainly believe it was our report on the issue that got Dio to the World Series. I think anytime a journalist can be part of a story that helps create change, it's a good thing. Dio's family, especially his father, has been overwhelmed by this all. They say they are so grateful and blessed to have the support of Canadians. Their story hasn't always been easy and to see many people rally behind them, they say, is the greatest gift of all."
Heroux was asked what impressed him about the Little League World Series.
"This is a spectacle that rivals the great sporting events in the world. I had heard about the event. I had watched from Canada. But being on the ground in Williamsport was an honour and a privilege. For the kids, this is an experience they will no doubt remember for a lifetime. And it prepares these kids for the pressure of sports and life moving forward. Williamsport and Little League should be so proud for what they've created."
The efforts of the journalists of the Canadian Broadcasting Company, a Member of Parliament and his staff, and perhaps even public outcry helped to dry a Little Leaguer's tears and produce a wonderful and happy ending. And by the way, Dio's teammates won two games at the LLWS, and he had some key hits for them. So all's well that ends well.